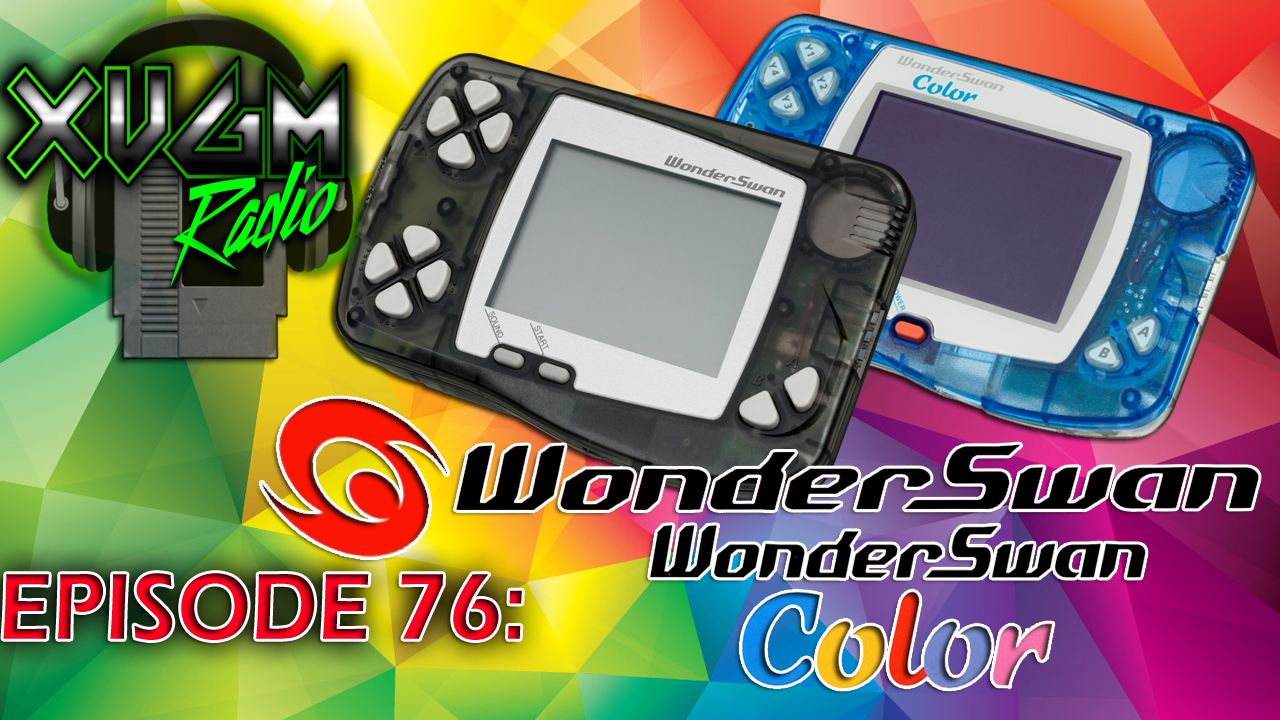 We're no strangers to covering obscure stuff on XVGM Radio…but this might be the most obscure thing we've chat about: Bandai's Wonderswan family of handhelds. Going after the Game Boy was a lofty goal, one which made the Wonderswan succumb. But today, we dig up the grave of Bandai's Wonderswan, the Wonderswan Color and the SwanCrystal, to delve into some video game music that we just can't put our finger on. Does it sound like Game Boy? Master System? Something else? We talk about the rise and fall of the little Japan-only handheld along with Mike's confusion over this system and the Neo Geo Pocket, Comparisons to adult film concepts (just how many times Chou Aniki can get stuck in a washing machine, super big bro?!) The legacy of Gunpei Yokoi and his tragic end, plus we get super nerdy about the life and death of the Bandai Wonderswan: All on Episode 76!
What was your favorite track of the episode? Have you played any Wonderswan handhelds? Have you played any of these games and if not, are you going to seek them out and their soundtracks? Shoot us an email at XVGMRadio@gmail.com or join in on the discussion at: https://www.facebook.com/groups/XVGMradio
Also, we have a Discord Channel! Join us and chat about the show, share a random or obscure VGM song you love, or just chit chat with Mike and Justin about tacos! Join for free here: https://discord.gg/zWxDYfn
Thanks to all of our wonderful Patrons: Alex Messenger, Cam Werme, Chris Murray, Chris Myers, Chris Hart, Scott McElhone, Jordan & Anson Davis, Llama Adam, Kung Fu Carlito, Nick Davis, Ryan McPherson, Marques Stewart, Brad Austin, Dan Laughton, Jeremy Rutz and The Autistic Gamer 89. Become a Patron, get cool rewards, and more at http://www.Patreon.com/XVGMRadio
Our Twitter and Instagram are great ways to interact with us! Find us on there under our handle @XVGMRadio
If you're an Apple Podcasts listener, please consider leaving a rating and a review to let us know how we're doing! It also helps with getting the show to show up when others are searching for VGM!
TRACK LISTING:
Intro – Pocket Fighter (WS – 2000) "Beach House/Safrill" Norihiko Togashi (Arrangement), Isao Abe, Yuki Iwai, Setsuo Yamamoto
1 – Chou Aniki – Otoko no Tamafuda (WS – 2000) "BGM #15" Koji Hayama, Shigeki Hayashi
2 – Rockman & Forte Mirai kara no Chōsensha (WS – 1999) "Opening Stage" Toshihiko Horiyama, Naoshi Mizuta, Akari Kaida
3 – Guilty Gear Petit 2 (WSC – 2001) "Feel a Fear (Zato-1)" Takayuki Nakamura
4 – Gunpey EX (WSC – 2000) "Stage Music" Unknown Composer
5 – Wild Card (WSC – 2001) ""BGM03" Kenji Ito
6 – Namco Super Wars (WSC – 2002) "BGM #04" Unknown Composer
7 – Blue Wing Blitz (WSC – 2001) "BGM08" Kumi Tanioka
8 – Patreon Pick – Ryan Mcpherson – Final Fantasy II (WSC – 2001) "Battle Scene A" Nobou Uematsu
9 – SD Gundam: Emotional Jam (WS – 1999) "BGM06" Unknown Composer
10 – Vaitz Blade (WS – 1999) "BGM 27" Nuka Shinji
Podcast: Play in new window | Download