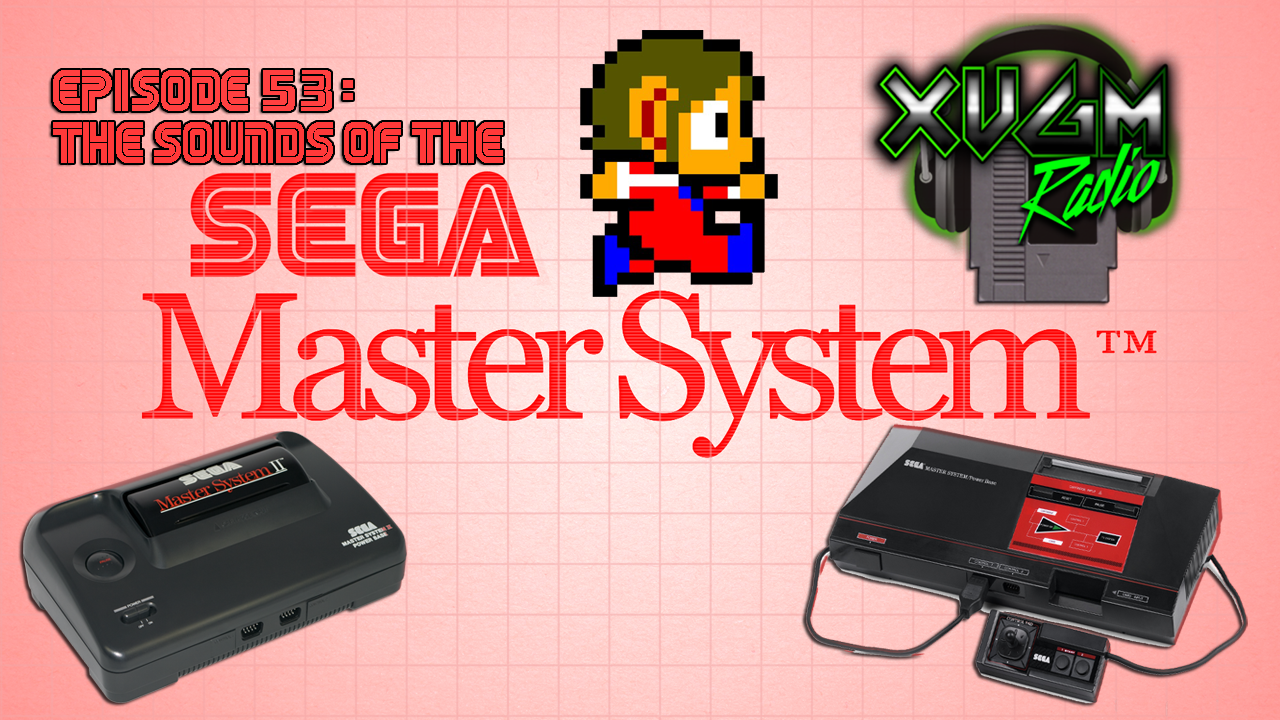 With Sega's arcade ventures dwindling at the time, the Japanese arcade game maker decided to try their hand at making consoles, and eventually this led to today's featured console, the Sega Master System. Called the Mark III in Japan, this PSG-based audio system (which also featured FM Synth in certain games) has always had a mix of somber or cheery sounding music. On today's episode of XVGM Radio, Mike and Justin peel back the figurative shell of the console to bring you a dive into all regions worth of music. From in-depth discussion on the success of the system (in PAL regions and Brazil) and failures (North America) to chats about Mentos, notoriously bad Master System game cover art, SHHHOPELIFTERRR, Justin hearing Pac-Man sounds, and…Green and Pink Master System Consoles, wait…what?! This episode is jam packed full of tubular tunes and fun discussion.
Big thanks to Hungry Goriya for her voice over on the commercial and being the second caller for this week's episode! Please consider checking out her fantastic Youtube channel here: https://www.youtube.com/channel/UCrqaOPLC4_LTWCdJIvXvWTg
We'd love to hear what you thought about our picks on this deep dive into the Sega Master System's sound chip! Did you have a favorite tune? Shoot us an email at XVGMRadio@gmail.com or join in on the discussion at: https://www.facebook.com/groups/XVGMradio
We have a Discord Channel! Join us and chat about the show, share a random or obscure VGM song you love, or just chit chat with Mike and Justin about tacos! Join for free here: https://discord.gg/zWxDYfn
Thanks to all of our wonderful Patrons: Alex Messenger, Cam Werme, Chris Murray, Chris Myers, Chris Hart, Scott McElhone, Jordan & Anson Davis, Llama Adam, Peter Panda, Kung Fu Carlito, Bedroth, Nick Davis, Ryan McPherson, MixxMaster, Jason SuperJES Dos, Brad Austin, Muddle MADness, Dan Laughton, Matthew Hannola, Jeremy Rutz and The Autistic Gamer 89. Become a Patron, get cool rewards, and more at http://www.Patreon.com/XVGMRadio
Our Twitter and Instagram are great ways to interact with us! Find us on there under our handle @XVGMRadio
If you're an Apple Podcasts listener, please consider leaving a rating and a review to let us know how we're doing! It also helps with getting the show to show up when others are searching for VGM!
TRACK LISTING:
Intro – Alex Kidd In Miracle World (SMS, 1986) "Main Theme" Tokuhiko Uwabo
1 – Predator 2 – (GG/SMS 1992) "Title Screen/Levels 1, 3, 6, Streets, Level 7, Alien Ship" Matt Furniss
2 – Pit Pot: The Magical Castle (SMS, 1985) "Main Theme" – Toshinori Asai
3 – Black Belt (SMS, 1986) "Boss" Katsuhiro Hayashi
4 – Choplifter (SMS, 1986) "Round 1" – Tokuhiko Uwabo
5 – Power Strike/Aleste (SMS/MSX, 1988) "The Solitude" Takayuki Hirono
6 – Fantasy Zone II: The Tears of Opa-Opa (1987) "Boss Theme" – Lyndon Sharp OR Tokuhiko Uwabo
7 – Phantasy Star (SMS, 1987, GEN 1994) "Medusa" Tokuhiko Uwabo
8 – Wonder Boy in Monster Land (SMS, 1988) "Labyrinth of No End" – Shinichi Sakamoto (arcade version), James Smart (C64), or David Whittaker (European console ports)
9 – Road Rash (GEN, 1991, AST/AMIGA, 1992, GG, 1993, SMS, 1994, GB, 1996) "Grass Valley" Matt Furniss
10 – Cyborg Hunter (SMS, 1986) "Level C & F" – Keisuke Tsukahara, Kazuhiko Nagai
Outro – Alex Kidd in Miracle World (SMS, 1986) – "Main Theme (Arranged)" Takenobu Mitsuyoshi (vocals) Takahiro Kai (Arrangement)
Podcast: Play in new window | Download