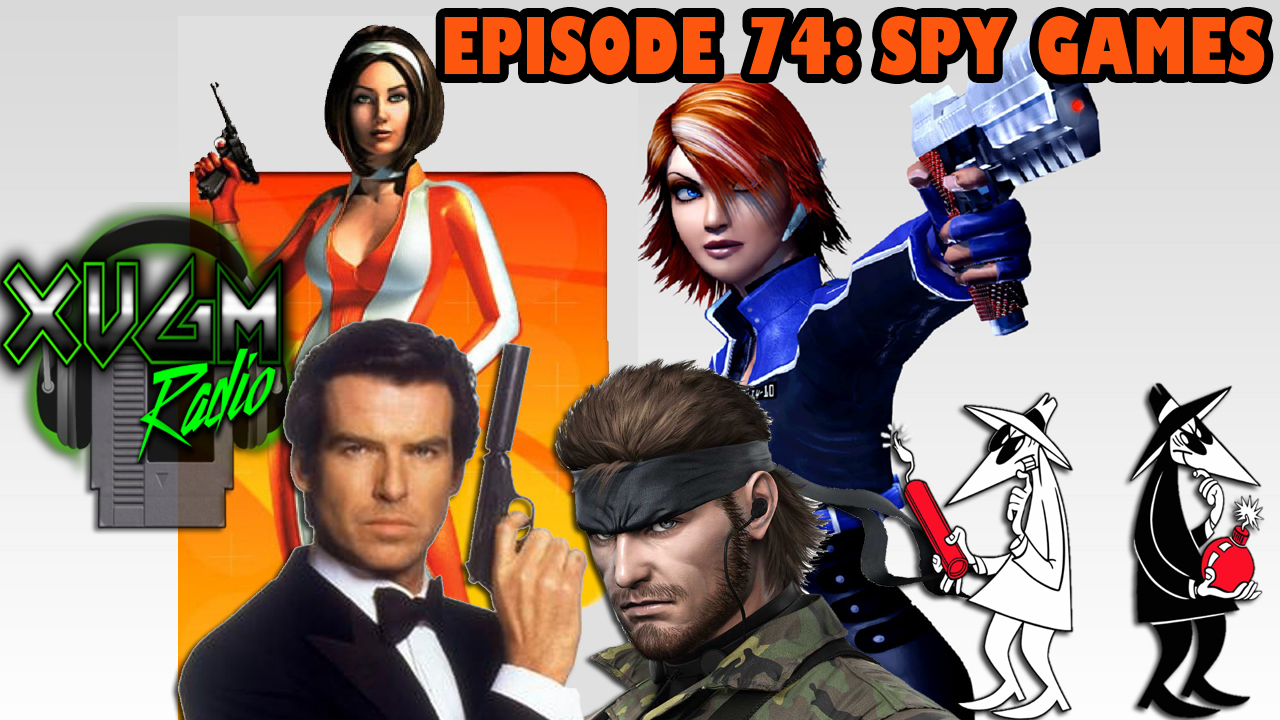 What do didgeridoos, surf rock and discussions on bellbottoms have in common? Well, they're all featured bits of conversation taking place in Episode 74 of XVGM Radio, where the XVGM guys are chatting about spy and espionage games and their video game music! Listen to Mike and Justin get super nostalgic for the Get Smart TV series, the debate about two different types of listeners in regards to the Jazzpunk track that Justin picked and of course, a deep dive into the allure of spy and espionage games and their music!
Special thanks to Brian Siecienski for voicing a role in our commercial this episode! Check out his new toy-based business venture here: https://www.ebay.com/str/blueberrycatcollectibles
What was your favorite track of the episode? Do you have a favorite Spy/Espionage game or experience? Have you played any of these games and if not, are you going to seek them out and their soundtracks? Shoot us an email at XVGMRadio@gmail.com or join in on the discussion at: https://www.facebook.com/groups/XVGMradio
Also, we have a Discord Channel! Join us and chat about the show, share a random or obscure VGM song you love, or just chit chat with Mike and Justin about tacos! Join for free here: https://discord.gg/zWxDYfn
Thanks to all of our wonderful Patrons: Alex Messenger, Cam Werme, Chris Murray, Chris Myers, Chris Hart, Scott McElhone, Jordan & Anson Davis, Llama Adam, Kung Fu Carlito, Nick Davis, Ryan McPherson, Marques Stewart, Brad Austin, Dan Laughton, Jeremy Rutz and The Autistic Gamer 89. Become a Patron, get cool rewards, and more at http://www.Patreon.com/XVGMRadio
Our Twitter and Instagram are great ways to interact with us! Find us on there under our handle @XVGMRadio
If you're an Apple Podcasts listener, please consider leaving a rating and a review to let us know how we're doing! It also helps with getting the show to show up when others are searching for VGM!
TRACK LISTING:
Intro – Sly Spy: Secret Agent (1989, ARC) "Stage 4 and 7" Azusa Hara, Hiroaki Yoshida
1 – Jazzpunk (PC – 2014, PS4 – 2016) "Cyberpunk Chase" Luis Hernandez
2 – Spy VS Spy (GBC, 1999) "BGM 04/Rocket Ship Stage" Unknown Composer
3 – Patreon Request: Chris Hart – No One Lives Forever (PC – 2000, Mac – 2002) "Main Title" Guy Whitmore
4 – Goldeneye 007 (N64, 1997) "Silo" Grant Kirkhope, Graeme Norgate, Robin Beanland
5 – Alpha Protocol (PC/PS3/XB360 – 2010) "Ambush" Jason Graves, Rod Abernathy
6 – Perfect Dark Zero (360, 2005) "Rooftops Escape" David Clynick
7 – The Operative: No One Lives Forever 2 (PC – 2002, Mac – 2003) "Main Menu" Nathan Grigg, Guy Whitmore
8 – Metal Gear Solid 3: Snake Eater (PS2, 2004) "Surfing Guitar / 147.08" Harry Gregson-Williams, Norihiko Hibino, Shuichi Kobori, Nobuko Toda
9 – Spy Hunter (NES – 1987) "Track 9" Henry Nicola Mancini, Naoki Kodaka
10 – Tom Clancy's Splinter Cell: Pandora Tomorrow (XBOX/PS2/GCN/PC – 2004) "Jungle Suspicion" Guy Dubuc, Marc Lessart, Jack Wall
Podcast: Play in new window | Download