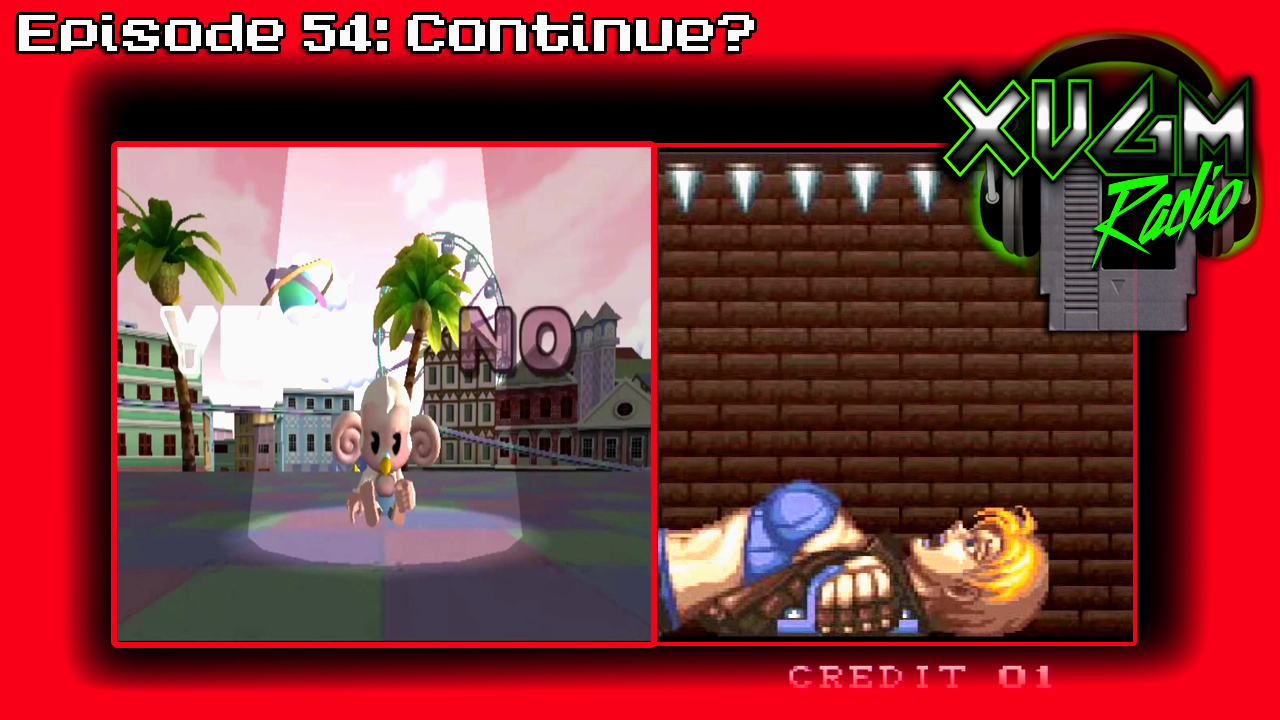 Continue themes in video games: Essentially a step stool to repeat a failure. But are these tunes worth revisiting outside of the gaming experience? Mike and Justin think so, and so they challenged each other to come up with a large assortment of some unique continue tracks. From discussions about songs that either sound like adult films or Japanese Benny Hill skits, to discussions about memorable continue screen visuals, this episode offers some unique songs and discussions that makes diving deep worth the plunge. Get ready to hit start before the timer runs out, because this is the Continue Theme episode!
We'd love to hear what you thought about our continue theme choices! Did you have a favorite tune? A memorable continue screen to share? Shoot us an email at XVGMRadio@gmail.com or join in on the discussion at: https://www.facebook.com/groups/XVGMradio
We have a Discord Channel! Join us and chat about the show, share a random or obscure VGM song you love, or just chit chat with Mike and Justin about tacos! Join for free here: https://discord.gg/zWxDYfn
Thanks to all of our wonderful Patrons: Alex Messenger, Cam Werme, Chris Murray, Chris Myers, Chris Hart, Scott McElhone, Jordan & Anson Davis, Llama Adam, Peter Panda, Kung Fu Carlito, Bedroth, Nick Davis, Ryan McPherson, MixxMaster, Jason SuperJES Dos, Brad Austin, Muddle MADness, Dan Laughton, Matthew Hannola, Jeremy Rutz and The Autistic Gamer 89. Become a Patron, get cool rewards, and more at http://www.Patreon.com/XVGMRadio
Our Twitter and Instagram are great ways to interact with us! Find us on there under our handle @XVGMRadio
If you're an Apple Podcasts listener, please consider leaving a rating and a review to let us know how we're doing! It also helps with getting the show to show up when others are searching for VGM!
TRACK LISTING:
Intro – Sonic Mania (XBONE/PS4/Switch/WIN, 2017) "Countdown to Continue" Tee Lopes
1 – Castle of Illusion (SMS/GG, 1990/91) "Continue" Shigenori Kamiya
2 – Final Fight 3 (SNES, 1995) "Down for the Count" Katsunari Kitajima
3 – Gunstar Heroes (ARC/GEN, 1993) "Continue" Norio Hanzawa
4 – Goemon's Great Adventure (N64, 1998) "Oni Oni Rendezvous (Hell Mix '99)" Shigeru Araki, Yasumasa Kitagawa, Hirotaka Kurita, Yusuke Kato, Nobuyuki Akena
5 – JoJo's Bizarre Adventure Heritage for the Future (ARC/PS1/DC, 1999/2000) "Continue" Yūko Takehara, Setsuo Yamamoto
Patreon Request (Alex Messenger) – Battletoads & Double Dragon (NES/SNES/GB & GEN, 1993 & 1994) "Continue" David Wise
6 – Action Man: Search for Base X (GBC, 1998) "Continue" Iku Mizutani
7 – Legendary Axe II (TG16, 1990) "Continue" Hirotoshi Suzuki
8 – Asuka 120% Burning Fist (SX68K, 1994) "Continue" Keishi Yonao
9 – Gradius 3 (ARC/SNES, 1989/91) "Continue" Kazuki Muraoka, Kazuhiko Uehara, Harumi Uekō, Yukie Morimoto
10 – Mortal Kombat Gold (DC, 1998) "Continue" Dan Forden
11 – Super Monkey Ball 2 (GCN, 2002) "Continue" Hidenori Shoji, Haruyoshi Tomita
12 – Super Puzzle Fighter 2 Turbo (ARC/PS1/SAT/DC/GBA/360/PS3, 1996/2001/2003/2007) Tatsuro Suzuki, Isao Abe, Yūko Takehara, Shun Nishigaki, Setsuo Yamamoto, Takayuki Iwai
Podcast: Play in new window | Download