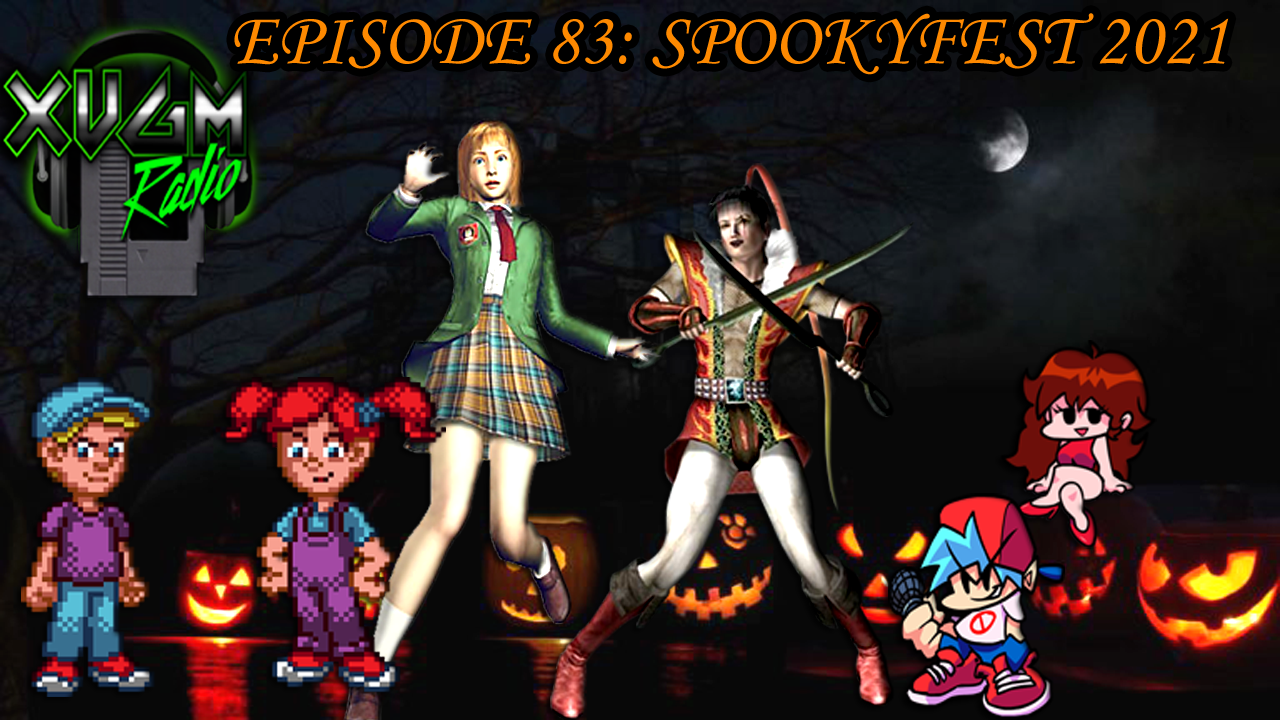 It's that time of year again! Spooooooooooooookyfest has returned for it's 2021 festival! Join Mike and Justin (and lots of zombies) for the most ghoulish "live" music event of the year! We've picked some really devilish tracks for you to sink your teeth into this Halloween season! From brand new Sega Genesis games to creepy crawly C64 classics, the XVGM Radio guys are making sure your late October festivities are at their most haunting of levels. With plenty of brand new "sponsors" for this event, coupled with some hilarious chats, you'd better check yourself before you Shrek yourself on this shriek of a good time…ONLY on XVGM Radio!
Be sure to also check out this year's VIP Pass to the episode, which will take place on October 29th's live show! We'll have 7 more SPOOOOOOOOOOOOKY tracks that didn't make the cut for this episode, exclusive to Patreon members!
What was your favorite track of the episode? What did you think of our sppooooooooky good time?  Shoot us an email at XVGMRadio@gmail.com or join in on the discussion at: https://www.facebook.com/groups/XVGMradio
Also, we have a Discord Channel! Join us and chat about the show, share a random or obscure VGM song you love, or just chit chat with Mike and Justin about tacos! Join for free here: https://discord.gg/zWxDYfn
Thanks to all of our wonderful Patrons: Alex Messenger, Cam Werme, Chris Murray, Chris Myers, Chris Hart, Scott McElhone, Jordan & Anson Davis, Llama Adam, Kung Fu Carlito, Nick Davis, Ryan McPherson, Marques Stewart, Brad Austin, Nathan Cooper, Dan Laughton, Bedroth and The Autistic Gamer 89. Become a Patron, get cool rewards, and more at http://www.Patreon.com/XVGMRadio
Our Twitter and Instagram are great ways to interact with us! Find us on there under our handle @XVGMRadio
If you're an Apple Podcasts listener, please consider leaving a rating and a review to let us know how we're doing! It also helps with getting the show to show up when others are searching for VGM!
TRACK LISTING:
Intro – Super Mario 3D Land (3DS – 2011) "Boo Waltz (Waltz of the Boos-Arranged)" Mahito Yokota (Composer and Arranger), Kōji Kondō (Composer), Asuka Hayazaki, Takeshi Hama (arrangers)
1 – Monster in my Pocket (NES – 1992) "Last Battle at Monster Mountain" Hiroshi Takeyasu, Kozo Nakamura
2 – Friday Night Funkin' (PC – 2020) "Week 2: Spooky Month – South" KawaiiSprite (Isaac Garcia)
3 – Banjo Tooie (N64 – 2000) "Haunted Zone" Grant Kirkhope (Old King Coal)
4 – Ottos Ottifanten: Baby Brunos Alptraum (GB – 1998) "Ghostphobia" Alberto Jose Gonzales
5 – Patreon Request: Ryan McPherson – Quake (PC – 1996) "Quake Theme" Trent Reznor/NIN
6 – Curse of Illmore Bay (GEN – 2020) "Scare Tonight" Sebastian Abreu
7 – Clock Tower 3 (PS2 – 2002) "A Shadow Creeping Near" Cozy Kubo, Norihito Kudo, Reiji Matsumoto
8 – Scary Monsters (C64 – 1986) "Main Theme" Keith Tinman
9 – Monster Madness: Battle for Suburbia (WIN/XB360 – 2007) "MonsterFest" Afshin Toufighian
10 – DK: Jungle Climber (NDS – 2007) "Spooky Woods" Yuuichi Kanno, Yoshikata Hirota, Takashi Kouga
Podcast: Play in new window | Download