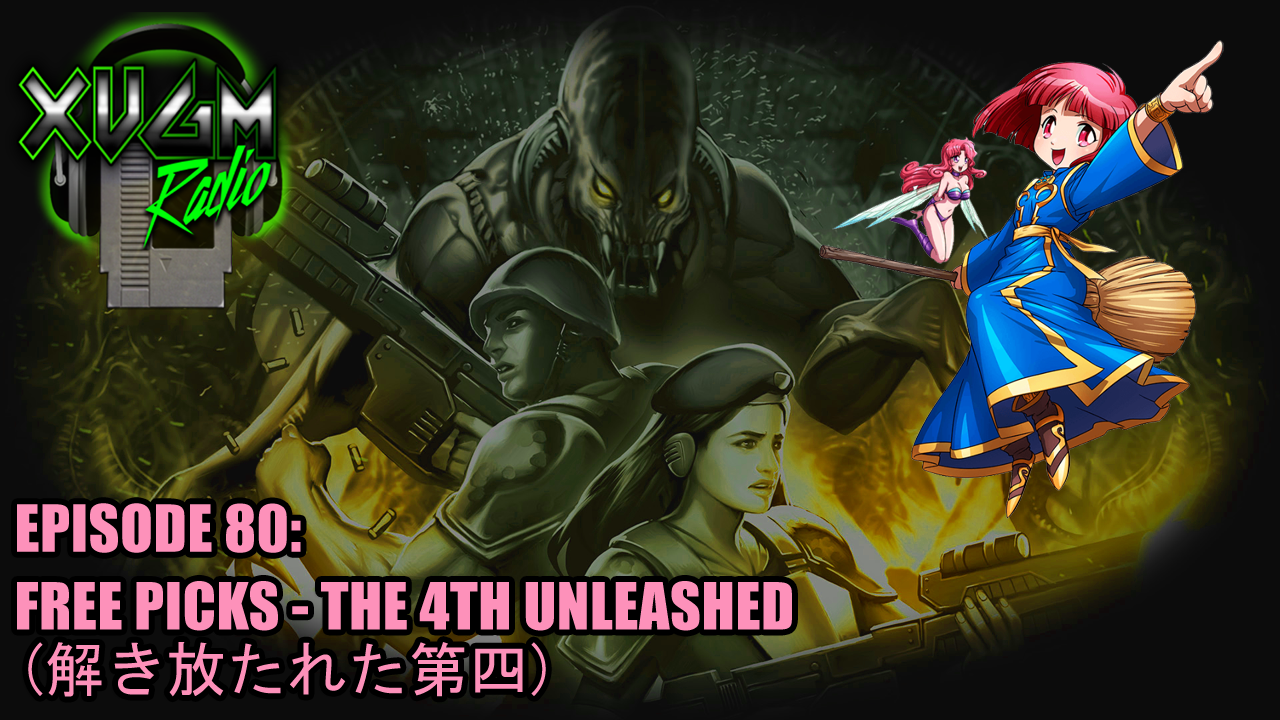 The XVGM Radio guys go WILD…..with their fourth rendition of their Free Picks series of shows! Every 20 episodes, Mike and Justin pick whatever tracks they want to showcase, plus they flip a coin to determine the order of who introduces the episodes and picks the first tracks. How exciting! With a wide assortment of music at their fingertips, Mike blows Justin's mind with an epic modern Genesis track, Justin revisits a game discussed on the Vanillaware episode while also posing a question about a specific track to the listener, and Janine takes the night off to let the boys do as they please. Strap yourselves in, grab a pair of headphones and crank this one up to 11, it's Free Picks: The Fourth Unleased (Tokihanata Reta Daishi!)
What was your favorite track of the episode? Do you enjoy these free picks episodes?  Shoot us an email at XVGMRadio@gmail.com or join in on the discussion at: https://www.facebook.com/groups/XVGMradio
Also, we have a Discord Channel! Join us and chat about the show, share a random or obscure VGM song you love, or just chit chat with Mike and Justin about tacos! Join for free here: https://discord.gg/zWxDYfn
Thanks to all of our wonderful Patrons: Alex Messenger, Cam Werme, Chris Murray, Chris Myers, Chris Hart, Scott McElhone, Jordan & Anson Davis, Llama Adam, Kung Fu Carlito, Nick Davis, Ryan McPherson, Marques Stewart, Brad Austin, Nathan Cooper, Jeremy Rutz and The Autistic Gamer 89. Become a Patron, get cool rewards, and more at http://www.Patreon.com/XVGMRadio
Our Twitter and Instagram are great ways to interact with us! Find us on there under our handle @XVGMRadio
If you're an Apple Podcasts listener, please consider leaving a rating and a review to let us know how we're doing! It also helps with getting the show to show up when others are searching for VGM!
TRACK LISTING:
Intro Mike – El Shaddai: Ascension of the Metatron (360, PS3 – 2011) "Rushed Progress" Masato Kouda, Kento Hasegawa
1 – Xeno Crisis (GEN/SWI/XBONE/PS4 – 2019) "Perimeter (Area 1)" Savaged Regime
2 – Rad Racer (ARC/NES – 1987) "In-Game Tune 2" Nobuo Uematsu
3 – Radia Senki: Reimeihen (The Tower of Radia) (FC – 1991) "Ship" Keiji Yamagishi, Sugito Miyashiro, Kaori Nakabai, Rika Shigeno
4 – Cotton: Fantastic Night Dreams (ARC – 1991, TGCD/SX68K – 1993) "Track 17" Kenichi Hirata
5 – Another Bible (GB – 1995) "BGM 05" Manami Matsumae
6 – The Apprentice (CDi – 1994) "Medieval Tower" Joost Egmond
7 – Tiny Toon Adventures: Dizzy's Candy Quest (GBC – 2001) "BGM 04" Joris De Man
8 – Dragon's Crown (PS3/PSV – 2013) "Unavoidable Clash" Hitoshi Sakimoto
9 – Speed Racer (Wii/PS2 – 2008) "Zoom" Winifred Phillips
10 – Gradius Deluxe Pack (PS1/SAT – 1996) "G1END.1" Miki Higashino
Podcast: Play in new window | Download