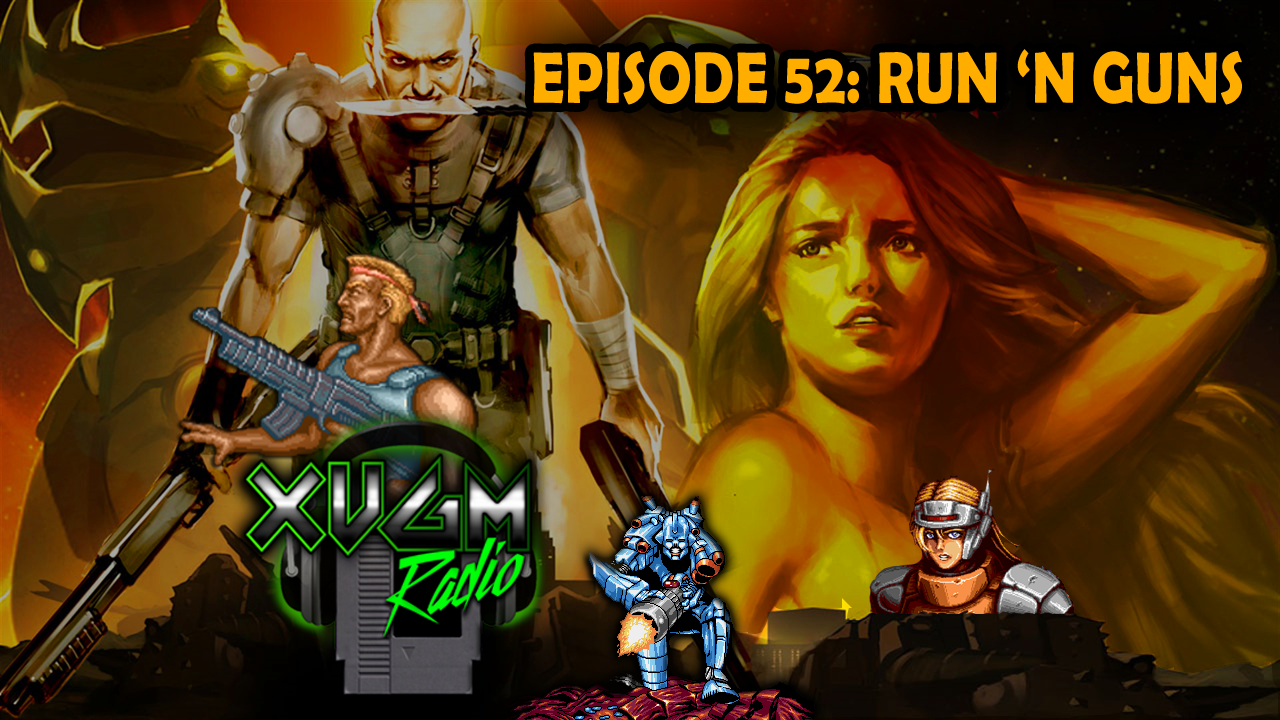 Get ready for some spreadshot, some rocket lawnchairs and discussions about Kevin Bacon-lookalikes dealing drugs, because XVGM Radio is blasting their way onto the scene with an episode focused on the Run 'n Gun genre and it's music! Often looped in with shoot 'em ups and First Person Shooters (FPS,) Run 'n Guns are more like action platformers that focus on blowing away everything in sight; and the good news is, they typically have amazing soundtracks! Mike and Justin grab their most tattered bandanas as they wax nostalgia for wreckless convertible driving, western motifs in games, Mr. BIG singalongs and of course: cheat codes! Get your thumbs ready to hit A-B-B-A, and Up-Up-Down-Down-Left-Right-Left-Right-A-B on this cyberpunk lovin', laser-shootin' episode of XVGM Radio!
Big thanks to Rewind Mike for his voice over on the commercial for this week's episode! Please consider checking out his amazing Youtube channel here: https://www.youtube.com/channel/UCzC-UyeYwc9ogs0xnN0DOtQ
We'd love to hear what you thought about our picks on this run 'n gun episode! Did you have a favorite? Shoot us an email at XVGMRadio@gmail.com or join in on the discussion at: https://www.facebook.com/groups/XVGMradio
We have a Discord Channel! Join us and chat about the show, share a random or obscure VGM song you love, or just chit chat with Mike and Justin about tacos! Join for free here: https://discord.gg/zWxDYfn
Thanks to all of our wonderful Patrons: Alex Messenger, Cam Werme, Chris Murray, Chris Myers, Chris Hart, Scott McElhone, Jordan & Anson Davis, Llama Adam, Peter Panda, Kung Fu Carlito, Bedroth, Nick Davis, Ryan McPherson, MixxMaster, Jason SuperJES Dos, Brad Austin, Muddle MADness, Dan Laughton, Matthew Hannola, Jeremy Rutz and The Autistic Gamer 89. Become a Patron, get cool rewards, and more at http://www.Patreon.com/XVGMRadio
Our Twitter and Instagram are great ways to interact with us! Find us on there under our handle @XVGMRadio
If you're an Apple Podcasts listener, please consider leaving a rating and a review to let us know how we're doing! It also helps with getting the show to show up when others are searching for VGM!
TRACK LISTING:
Intro – Metal Slug 5 NG/ARC/XBOX, 2003/2004/2005) "Fierce Battle" Toshikazu Tanaka
1 – Ikari Warriors (ARC, Multi, 1986) "Theme of Ikari" – Mr.O
2 – The Red Star (PS2, 2007) "Chapter 3: Reflections of Revolution" Nelson Everheart
3 – Narc (ARC/NES/Ami/ACPC/AST/C64/ZXS, 1988/1990) "Levels 2 & 7" – Brian Schmidt, David Wise, Chris Stamper, Mark Betteridge
Patreon Request (Super JES aka Jason Doss) – Contra 3: The Alien Wars (SNES, 1992) "Neo Kobe Steel Factory" Miki Higashino, Masanori Adachi, Tappi Iwase, Aki Hata
4 – Missing in Action (M.I.A.) (Arcade, 1989, WIN/360, 2010) "Fortress" Seiichi Fukami, Motoaki Furukawa, Shinji Tasaka, and/or Shigemasa Matsuo
5 – Mega Turrican (Ami/GEN, 1993/1994) "Stage 3-3" – Chris Hülsbeck
6 – Midnight Resistance (GEN, 1991) "Flood of Power" , Azusa Hara, Hiroaki Yoshida, Fuse, Tatsuya Kiuchi, Hitomi Komatsu, Hitoshi Sakimoto, Shōgo Sakai
7 – Cyber-Lip (Arc/NeoGeo/NGCD, 1990/1991/1995) "Staff Roll" – Yasuo Yamate
8 – Matt Hazard: Blood, Bath and Beyond (360/PS3, 2010) "Dismember The Alamo" Rod Abernathy
9 – Gunstar Heroes (ARC/GEN, 1993) "Military on the Max-Power" – Norio Hanzawa
10 – Blazing Chrome (Switch/PC/XBOne/PS4, 2019) "Boss 1B Loop" Dominic Ninmark, Tiago Santos
Podcast: Play in new window | Download