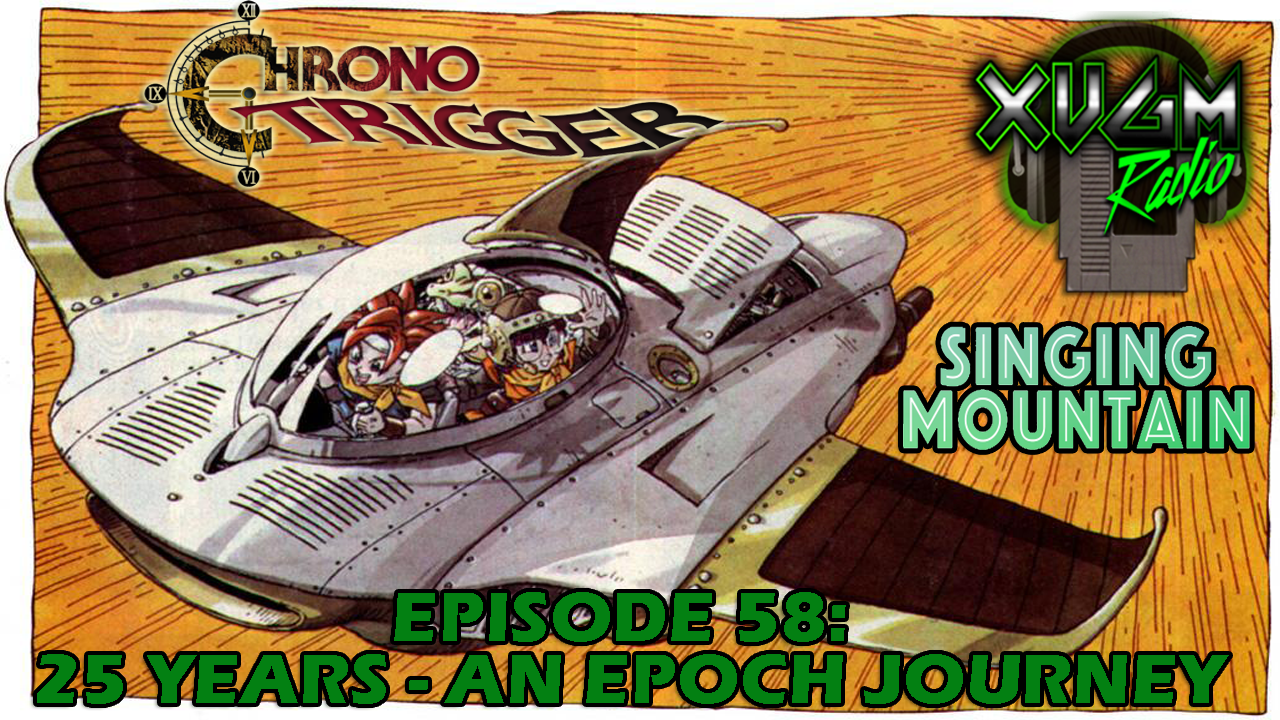 It's about time! Hailed as one of the greatest JRPG experiences of all time, and for good reason, Chrono Trigger's the complete package for all gamers. Therefore, Justin and Mike bring in a special guest who not only is a huge fan of the game and it's stellar soundtrack, but also named his podcast after a song title: Drew Mackie of Singing Mountain. Drew joins the XVGM Radio boys for a celebration of the ages, as they discuss the 25th anniversary of the game as of today (Yes, we're breaking schedule to release on the official 25th birthday of Chrono Trigger!) What transpires is a nostalgic trip into the past full of name corrections, Mike sharing the track that made him cry, and of course our overlord Lavos screech discussions (Praise Lavos, of course.) Grab your Masamune, your bowls of Eyes Cream and prepare to howl with the Black Wind, as we celebrate 25 years of this milestone game!
HUGE Thank you to Drew Mackie from Singing Mountain Podcast. Please go check out his amazing show at: https://singingmountainpod.com/ and subscribe via your podcatchers/RSS Feeds.Episodes are also hosted via Soundcloud as well!
We'd love to hear what you thought about our Chrono Trigger episode! Did you have a favorite tune? What did you think of our guest? How do you pronounce all the names of the characters? Shoot us an email at XVGMRadio@gmail.com or join in on the discussion at: https://www.facebook.com/groups/XVGMradio
We have a Discord Channel! Join us and chat about the show, share a random or obscure VGM song you love, or just chit chat with Mike and Justin about tacos! Join for free here: https://discord.gg/zWxDYfn
Thanks to all of our wonderful Patrons: Alex Messenger, Cam Werme, Chris Murray, Chris Myers, Chris Hart, Scott McElhone, Jordan & Anson Davis, Llama Adam, Peter Panda, Kung Fu Carlito, Bedroth, Nick Davis, Ryan McPherson, MixxMaster, Jason SuperJES Dos, Brad Austin, Muddle MADness, Dan Laughton, Matthew Hannola, Jeremy Rutz and The Autistic Gamer 89. Become a Patron, get cool rewards, and more at http://www.Patreon.com/XVGMRadio
Our Twitter and Instagram are great ways to interact with us! Find us on there under our handle @XVGMRadio
If you're an Apple Podcasts listener, please consider leaving a rating and a review to let us know how we're doing! It also helps with getting the show to show up when others are searching for VGM!
TRACK LISTING:
Chrono Trigger (SNES, PS1, NDS, 1995/1999/2008)
Soundtrack Composed by: Yasunori Mitsuda, Nobuo Uematsu
Intro – "A Presentiment/Chrono Trigger"
1 – "Secret of the Forest"
2 – "Burn! Bobonga!"
3 – "Battle 1"
Patreon Pick: Chris Murray – "First Festival of Stars"
4 – "The Kingdom Trial"
5 – "Last Battle"
6 – "Wings That Cross Time"
7 – "Schala's Theme"
8 – "Lavos' Theme"
9 – "To Far Away Times"
Podcast: Play in new window | Download