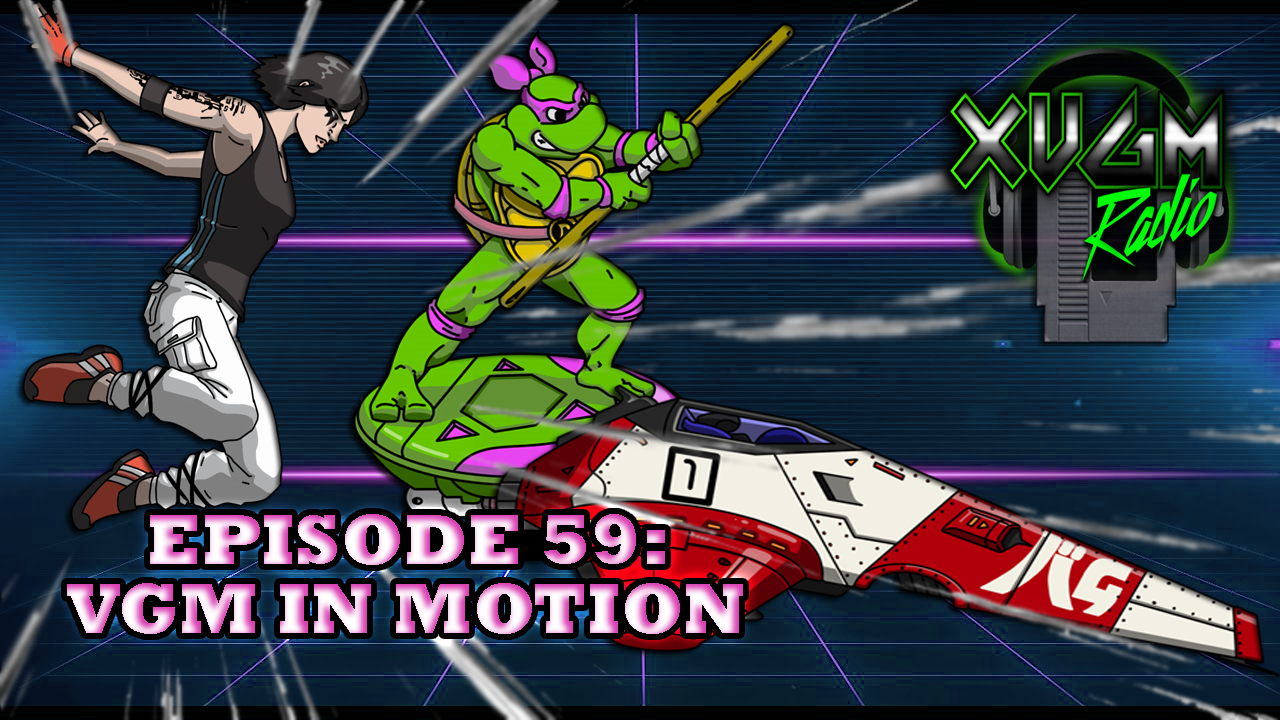 Do you feel the wind in your hair as you drive across that bridge everyday while headed to and from work? Is the sweat beating down your brow as you jog to the rhythm of your favorite VGM? Or are helmets, wheels and safety gear involved in your jams from game land? Well this episode of XVGM Radio is right up your alley, as we journey through 11 fantastic tracks involving motion in video games. Move through the neon future with four Ninja Turtles of the Teenage Mutant variety, Hop across tall buildings as Faith in Mirror's Edge, and rocket through the various machs with your Wipeout arcade race car…and there's plenty more where that came from! Mike and Justin return to close out the first 60 episodes with an exploration of motion in sound. Put the top down, close your eyes and put it in park as you turn the volume way up to the sound of…..i…is that a woodpecker?!
Special thank you to Kung Fu Carlito for the awesome title card art! Check him out here:
Twitter
Instagram
We'd love to hear what you thought about our VGM in Motion episode! Did you have a favorite tune? Shoot us an email at XVGMRadio@gmail.com or join in on the discussion at: https://www.facebook.com/groups/XVGMradio
We have a Discord Channel! Join us and chat about the show, share a random or obscure VGM song you love, or just chit chat with Mike and Justin about tacos! Join for free here: https://discord.gg/zWxDYfn
Thanks to all of our wonderful Patrons: Alex Messenger, Cam Werme, Chris Murray, Chris Myers, Chris Hart, Scott McElhone, Jordan & Anson Davis, Llama Adam, Peter Panda, Kung Fu Carlito, Bedroth, Nick Davis, Ryan McPherson, Marques Stewart, MixxMaster, Jason SuperJES Dos, Brad Austin, Muddle MADness, Dan Laughton, Matthew Hannola, Jeremy Rutz and The Autistic Gamer 89. Become a Patron, get cool rewards, and more at http://www.Patreon.com/XVGMRadio
Our Twitter and Instagram are great ways to interact with us! Find us on there under our handle @XVGMRadio
If you're an Apple Podcasts listener, please consider leaving a rating and a review to let us know how we're doing! It also helps with getting the show to show up when others are searching for VGM!
TRACK LISTING:
Intro – Top Gear (SNES, 1992) "Track 1/USA/Las Vegas" Barry Leitch, Hiroyuki Masuno
1 – TMNT Turtles in Time (ARC 1991, SNES, 1992) "Neon Night Riders" Arrangers: Kazuhiko Uehara (as K. Uehara), Harumi Ueko (as H. Uekoh), Mutsuhiko Izumi
2 – Mirror's Edge (PS3/XB360, 2008) "Shine (Mirror's Edge Main Theme)" Magnus Birgersson
3 – Fighter's Impact "Be Cool (Sanson's Stage)" (ARC 1996, PS1 1998) Yasuhisa Watanabe
4 – Team Sonic Racing (Switch/PS4/XBone/Win, 2019) "Dark Arsenal – Lap Music" Jun Senoue, Tee Lopes, Tomoya Ohtani, Hidekuni Horita
5 – Tony Hawk Pro Skater (GBC, 2000) "Track 6" Kiyoshi Kusatsu
6 – Omega Strike (Switch/PS4/XBONE/Win, 2018) "Tumbleweed Desert" Ken Snyder (Coda)
7 – Far Cry 3: Blood Dragon (360/PS3, 2013) "Power Core" Power Glove
8 – Pyre (PS4/PC, 2017) "Knights of the Sea" Darren Korb
9 – Woody Woodpecker Racing (GBC, 2000) "Beach Street" Unknown Composer
10 – wipEout XL (PS1/SAT, 1996/97) "Body in Motion" Tim Wright (CoLD SToRAGE)
Podcast: Play in new window | Download