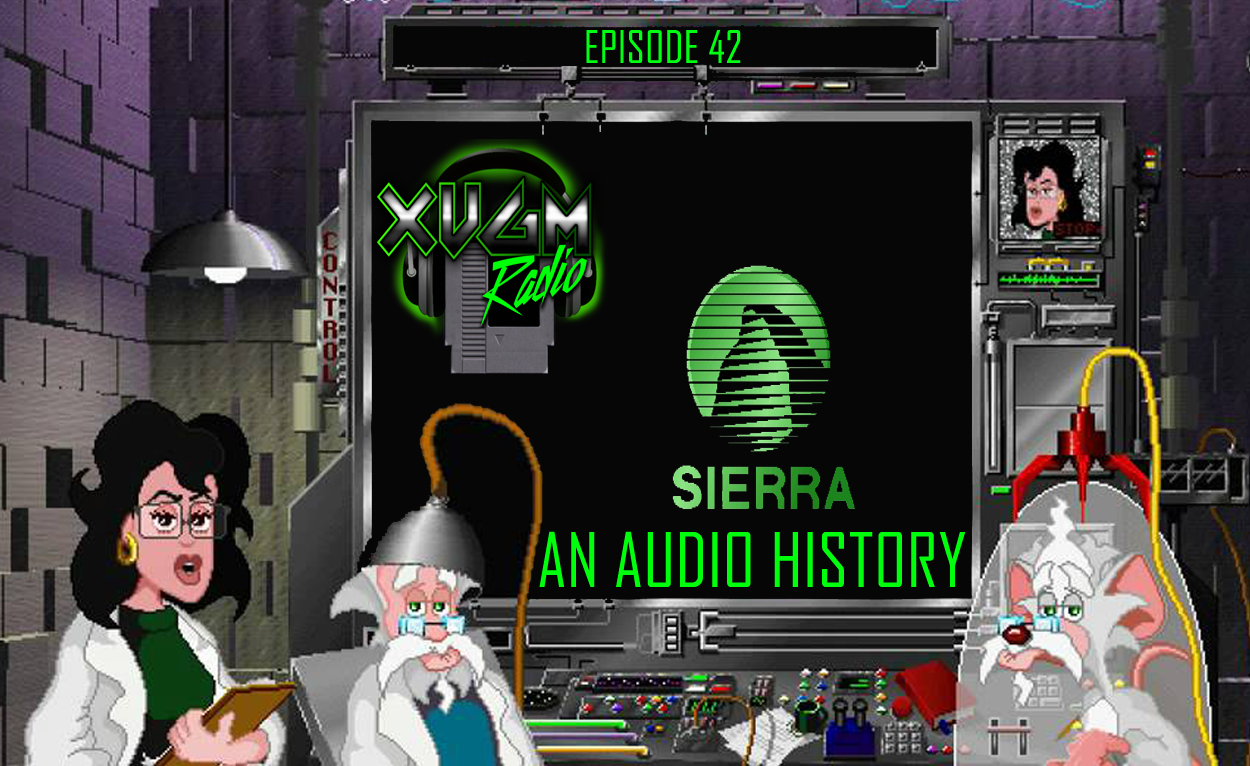 Sierra Games is heralded as one of the premiere adventure game developers and publishers that existed. Deep care went into the development of the games they created, thanks to a husband and wife creative partnership between Ken and Roberta Williams. Together, they formed Sierra Games, a developer and publisher which created some of the most memorable adventure games ever made. But what about the soundtracks to these sprawling titles? Today on XVGM Radio, Justin and Mike are joined by fellow podcaster and long time personal friend, Brian Siecienski,who is part of the Pixel Stories Podcast. Together, these three share personal stories about their nostalgic experiences with Sierra Games and the soundtracks from the past, all while covering a good chunk of Sierra Games' legacy.
We'd love to hear what you thought about Sierra Games and the tracks we picked! What was your favorite song? Shoot us an email at XVGMRadio@gmail.com or join in on the discussion at: https://www.facebook.com/groups/XVGMradio
We have a Discord Channel! Join us and chat about the show, share a random or obscure VGM song you love, or just chit chat with Mike and Justin about tacos! Join for free here: https://discord.gg/zWxDYfn
Thanks to all of our wonderful Patrons: Alex Messenger, Cam Werme, Chris Murray, Chris Myers, Scott McElhone, Jordan & Anson Davis, Llama Adam, Peter Panda, Kung Fu Carlito, Bedroth, Nick Davis, MixxMaster, Brad Austin, Dan Laughton, Jeremy Rutz and The Autistic Gamer 89. Become a Patron, get cool rewards, and more at http://www.Patreon.com/XVGMRadio
Our Twitter and Instagram are great ways to interact with us! Find us on there under our handle @XVGMRadio
If you're an Apple Podcasts listener, please consider leaving a rating and a review to let us know how we're doing! It also helps with getting the show to show up when others are searching for VGM!
TRACK LISTING:
Intro: Quest For Glory: So, You Want To Be A Hero? (DOS/MAC,1992) "The Thief" – Mark Seibert, Aubrey Hodges, Spike Jones
1 – Police Quest 2: The Vengeance (Amiga, Atari ST, DOS, PC-98, 1988) "Intro Music (Roland MT-32 Version)" – Mark Seibert
2 – Space Quest 3: The Pirates of Pestulon (Amiga/AtariST/DOS, 1989) "The Black Hole" – Bob Siebenberg
3 – King's Quest V (NES, 1992) "Harpie Island" – Ken Allen, Mark Seibert (both uncredited)
4 – Gabriel Knight: Sins of the Fathers (DOS/WIN, MAC 1993) "Lake Pontertrain" – Christopher Braymen, Neal Grandstaff, Stuart M. Rosen, Kelli Spurgeon, Richard Spurgeon, Jay D. Usher
5 – Leisure Suit Larry 5: Passionate Patti Does a Little Undercover Work (DOS/Mac, 1991) "Track 25" – Mark Seibert
6 – The Lost Mind of Dr. Brain (PC/Mac, 1995) – "Title " – Jonathan Cunningham, Mark Krause
7 – Roberta William's Phantasmagoria (DOS/Saturn/MAC/WIN, 1995) "Chapter 6" – Mark Seibert, Jay D. Usher
8 – Gabriel Knight: Sins of the Father (DOS/Win, 1993) "Crash Interrogation" – Christopher Braymen, Neal Grandstaff, Stuart M. Rosen, Kelli Spurgeon, Richard Spurgeon, Jay D. Usher
9 – Police Quest III: the Kindred (Amiga, DOS 1992) "Main Theme" – Jan Hammer
Outro: Quest For Glory: So, You Want To Be A Hero? (DOS/MAC,1992) "The Thief (ARRANGED)" – Mark Seibert, Aubrey Hodges, Spike Jones
Podcast: Play in new window | Download