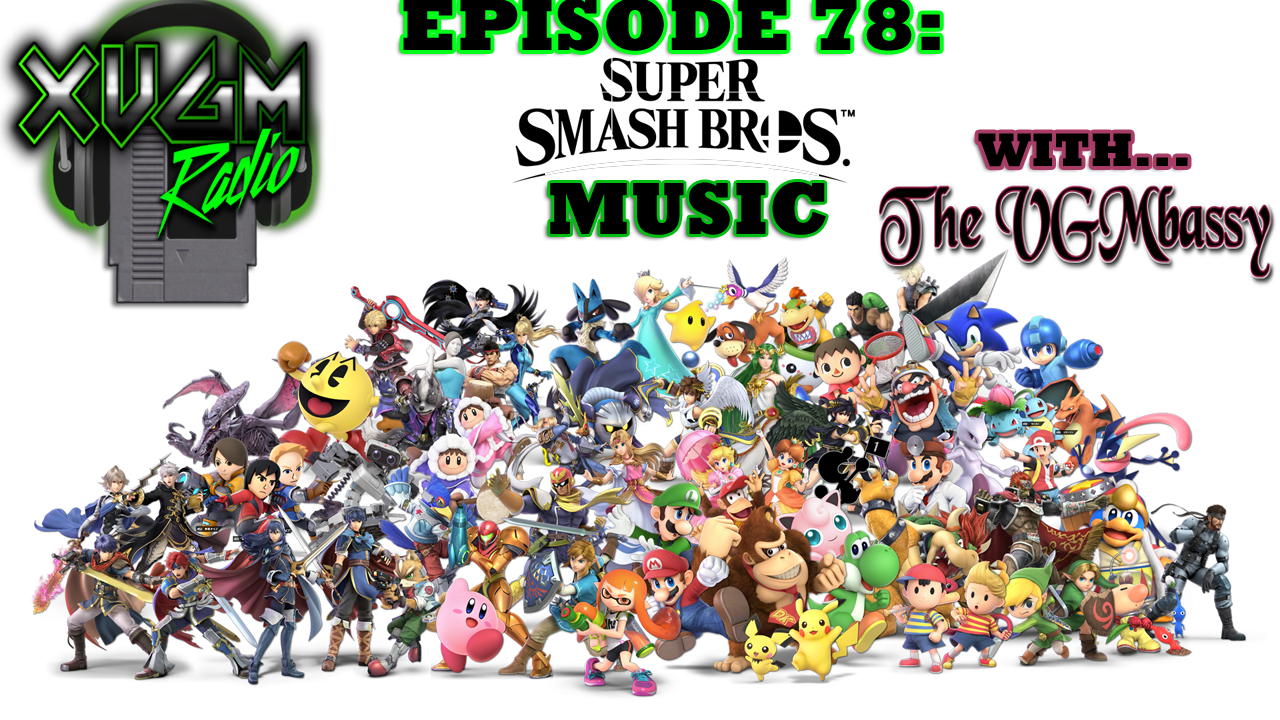 It's a teamup of EPIC PROPORTIONS! Mike and Ed of XVGM Radio join forces with VGM Podcast minister and community mastermind, Ed Wilson (current host of The VGMbassy and previously co-host with Mike on PixelTunes Radio) to listen to some truly smash-tastic tunes. The guys pick their favorites from the Super Smash Bros. franchise, songs that recapture their memories of some of their favorite games and rebundles the tunes into incredible arrangements! The jokes soar high on this episode when the innuendo dial gets turned up to 11! Plus, a special 4 minute and change commercial featuring some of VGM Podcasting's best voices! Don't miss this episode!
Big thanks to Ed Wilson for joining us for this wacky good time! Check out his podcast, The VGMbassy here: https://thevgmbassy.com/ and his Twitter here: https://twitter.com/thevgmbassy
Arcane Machine is an Industrial and Goth Music Podcast that Ed and Justin run together! Check it out here: https://arcanemachine.net/
Special thanks to all of our commercial guests and podcasters! They are:
Ed – VGMbassy
Rob and Pernell – Rhythm & Pixels https://rhythmandpixels.com/
Drew – Singing Mountain https://singingmountainpod.com/
Alex Messenger – A VGM Journey https://anchor.fm/vgmjourney
Karl and Will – Super Marcato Bros. http://www.supermarcatobros.com/podcast
Hammock – KVGM Radio http://www.kvgmradio.com/
Bryan and Gene – Pixelated Audio https://pixelatedaudio.com/
What was your favorite track of the episode? Got a favorite Smash Bros. memory? What did you think of our Super VGM Podcast Bros. commercial?  Shoot us an email at XVGMRadio@gmail.com or join in on the discussion at: https://www.facebook.com/groups/XVGMradio
Also, we have a Discord Channel! Join us and chat about the show, share a random or obscure VGM song you love, or just chit chat with Mike and Justin about tacos! Join for free here: https://discord.gg/zWxDYfn
Thanks to all of our wonderful Patrons: Alex Messenger, Cam Werme, Chris Murray, Chris Myers, Chris Hart, Scott McElhone, Jordan & Anson Davis, Llama Adam, Kung Fu Carlito, Nick Davis, Ryan McPherson, Marques Stewart, Brad Austin, Dan Laughton, Jeremy Rutz and The Autistic Gamer 89. Become a Patron, get cool rewards, and more at http://www.Patreon.com/XVGMRadio
Our Twitter and Instagram are great ways to interact with us! Find us on there under our handle @XVGMRadio
If you're an Apple Podcasts listener, please consider leaving a rating and a review to let us know how we're doing! It also helps with getting the show to show up when others are searching for VGM!
TRACK LISTING:
Intro – Super Smash Bros. Melee (GCN – 2001) "Opening" Tadashi Ikegami, Shogo Sakai, Takuto Kitsuta
1 – Super Smash Bros Brawl (Wii – 2008) "Mute City" Composed by Yumiko Kanki and Naoto Ishida, Arranged by Yasufumi Fukuda
2 – Super Smash Bros. (N64 – 1999) "Hyrule Castle" Arranged by Hirokazu Ando Composed by Koji Kondo
3 – Super Smash Bros Ultimate (SWI – 2018) "Bloody Tears & Monster Dance" Arranged by Michiko Naruke Composed by Kenichi Matsubara
4 – Super Smash Bros. Ultimate (SWI – 2018) "Mother 3 Love Theme" Composed and Arranged by Shogo Sakai
5 – Super Smash Bros. Melee (GCN – 2001) "Corneria" Arranged by Hirokazu Ando, Composed by Hajime Hirasawa
6 – Super Smash Bros for 3DS & Wii U (3DS/WiiU – 2014) "Norfair" Arranged by Yuzo Koshiro Composed by Hirokazu "Hip" Tanaka
7 – Super Smash Bros for Wii U & 3DS (3DS / WiiU – 2014) "Luigi's Mansion Series Medley" Composed by Kazumi Totaka, arranged/ remixed by Hiroyuki Kawada
8 – Super Smash Bros. for 3DS & Wii U (3DS/WiiU – 2014) "Mii Plaza (Mii Channel)" Arranged by Yasunori Mitsuda Composed by Kazumi Totaka
9 – Super Smash Bros. Melee (GCN – 2001) "Fire Emblem" Arranged by Shogo Sakai Composed by Yuka Tsujiyoko
Outro: Super Smash Bros. Melee (GCN – 2001) "Congo Jungle/DK Rap Alternate Stage Music" Composed by Grant Kirkhope, Arranged by Hirokazu Ando w/ vocals by James W. Norwood Jr.
Podcast: Play in new window | Download