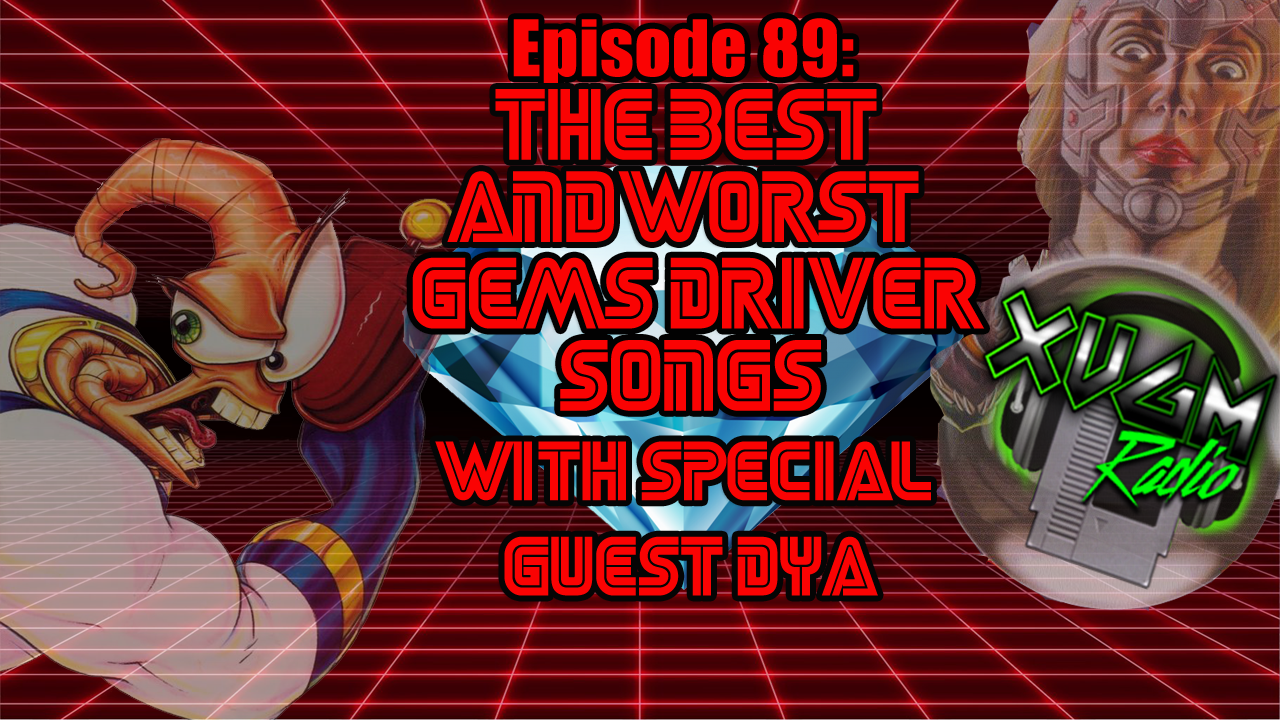 The Sega Genesis GEMS Driver is often considered one of the worst drivers created for video game music. However, we are optimists when it comes to most chips, so today, we're taking a deep look into the GEMS driver. Who created it, why it was important to Western composers, the benefits of it and the downfalls. Justin and Mike aim to examine the good AND bad parts of it, to unearth some game music that you might not have known about. Aaron Hickman of the Genesis Gems podcast is also known as chiptune and VGM composer DYA. He joins us on this episode to help explain some of the nitty gritty details regarding GEMS and the Sega sound in general. From bad Sylvester Stallone impressions, to Mike absolutely losing it whenever Captain Salty is discussed….to a surprise phone call from someone claiming to be Tommy Tallarico, this episode of XVGM Radio has it all!
Big thank you to our special guest, Dya aka Aaron Hickman, for joining us on this exciting look at the GEMS driver. Check out his podcast and VGM/chiptunes here: https://dyamusic.bandcamp.com/
Genesis Gems Podcast
Special thanks to Patreon member Scott Mcelhone for his Patreon pick this episode! What was your favorite track? Your least favorite? Have we changed your opinion on GEMS?  Shoot us an email at XVGMRadio@gmail.com or join in on the discussion at: https://www.facebook.com/groups/XVGMradio
Also, we have a Discord Channel! Join us and chat about the show, share a random or obscure VGM song you love, or just chit chat with Mike and Justin about tacos! Join for free here: https://discord.gg/zWxDYfn
Thanks to all of our wonderful Patrons: Alex Messenger, Cam Werme, Chris Murray, Chris Myers, Chris Hart, Scott McElhone, Jordan & Anson Davis, Llama Adam, Kung Fu Carlito, Nick Davis, Ryan McPherson, Marques Stewart, Brad Austin, Jeremy Rutz and The Autistic Gamer 89. Become a Patron, get cool rewards, and more at http://www.Patreon.com/XVGMRadio
Our Twitter and Instagram are great ways to interact with us! Find us on there under our handle @XVGMRadio
If you're an Apple Podcasts listener, please consider leaving a rating and a review to let us know how we're doing! It also helps with getting the show to show up when others are searching for VGM!
TRACK LISTING:
Intro – Prime Time NFL Starring Deion Sanders (GEN – 1996) "Season Tunes" Andy Armer
1 – Dragon's Revenge (aka Dragon's Fury 2) (GEN – 1993) "Main BGM" Earl Vickers
2 – Comix Zone (GEN – 1995) "Ending Theme" Howard Drossin
3 – X-Men 2: The Clone Wars (GEN – 1995) "The Clone Wars" Kurt Harland Larson, Neuromantic Productions, Jim Hedges, Mark Miller
4 – Earthworm Jim (GEN – 1995) "New Junk City" Tommy Tallarico / Mark Miller
5 – Richard Scarry's Busytown (GEN – 1994) "Captain Salty" András Magyari
6 – ToeJam & Earl (GEN – 1991) "Rapmaster Rocket Racket" John Baker, Mark Miller (Direction)
7 – Demolition Man (GEN – 1995) "Pipe Maze" Nathan Grigg
8 – Patreon Pick – Scott Mcelhone: Jurassic Park: Rampage Edition (GEN – 1994) "Aviary" Sam Powell
9 – Sylvester & Tweety: Cagey Capers (GEN – 1994) "Hyde and Shriek" Nathan Grigg
Podcast: Play in new window | Download