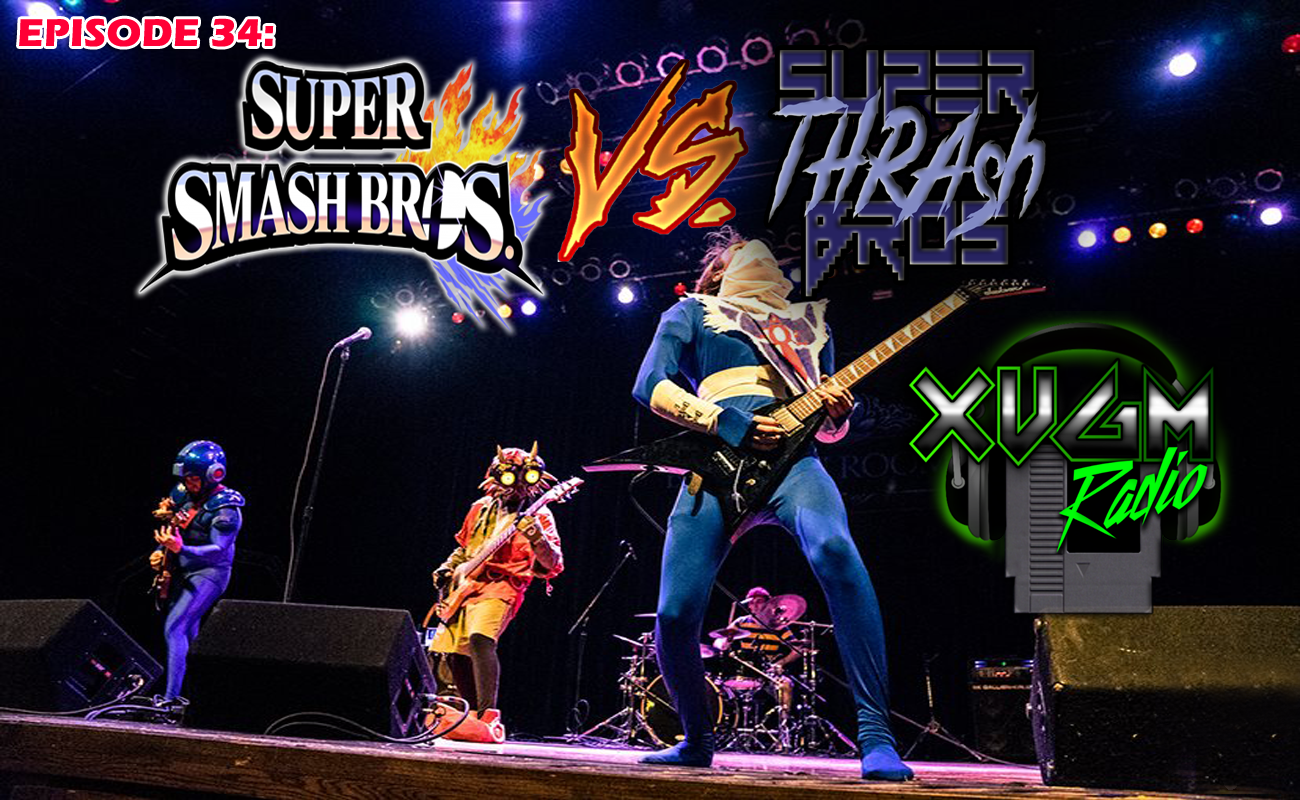 To be in a video game music cover band in 2019, there needs to be a gimmick of some sort. Fortunately, Super Thrash Bros. have a rock solid one. These gents combine wacky Smash Bros. themed showmanship and metal medleys with Smash Bros. themed costumes for a combination that can't be beat! Today on XVGM Radio, Mike and Justin are lounging with Super Thrash Bros. members Eric Germain (Ness; Drums), Ryan Morris (Megaman; Guitar) and Nick Palmisano(Skull Kid; Bass) to listen to the band's favorite medleys of their own. Then, we'll compare one portion of the medley to it's Thrash Bros. counterpart, head to head! Other members of Super Thrash Bros. who weren't able to join us this time around include Ant Palmisano (Shiek, Guitar), Bryan Carroll (Master Hand), Ed Connolly (Crazy Hand).This versus match is worth every second! Hear Mike get schooled on "progressive punk" aka Thrash, hear all about how this band came together to rock, and…long blonde haired dudes headbanging while wearing Donkey Kong ties?! It's all on this episode of XVGM Radio!
We'd love to hear what you thought about this episode! What was your favorite comparison? What do you think of Super Thrash Bros.? Shoot us an email at XVGMRadio@gmail.com or join in on the discussion at: https://www.facebook.com/groups/XVGMradio
We have a Discord Channel! Join us and chat about the show, share Dreamcast VGM you love, or just chit chat with Mike and Justin about tacos! Join for free here: https://discord.gg/zWxDYfn
Thanks to all of our wonderful Patrons: Alex Messenger, Cam Werme, Chris Murray, Chris Myers, Scott McElhone, Jordan & Anson Davis, Peter Panda, Kung Fu Carlito, Brad Austin, Jeremy Rutz and The Autistic Gamer 89. Become a Patron, get cool rewards, and more at http://www.Patreon.com/XVGMRadio
Our Twitter and Instagram are great ways to interact with us! Find us on there under our handle @XVGMRadio
If you're an iTunes listener, please consider leaving a rating and a review to let us know how we're doing! It also helps with getting the show to show up when others are searching for VGM!
TRACK LISTING:
All Medleys Performed and Arranged By Super Thrash Bros.
Intro : Kirby Medley
Metroid Medley – Metroid (NES – 1986) "Brinstar" Hirokazu Tanaka
F-Zero Medley – F-Zero X (N64 – 1998) "Mute City" Tarō Bandō, Hajime Wakai,
Mario Medley – Super Mario World (SNES – 1990) "Bowser's Castle" Kōji Kondō
Mega Man Medley – Mega Man 2 (NES – 1988) "Flash Man" Takashi Tateishi, Manami Matsumae, Yoshihiro Sakaguchi
Pokemon Medley – Pokemon Red/Blue/Yellow (GB – 1996) "Trainer Battle" Junichi Masuda
Star Fox Medley – Star Fox (SNES – 1993) "Venom Base (Parts 1&3)" Hajime Hirasawa
Podcast: Play in new window | Download