Episode 51 – Yooka-Laylee Back to the Fluture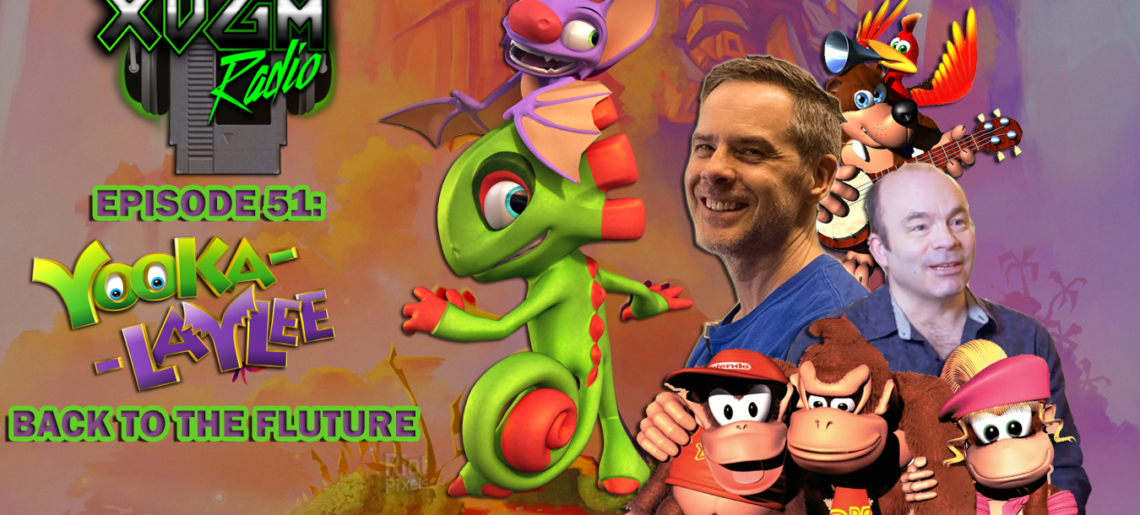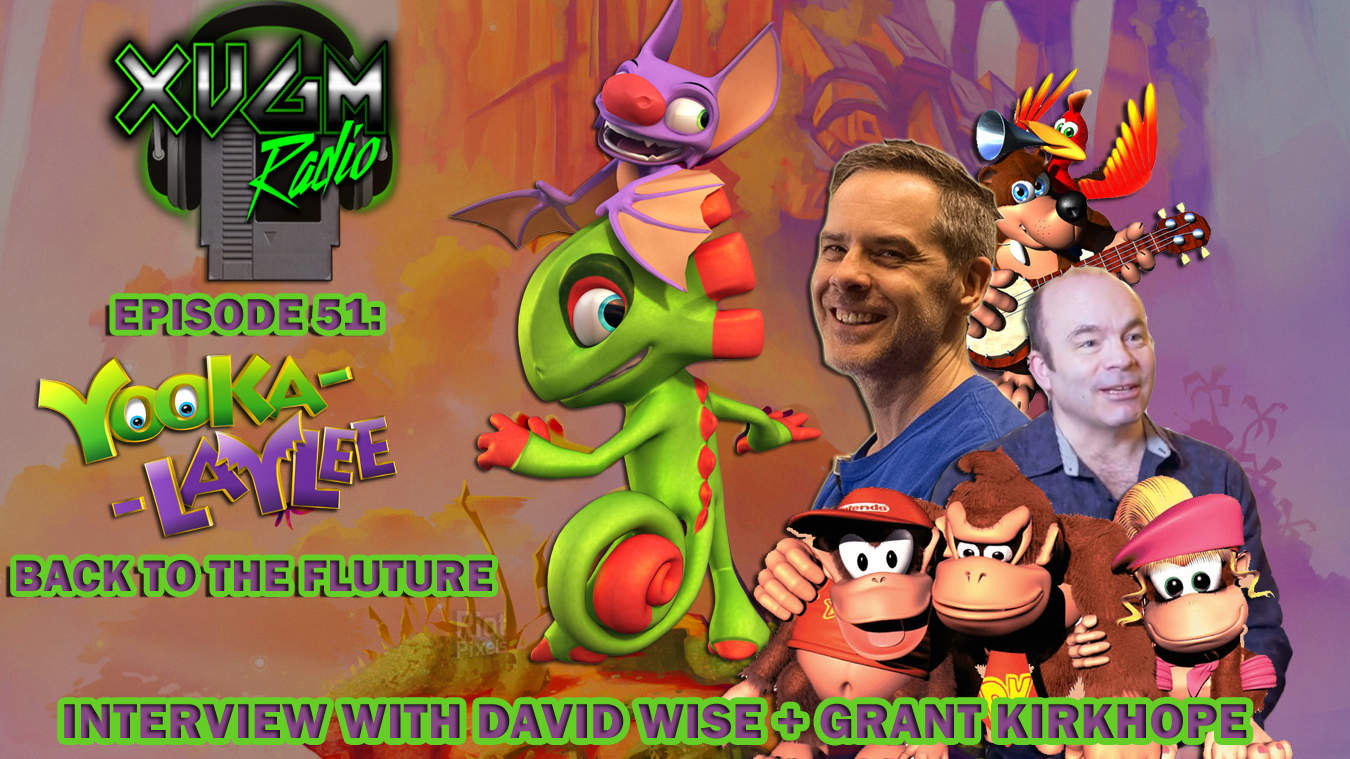 When Playtonic Games set out to develop a new 3D Action Platformer in the vein of Donkey Kong Country and Banjo Kazooie, they went back to the original composers who made those games sound so fantastic: David Wise (DKC) and Grant Kirkhope (BK.) But how did those games influence the sound with this new franchise that's been born out of a love and labor of the 64 bit era? Today on XVGM Radio, we're lucky to have both David Wise AND Returning guest/Composer Grant Kirkhope on the show to talk about the musical evolution from Donkey Kong, to Banjo-Kazooie, and finally, how those two influenced Yooka Laylee and Yooka Laylee & The Impossible Lair. From Mike trying to make sense of musical genres (and trying not to fanboy too much), to David and Grant uncovering some information about Grant's hiring process that they'd never known, to Justin sharing his fascination with Wild West VGM, get ready to collect DK Coins, Bananas, Jiggies, and Pagies on this star-studded interview from XVGM Radio!
HUGE thank you to Materia Collective and Jayson from Scarlet Moon Productions for helping with setup for the interviews. You can get the high quality soundtracks to both Yooka Laylee games on Materia Collective's pages here:
https://www.materiacollective.com/music/yooka-laylee-original-game-soundtrack
https://www.materiacollective.com/music/yooka-laylee-and-the-impossible-lair-original-game-soundtrack
Check out David and Grant at their respective social media and websites:
David: https://www.davidwise.co.uk/
Grant: https://www.grantkirkhope.com/
We'd love to hear what you thought about these composer interviews! Was it awesome to hear from Grant and David and did you learn anything new? Shoot us an email at XVGMRadio@gmail.com or join in on the discussion at: https://www.facebook.com/groups/XVGMradio
We have a Discord Channel! Join us and chat about the show, share a random or obscure VGM song you love, or just chit chat with Mike and Justin about tacos! Join for free here: https://discord.gg/zWxDYfn
Thanks to all of our wonderful Patrons: Alex Messenger, Cam Werme, Chris Murray, Chris Myers, Chris Hart, Scott McElhone, Jordan & Anson Davis, Llama Adam, Peter Panda, Kung Fu Carlito, Bedroth, Nick Davis, MixxMaster, Jason SuperJES Dos, Brad Austin, Dan Laughton, Matthew Hannola, Jeremy Rutz and The Autistic Gamer 89. Become a Patron, get cool rewards, and more at http://www.Patreon.com/XVGMRadio
Our Twitter and Instagram are great ways to interact with us! Find us on there under our handle @XVGMRadio
If you're an Apple Podcasts listener, please consider leaving a rating and a review to let us know how we're doing! It also helps with getting the show to show up when others are searching for VGM!
TRACK LISTING:
Intro -Yooka-Laylee "Main Theme" Grant Kirkhope
1- Donkey Kong Country (SNES, 1994) "Gang-Plank Galleon" David Wise, Eveline Novakovic (Fischer), Robin Beanland
2 – Donkey Kong Country 2 (SNES, 1995) "Stickerbush Symphony (Bramble Blast)" David Wise
3 – Donkey Kong Land 2 (GB, 1996) "Stickerbush Symphony (Bramble Blast)" David Wise, Grant Kirkhope (arranged)
4 – Donkey Kong Country: Tropical Freeze (Wii U/Switch, 2014/2018) "Zip Line Shrine" David Wise, Kenji Yamamoto
5 – Diddy Kong Racing (N64, 1997) "The Secret Tune" – David Wise
6 – Banjo-Kazooie (N64, 1998) "Secret Fanfare 4 (Mad Monster Mansion)" – Grant Kirkhope
7 – Banjo-Tooie (N64, 2000) "Wild West Zone" – Grant Kirkhope
8 – Banjo Kazooie: Nuts & Bolts (360, 2008) "Out Around Nutty Acres" – Grant Kirkhope, Robin Beanland, David Clynick
9 – Yooka Laylee -(2017, PS4, Switch, XBONE, PC) "Hivory Towers" Grant Kirkhope, David Wise, Steven Burke
10 – Yooka Laylee (2017, PS4, Switch, XBONE, PC) "Uphill Battle" – Steven Burke, Grant Kirkhope, David Wise
11 – Yooka Laylee & The Impossible Lair (2019, Switch, PS4, XBONE, PC) "Factory Fright" – Matt Griffin, Grant Kirkhope, Daniel Murdoch, David Wise
12 – Yooka Laylee & The Impossible Lair (2019, Switch, PS4, XBONE, PC) "The Overworld – Beach" – Matt Griffin, Grant Kirkhope, Daniel Murdoch, David Wise
13 – Yooka Laylee & The Impossible Lair (2019, Switch, PS4, XBONE, PC) "The Impossible Lair 2" – Matt Griffin, Grant Kirkhope, Daniel Murdoch, David Wise
Podcast: Play in new window | Download