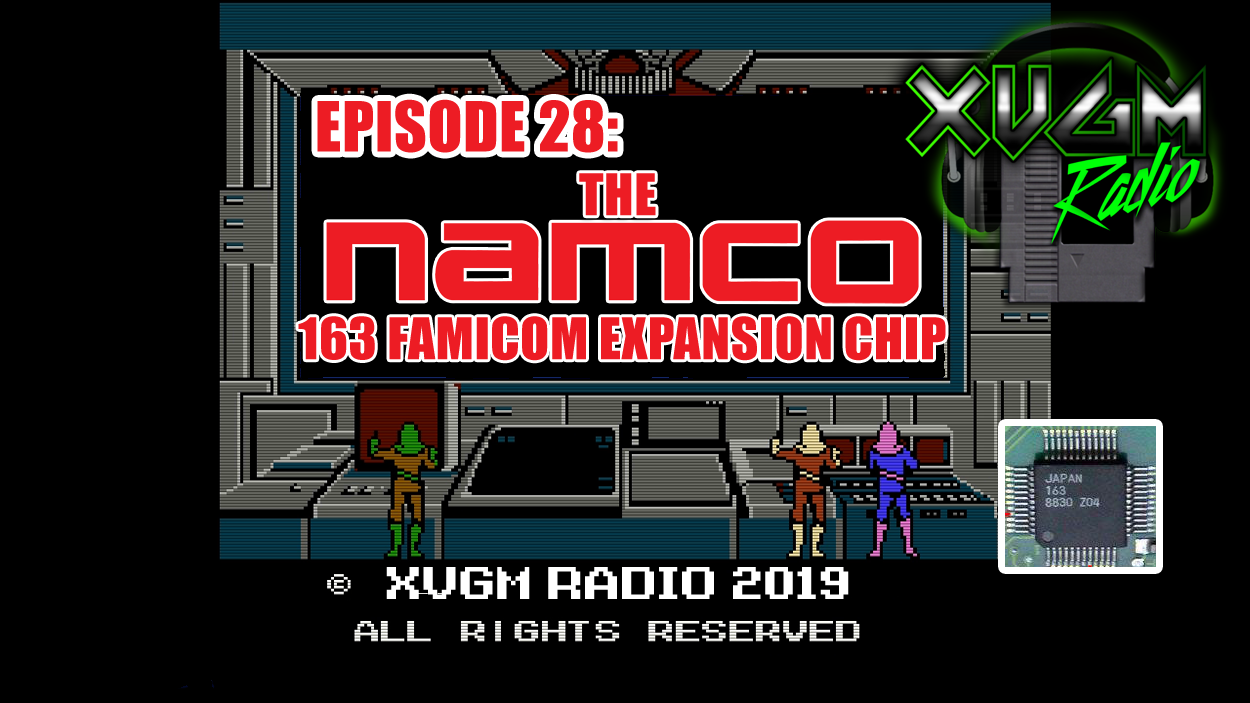 Namco, a long time developer and publisher in the video game industry, wanted to take their Famicom development to the next level. They created the NAMCO 163 expansion chip, which enhanced audio capabilities on the Famicom; making the system sound like a PC-Engine at points. A small set of games had this chip installed in it, and while not all of the games we're talking about took advantage of all 8 additional sound channels, the music is still phenomenal. That's why Mike and Justin are deep diving into the sound of the NAMCO 163 chip. Listen to some interesting facts about the chip and it's development, hear Mike try to pronounce Wagan Land, and hear the XVGM gents talk about gold-digging mice brides…all on this very interesting episode of XVGM Radio!
Shout out to Nerdly Pleasures blogspot article and the NESDEV Wiki page for the information.
LINKS: https://nerdlypleasures.blogspot.com/2017/08/famicom-expansion-audio-overview.html
https://wiki.nesdev.com/w/index.php/Namco_163_audio
We'd love to hear what you thought about this sopping wet tracking listing. What was your favorite track? Shoot us an email at XVGMRadio@gmail.com or join in on the discussion at www.Facebook.com/Groups/XVGMRadio
We have a Discord Channel! Join us and chat about the show, share VGM you love, or just chit chat with Mike and Justin about tacos! Join for free here: https://discord.gg/zWxDYfn
Thanks to our wonderful Patrons: Alex Messenger, Cam Werme, Chris Murray, Chris Myers, Scott McElhone, Jordan & Anson Davis, Peter Panda, Kung Fu Carlito, Jordan & Anson Davis, John "Mixxmaster" Jekel and The Autistic Gamer 89. Become a Patron, get cool rewards, and more at www.Patreon.com/XVGMRadio
Our Twitter and Instagram are great ways to interact with us! Find us on there under our handle @XVGMRadio
If you're an iTunes listener, please consider leaving a rating and a review to let us know how we're doing! It also helps with getting the show to show up when others are searching for VGM!
TRACK LISTING:
Intro : Erika To Satoru No Yume Bouken (FC – 1988) "Title Theme" Hirohiko Takayama (8 channels), Tsukasa Masuko (sound driver uncredited)
1 – Family Circuit '91 (FC – 1991) – "BGM 05" Nobuyuki Ōnogi
2 – Wagan Land 3 (FC – 1992) – "Space Station Stage 3" Yoshinori Kawamoto
3 – Sangokushi – Chuugen no Hasha (aka Romance of the Three Kingdoms) (FC – 1988) – "BGM 09" Yoko Kanno (Uncredited)
4 – Digital Devil Story: Megami Tensei 2 (FC – 1990) – "Daedalus" Tsukasa Masuko (uncredited)
5 – Hydlide 3: Yami Kara no Houmonsha (FC – 1989) – "Gayzac" Shigeru Tomita (Original Music), Hiroshi Sakaguchi (Arrangement)
6 – Mappy Kids (FC – 1989) – "Stage 3 Theme" Atsuko Iwanaga
7 – Sangokushi 2 – Haou no Tairiku (aka Romance of the Three Kingdoms 2) (FC – 1992) – "Ending" Shinji Amagishi (as Banjirō Amanishi)
8 – Rolling Thunder (FC – 1989) – "Stage 1 Theme" Junko Ozawa, Minoru Kidooka (sound driver)
9 – Final Lap (FC – 1987) – "Final Results (Tournament Mode)" Unknown (no credits for Arcade or FC)
10 – King of Kings (FC – 1988) – "Strategy Phase" (8 channels) Hirohiko Takayama
Podcast: Play in new window | Download