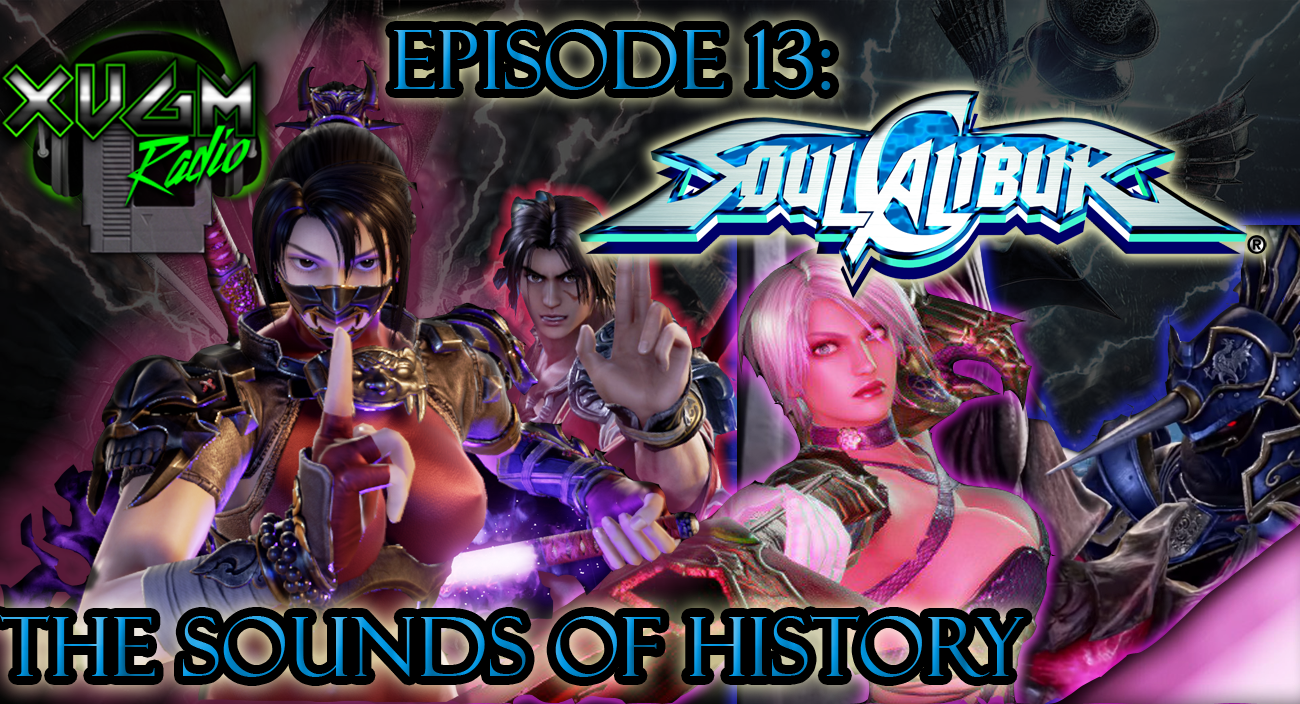 A tale of swords and destinies, Soul Calibur has become a legendary series featuring some of the greatest fighting game advancements ever; and within those achievements are musical compositions that deserve vast amounts of recognition. Today we visit the stage of history and the world of Soul Calibur as we uncover some of the finer details about the lore, characters, gameplay mechanics, and of course the music. Join Mike and Justin as they try to define what makes Japanese harps "buttery", struggle with pronunciation of Seung Mi-Na's name, and of course, get bossed around by special celebrity call-in, Ivy Valentine! Welcome to your ultimate Soul Calibur playlist!
We'd love to hear what you thought about this musical journey through the Soul Calibur games! Shoot us an email at XVGMRadio@gmail.com or join in on the discussion at www.Facebook.com/Groups/XVGMRadio
Huge thank you to Patron Chris Murray for picking an absolutely awesome track this episode! And thanks to the rest of our wonderful Patrons: Alex Messenger, Cam Werme, Chris Murray, Chris Myers, Scott McElhone and "The Autistic Gamer 89"
Learn how you can be added to this list on www.Patreon.com/XVGMRadio
Our Twitter and Instagram are great ways to interact with us! Find us on there under our handle @XVGMRadio
If you're an iTunes listener, please consider leaving a rating and a review to let us know how we're doing! It also helps with getting the show to show up when others are searching for VGM!
TRACK LISTING:
Intro: Soul Edge (Soul Blade) (Arcade – 1996), "The Edge of Soul (Intro Theme)" Takanori Otsuka, Hiroyuki Kawada, Masahiro Fukuzawa, Hiroto Sasaki, Takayuki Ishikawa, Akihiko Ishikawa
1 – Soul Edge (Soul Blade) (Arcade – 1996), "Kkaduri (Sueng Mina's theme)" Takanori Otsuka, Hiroyuki Kawada, Masahiro Fukuzawa, Hiroto Sasaki, Takayuki Ishikawa, Akihiko Ishikawa
2 – Soul Calibur (Arcade – 1998), "The New Legends: Proving Ground (Kilik & Edge Master)" Akitaka Toyama, Junichi Nakatsuru, Yoshihito Yano, Hideki Tobeta
3 – Soul Calibur (Arcade – 1998), "Unblessed Soul (Ivy's Theme)" Akitaka Toyama, Junichi Nakatsuru, Yoshihito Yano, Hideki Tobeta
4 – Soul Calibur II (Arcade – 2002) "Unwavering Resolve (Cassandra's Theme)" Junichi Nakatsuru
5 – Soul Calibur: Legends (Wii – 2007) "Barbaros" Basiscape Co. Ltd. (Masaharu Iwata, Mitsuhiro Kaneda, Kimihiro Abe, Noriyuki Kamikura)
6 – Soul Calibur III (PS2/Arcade – 2005), "No Regrets (Cervantes Theme)" Junichi Nakatsuru (only person listed as "Music by")
7 – Patreon Pick: Chris Murray – Soul Calibur IV (XB360/PS3 – 2008) "Thanatos" Junichi Nakatsuru, Keiki Kobayashi, Hiroyuki Fujita
8 – Soul Calibur IV (PS3/XB360 – 2008), "Gigantesque (Amy's Theme)" Junichi Nakatsuru, Keiki Kobayashi, Hiroyuki Fujita
9 – Soul Calibur V (XB360/PS3 – 2012) "Sword of Resolution (Patroklos' Theme)" Andrew Aversa, Cris Velasco, Hiroki Kikuta, Inon Zur, Junichi Nakatsuru, Tomoki Miyoshi
10 – Soul Calibur VI (PS4/XBone/PC – 2018) "Who Dare to Tread" Junichi Nakatsuru
Podcast: Play in new window | Download