Episode 35 – Super Nintendo Jams vs. Sega Genesis Grooves (Retro World Expo Live Panel)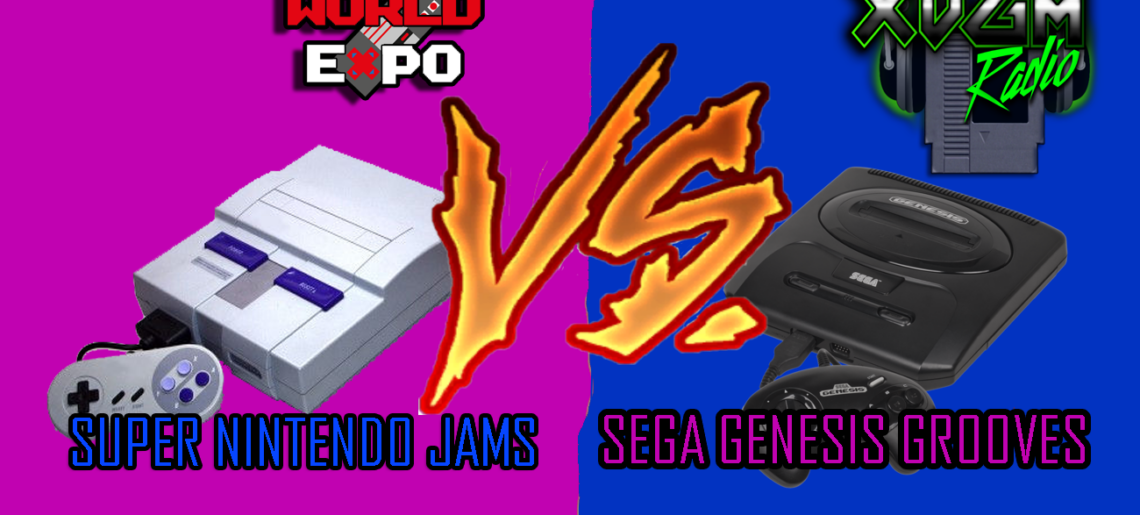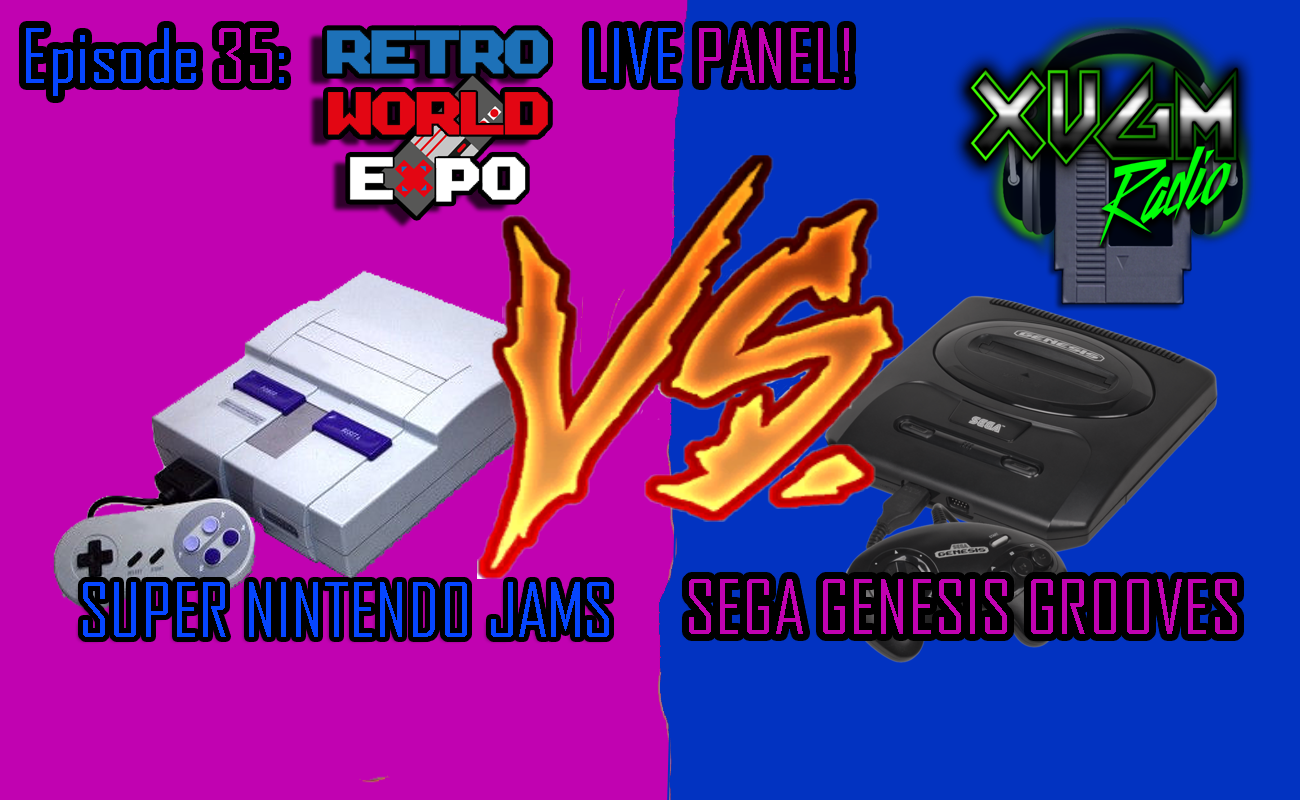 Mike and Justin Hosted their first ever panel together, and they did it at Retro World Expo in Hartford, CT on September 28th, 2019! The guys wanted to do something to attract a big audience, and what better way to do that then to have the ultimate retro battle when it comes to VGM: Super NES versus Sega Genesis! After cultivating a wide range of tunage, the guys got the audience to participate in a cheering contest to determine which song was liked better. The categories of Best comparison, Capabilities, and a favorite from each of the guys for every console.
We'd like to take this time to apologize for the audio snafus. This episode won't sound like our normal higher quality content, and it's mostly due to some recording errors. However, we were able to preserve the audio thanks to another format we recorded in, so please excuse the occasional issues which may pop up.
What did you think of the picks? Did you agree with everyone's voting? What's your vote?
Shoot us an email at XVGMRadio@gmail.com or join in on the discussion at: www.facebook.com/groups/XVGMradio
We have a Discord Channel! Join us and chat about the show, share different Super NES or Sega Genesis tracks you love, or just chit chat with Mike and Justin about tacos! Join for free here: https://discord.gg/zWxDYfn
Thanks to all of our wonderful Patrons: Alex Messenger, Cam Werme, Chris Murray, Chris Myers, Scott McElhone, Jordan & Anson Davis, Peter Panda, Kung Fu Carlito, Brad Austin, Jeremy Rutz and The Autistic Gamer 89. Become a Patron, get cool rewards, and more at http://www.Patreon.com/XVGMRadio
Our Twitter and Instagram are great ways to interact with us! Find us on there under our handle @XVGMRadio
If you're an iTunes listener, please consider leaving a rating and a review to let us know how we're doing! It also helps with getting the show to show up when others are searching for VGM!
TRACK LISTING:
Mike Intro Pick: SNES – Mighty Morphin Power Rangers: The Movie "Shopping Center (Stage 1)" Hiroyuki Iwatsuki, Haruo Ohashi
Justin Intro Pick: Genesis – The Lost Vikings (1992) "Prehistoria" – Matt Furniss
Mike – Best comparison:
Street Fighter II: The World Warrior/Championship Edition (1991/1993) – "Guile's Theme" – Yoko Shimomura, Yoshihiro Sakaguchi, Isao Abe, Tatsuya Nishimura (Arrangement on Genesis: Setsuo Yamamoto, Tadashi Joukagi)
Justin – Best comparison:
Earthworm Jim (1995) "New Junk City" – Mark Miller, Tommy Tallarico
Mike – Capabilities:
SNES – Super Castlevania IV (1991) "Stage 3-3 The Submerged City" Masanori Adachi, Akira Soji, Taro Kudo
Genesis – Ristar (1995) "Ice Scream" Tomoko Sasaki
Justin – Capabilities:
SNES – Actraiser (1990) "Fillmore" – Yuzo Koshiro (Slap Bass & Organs)
Genesis – Alien Soldier (1995) "Runner AD2025" – Norio Hanzawa (drums – alt slap bass)
Mike – A favorite from both systems:
SNES: Final Fantasy V (1992) "The Decisive Battle" – Nobuo Uematsu
Genesis: Streets of Rage 3 (1994) "Cycle 1 (Round 1-2)" – Motohiro Kawashima, Yuzo Koshiro
Justin: A favorite from both systems:
SNES – Gradius 3 (1990) "Dead End Cell" – Kazuki Muraoka, Kazuhiko Uehara, Harumi Uekō, Yukie Morimoto
Genesis – Battle Mania Daiginjou (1993) "Smoking Head" – Fumito Tamayama, Yasuyuki Hamada, Yoko Kawashima, Shigenori Masuko
Podcast: Play in new window | Download