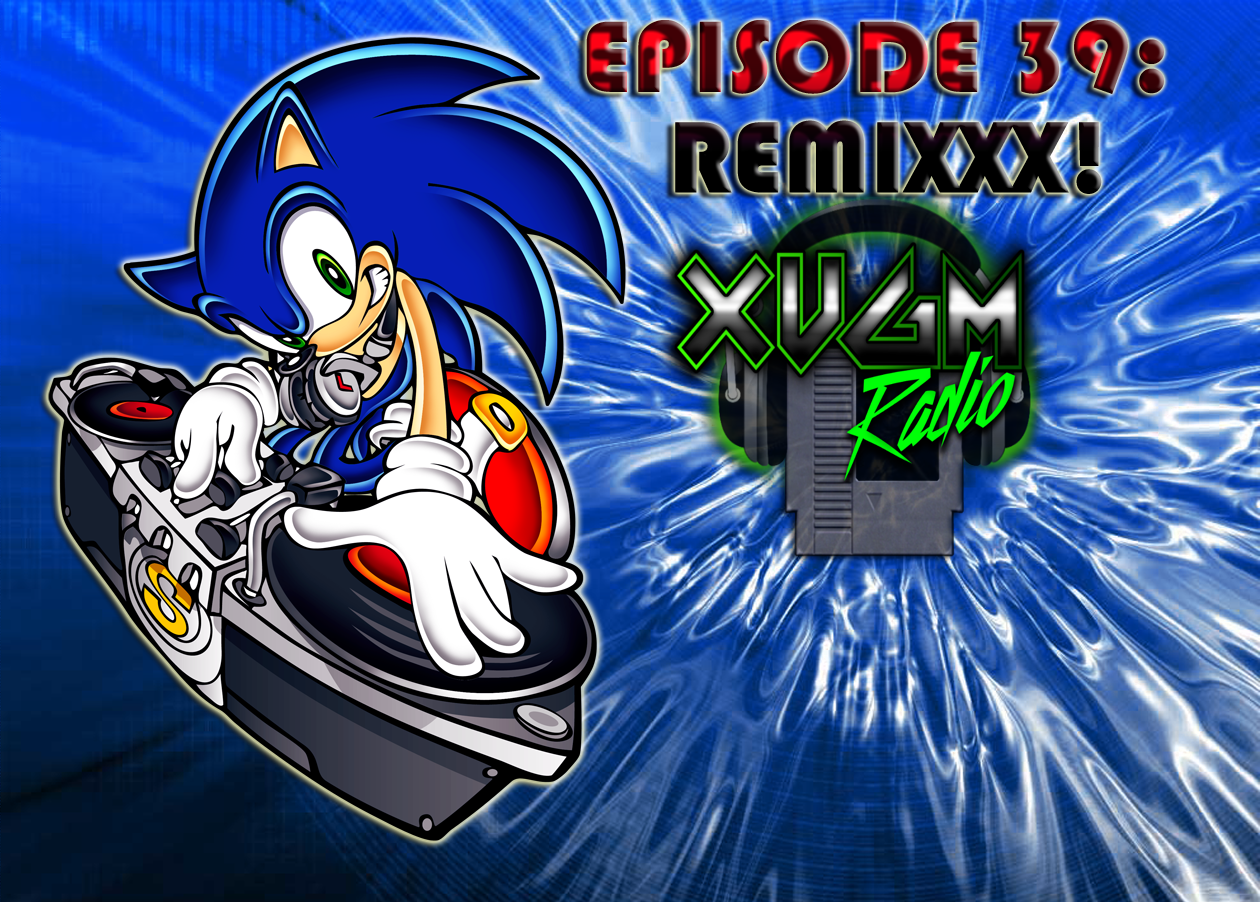 An episode that's been a year in the making, Justin and Mike finally sit down and pick some of their favorite remixes! From nostalgic classics dating back to the beginnings of OCREMIX, to some more contemporary stuff from labels like Gamechops and even Youtube, this episode is a musical variety the likes of which ONLY XVGM Radio can deliver! Plus, hear the guys stumble onto a hidden treasure trove of a once-thought lost remixer, discussions on Phil Collins…and BUTTS! All on this RE-RE-REMIXXXXX episode of XVGM Radio!
We'd love to hear what you thought about the remixes we picked! What was your favorite track? Shoot us an email at XVGMRadio@gmail.com or join in on the discussion at: https://www.facebook.com/groups/XVGMradio
We have a Discord Channel! Join us and chat about the show, share favorite remixes or covers you love, or just chit chat with Mike and Justin about tacos! Join for free here: https://discord.gg/zWxDYfn
Thanks to all of our wonderful Patrons: Alex Messenger, Cam Werme, Chris Murray, Chris Myers, Scott McElhone, Jordan & Anson Davis, Llama Adam, Peter Panda, Kung Fu Carlito, Bedroth, Nick Davis, MixxMaster, Brad Austin, Daniel Laughton, Jeremy Rutz and The Autistic Gamer 89. Become a Patron, get cool rewards, and more at http://www.Patreon.com/XVGMRadio
Our Twitter and Instagram are great ways to interact with us! Find us on there under our handle @XVGMRadio
If you're an Apple Podcasts listener, please consider leaving a rating and a review to let us know how we're doing! It also helps with getting the show to show up when others are searching for VGM!
TRACK LISTING:
Intro – Chrono Trigger (1995, SNES) "A World Awaits Chrono"
Original Composer: "A Premonition" & "Chrono Trigger" by Nobuo Uematsu, Noriko Matsueda, Yasunori Mitsuda
Arranger/Remixer: J:/Drive (OCR)
1 – Super Mario Bros 3 (1990, NES) "Battle Rocks"
Original Composer: "Enemy Battle" by Koji Kondo
Arranger: AmIEvil (OCR)
2 – Mega Man 3 (1990, NES) "Gemini Salsa"
Original Composer: "Gemini Man Stage" by Harumi Fujita, Yasuaki Fujita
Arranger/Remixer: MkVaffe (OCR)
Patreon Pick: Chris Murray – Duck Tales (1989, NES) "Moon Theme (Acapella)"
Original Composer: "The moon" by Hiroshige Tonomura
Arranger/Remixer: Max Gleason aka Smooth McGroove (Self)
3 – Detana Twinbee (1991, Sharp X68000) "BUTTS"
Original Composer: "Crossing the Sea of Clouds (Stage 2 BGM)" by Kaori Kinouchi, Masahiro Ikariko, Yuichi "You" Takamine
Arranger: Prozax (OCR)
4 – Pokemon X/Y (2013, NDS) "POKÉHAT REMIX"
Original Composer: "Boutique" by Shota Kageyama, Minako Adachi, Hitomi Sato, Junichi Masuda
Arranger/Remixer: James Landino (GameChops)
5 – Double Dragon 2 (1989, NES/Arcade) "Twin Blood"
Original Composer: "Mission 9- Final Battle 2 (Final Screen)" by Kazunaka Yamane
Arranger/Remixer: Sixto Sounds (AKA Juan Medrano) (OCR)
6 – Final Fantasy 6 (1994, SNES) "Deserted Industry"
Original Composer: "Wild West" by Nobuo Uematsu
Arranger/Remixer: Beatdrop (OCR)
7 – Lost Patrol (1990, Amiga) "In The Air Mix"
Original Composer: "Lost Patrol Theme" Jonathan Dunn, Chris Glaister
Arranger: Makke (Marcus Lagré), Phil Collins (Inspiration) (OCR)
8 – Castlevania 2 (1988, NES) "Tears of Blood"
Original Composer: "Bloody Tears" by Kenichi Matsubara
Arranger/Remixer: Joshua Morse (GameChops)
9 – Final Fantasy VII (1997, PS1) "Antitrust"
Original Composer: "Shinra's Theme" Nobuo Uematsu
Arranger/Remixer: SubstN
(VGMIX Archive)
10 – Sonic The Hedgehog 2 (1992, Genesis) "Robotnik's Trippin on Ecstacy"
Original Composer: "Robotnik Battle" by Masato Nakamura
Arranger/Remixer: PxFury (OCR)
Podcast: Play in new window | Download