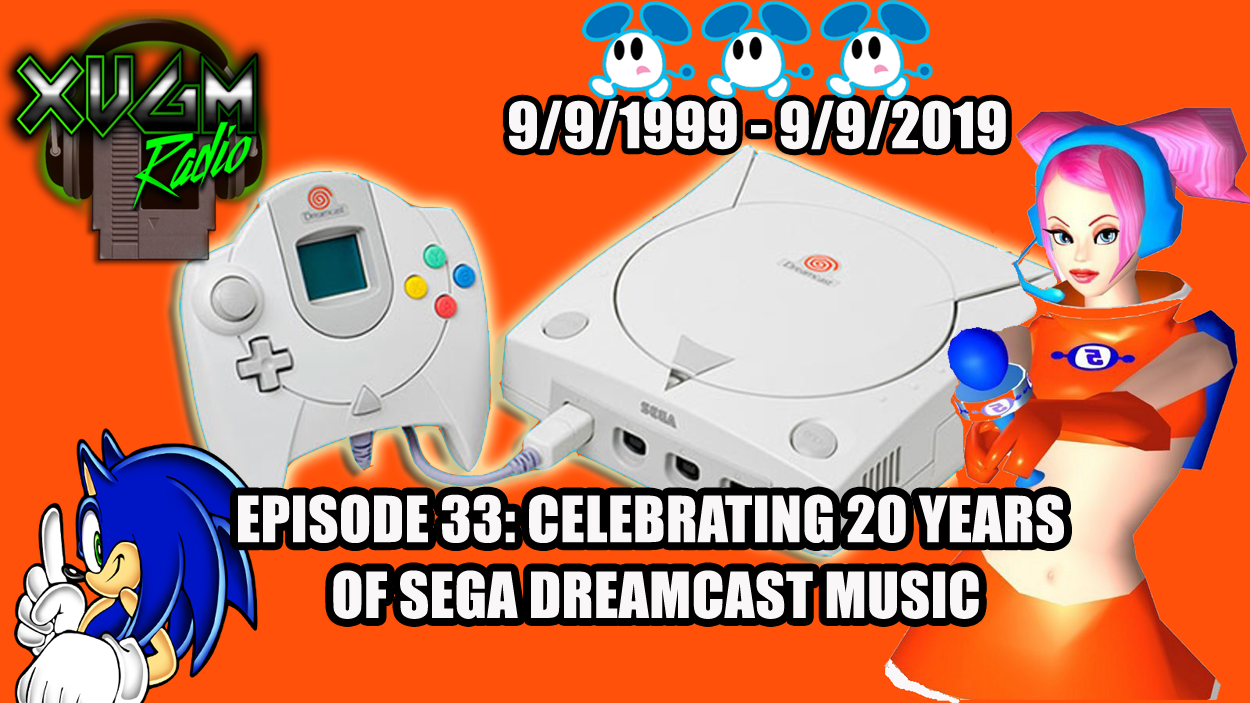 Everyone join in now: Happy Birthday to you, Happy Birthday to you, Happy Biiirtthhhdaayyyy dear Sega Dreamcast, Happy Birthday to you! The Sega Dreamcast is largely considered to be Sega's swansong and the final console to focus on arcade-based-ports to home-grown video games. Utilizing the NAOMI hardware, Sega was able to easily port games from the arcade to the console market. Sadly, the Dreamcast was Sega's final original console, released this day 20 years ago on September 9th, 1999, also known as 9-9-99. It's been 20 years since the console released in North America with a complete onslaught of titles, so today we thought we'd explore the North American side of the console's video game music. Justin and Mike have picked tons of fantastic music to take you for a ride throughout this celebration. So, roll down your windows, slick those frosted tips back, grab your chain wallet and put on your jeans with the enormous pant legs. Turn the nu-metal off for a second, hit pause on your VHS of the International Man of Mystery and let's boogie to some Sega Dreamcast bangers!
After listening to this episode, be sure to check out Rhythm & Pixels Podcast, as we have joined forces with them to do a mass celebration of Dreamcast tunes. Check them out at: https://rhythmandpixels.com/
We'd love to hear what you thought about our Dreamcast selections! What was your favorite track? What songs were missing that you would like to showcase yourself? Shoot us an email at XVGMRadio@gmail.com or join in on the discussion at: www.facebook.com/groups/XVGMradio
We have a Discord Channel! Join us and chat about the show, share Dreamcast VGM you love, or just chit chat with Mike and Justin about tacos! Join for free here: https://discord.gg/zWxDYfn
Thanks to all of our wonderful Patrons: Alex Messenger, Cam Werme, Chris Murray, Chris Myers, Scott McElhone, Jordan & Anson Davis, Peter Panda, Kung Fu Carlito, Brad Austin and The Autistic Gamer 89. Become a Patron, get cool rewards, and more at http://www.Patreon.com/XVGMRadio
Our Twitter and Instagram are great ways to interact with us! Find us on there under our handle @XVGMRadio
If you're an iTunes listener, please consider leaving a rating and a review to let us know how we're doing! It also helps with getting the show to show up when others are searching for VGM!
TRACK LISTING:
Intro : Sonic Adventure 2 (DC – 2001) "Escape From The City…For City Escape" Fumie Kumatani, Tomoya Ohtani, Jun Senoue, Kenichi Tokoi, Ted Poley (drums and lyrics), Tony Harnell (vocals)
1 – Trickstyle (DC/PC – 1999) "Japan Race 3" Richard Beddow
2 – Fur Fighters (DC/PS2/PC/IOS – 2000/2001, 2012) "Viggo-A-Gogo" Nelson Everhart, Michael Pummell
3 – Space Channel 5 (DC, 1999/PS2 – 2003) "Spaceport – Introducing Ulala!" Naofumi Hataya, Kenichi Tokoi, Ken Woodman (Mexican Flyer)
4 – ChuChu Rocket (DC/GBA – 1999/2001) "Credits" Tomoya Ohtani
5 – Outtrigger (Arcade 1999/DC – 2001) "You Defeated Me" Fumio Ito
6 – Sega Marine Fishing (DC/Arcade – 2000) "Coral Reef" Unknown Composer
7 – Sword of the Berserk (DC – 2000) "Adhesion to Blood" Susumu Hirasawa
8 – Power Stone 2 (DC/Arcade – 2000) "Extra Stage 2" Tetsuya Shibata
9 -Omikron: The Nomad Soul (DC/PC – 1999/2000) "Fight With Astaroth" Xavier Despas, David Bowie, Reeves Gabriels
10 – Phantasy Star Online (DC – 2001) "Can still see the light ~ENDING THEME~ (Wind Orchestra Version)" Hideaki Kobayashi, Fumie Kumatani
Outro: Skies of Arcadia (DC/GCN – 2000/2003) "Theme of Loneliness" Yutaka Minobe, Tatsuyuki Maeda
Podcast: Play in new window | Download