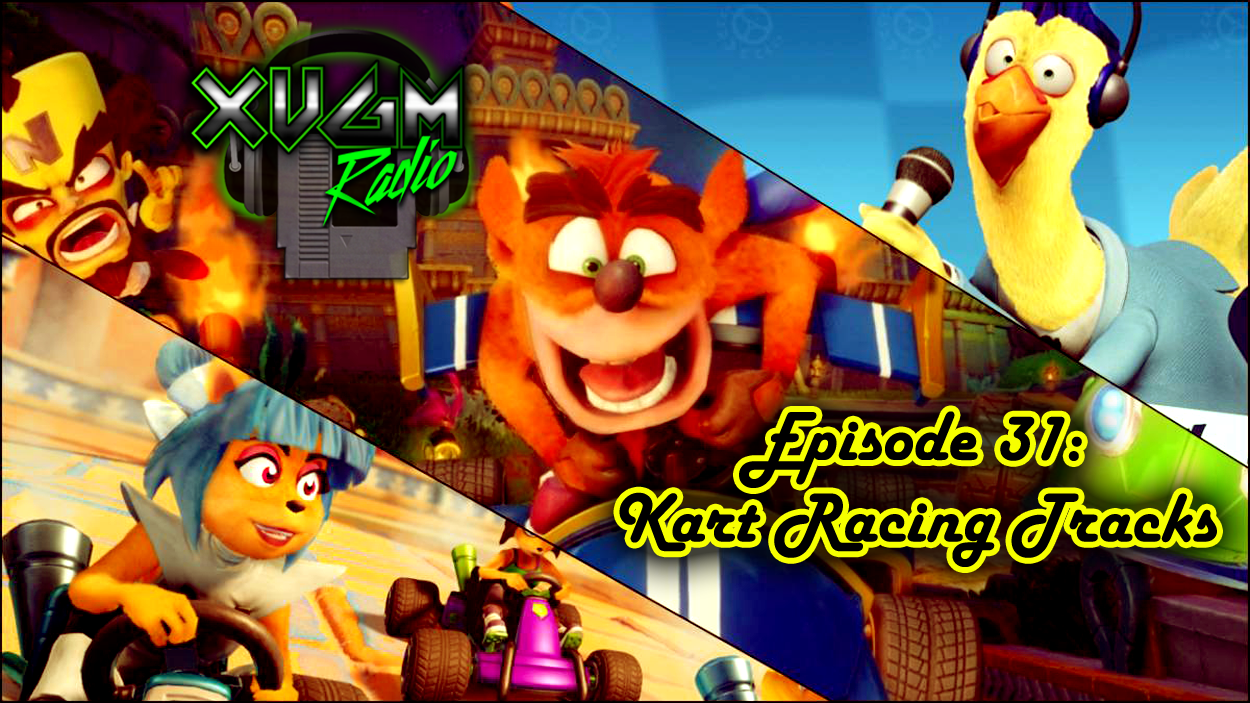 Zoom! Whoosh! Boing! Vroom! Start your engines and turn the volume up, because the XVGM Radio guys are going racing! Kart racing to be specific! Today, we're checking out the wild and wacky world of the Kart Racing video game genre and the tunes behind the engine sounds. Celebrate good times and good memories with songs that range from the weird and wonky to the bouncy and funky. Sure, we could've stuck with just Mario Kart, but we've chosen tracks from some pretty obscure games. So start your engines, here comes the green light, get your items ready for XVGM Radio: Kart Racing Tracks!
We'd love to hear what you thought about these Kart Racing Tracks! What was your favorite track? Shoot us an email at XVGMRadio@gmail.com or join in on the discussion at: www.facebook.com/groups/XVGMradio
We have a Discord Channel! Join us and chat about the show, share VGM you love, or just chit chat with Mike and Justin about tacos! Join for free here: https://discord.gg/zWxDYfn
Thanks to all of our wonderful Patrons: Alex Messenger, Cam Werme, Chris Murray, Chris Myers, Scott McElhone, Jordan & Anson Davis, Peter Panda, Kung Fu Carlito, Brad Austin and The Autistic Gamer 89. Become a Patron, get cool rewards, and more at www.Patreon.com/XVGMRadio
Our Twitter and Instagram are great ways to interact with us! Find us on there under our handle @XVGMRadio
If you're an iTunes listener, please consider leaving a rating and a review to let us know how we're doing! It also helps with getting the show to show up when others are searching for VGM!
TRACK LISTING:
Intro – Diddy Kong Racing: (N64 – 1997) "T.T's Theme" David Wise
1 – Sonic Drift (GameGear – 1994) "Springyard Course" Masayuki Nagao
2 – Crash Team Racing Nitro Refueled (PS4/Switch/XBONE – 2019) "N. Sanity Beach Map" Mark Mothersbaug (Mutato Muzika)(Original OST), Josh Mancell (original OST), Ashif Hakik, Nicolas Tremblay
Patreon Pick: Scott Mcelhone – Mario Kart Wii (Wii – 2008) "Wario's Gold Mine" Asuka Ohta, Ryo Nagamatsu
3 – Wacky Wheels (DOS – 1994) "Pumper" Mark Klem
4 – Chocobo Racing (PS1 – 1999) "Mogri Forest" Kenji Ito, Nobuo Uematsu
5 – Atari Karts (Jaguar – 1995) "World 8 (Lava/Hell)" Fabrice Gillet, Miracle Designs Tea
6 – Donkey Kong Barrel Blast (Wii – 2007) "Cosmic Highway" Takashi Kouga, David Wise (original DKC Theme)
7 – Mario Kart DS (NDS – 2005) "Peach Gardens" Shinobu Tanaka
8 – M&M's Kart Racing (Wii – 2007) "UFO" Lukasz Stasinski
9 – ModNation Racers (PS3/PSP – 2010) "Ain't No Stoppin' It" Jono Grant, Marc Baril, Peter Chapman
10 – Konami Krazy Racers (GBA – 2001) "Metal Gear Solid Level/Cyborg Ninja" Sotaro Tojima(arranged), Kazuki Muraoka, Hiroyuki Togo, Takanari Ishiyama, Lee Jeon Myung
Podcast: Play in new window | Download