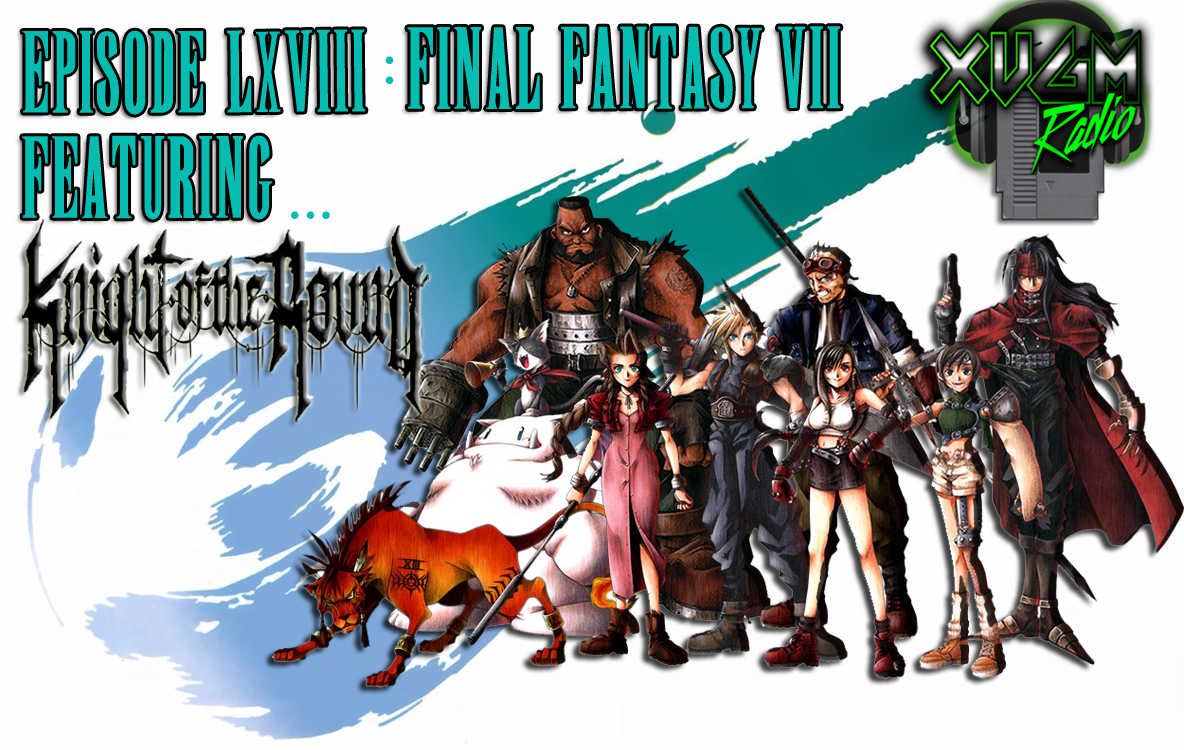 Hailed as one of the greatest video game experiences ever, Final Fantasy VII was a game changer. It revolutionized the Japanese Role Playing Game market and the art of storytelling in a video game at the time of its released. Now, almost 23 years later, we are about to see a remade version of the game that captured our hearts back in 1997. But on the eve of Final Fantasy VII Remake's release date, XVGM Radio sat down with Knight of the Round band member, Justin Taylor, to chat about the significance of the original game, it's landmark music by Nobuo Uematsu, and showcase KotR's latest release, a Metal-infused thematic cover album aptly titled: "SEVEN." We'll give you one guess what the theme is. From chatting about Cid's character growth to the importance of Tifa in Mike's teen years and Justin's teenage confusion over numbering the Final Fantasy games back in the day. It's a musical celebration of a true masterpiece, both musically and gameplay wise. Also, MAD Cait Sith hate!
We'd love to hear what you thought about this landmark JRPG soundtrack. What was your favorite song that we played? Did we miss your favorite tune? Shoot us an email at XVGMRadio@gmail.com or join in on the discussion at: https://www.facebook.com/groups/XVGMradio
We have a Discord Channel! Join us and chat about the show, share a random or obscure VGM song you love, or just chit chat with Mike and Justin about tacos! Join for free here: https://discord.gg/zWxDYfn
Thanks to all of our wonderful Patrons: Alex Messenger, Cam Werme, Chris Murray, Chris Myers, Chris Hart, Scott McElhone, Jordan & Anson Davis, Llama Adam, Peter Panda, Kung Fu Carlito, Bedroth, Nick Davis, MixxMaster, Jason SuperJES Dos, Brad Austin, Dan Laughton, Matthew Hannola, Jeremy Rutz and The Autistic Gamer 89. Become a Patron, get cool rewards, and more at http://www.Patreon.com/XVGMRadio
Our Twitter and Instagram are great ways to interact with us! Find us on there under our handle @XVGMRadio
If you're an Apple Podcasts listener, please consider leaving a rating and a review to let us know how we're doing! It also helps with getting the show to show up when others are searching for VGM!
TRACK LISTING:
Final Fantasy VII – Sony Playstation, 1997
Composed By: Nobuo Uematsu
Arrangements/Covers by Knight of the Round
Intro – "Prelude"
Knight of the Round – "Opening/Bombing Mission"
1 – "Hurry!"
2 – "Tifa's Theme"
3 – "Turk's Theme"
4 – "Rufus Welcoming Ceremony"
5 – "Underneath The Rotting Pizza"
6 – "Jenova Absolute"
7 – "Crazy Motorcycle"
8 – "Cid's Theme"
9 – "Fiddle de Chocobo"
10 – "Highwind Takes To The Skies"
Knight of the Round – "One Winged Angel"
Podcast: Play in new window | Download