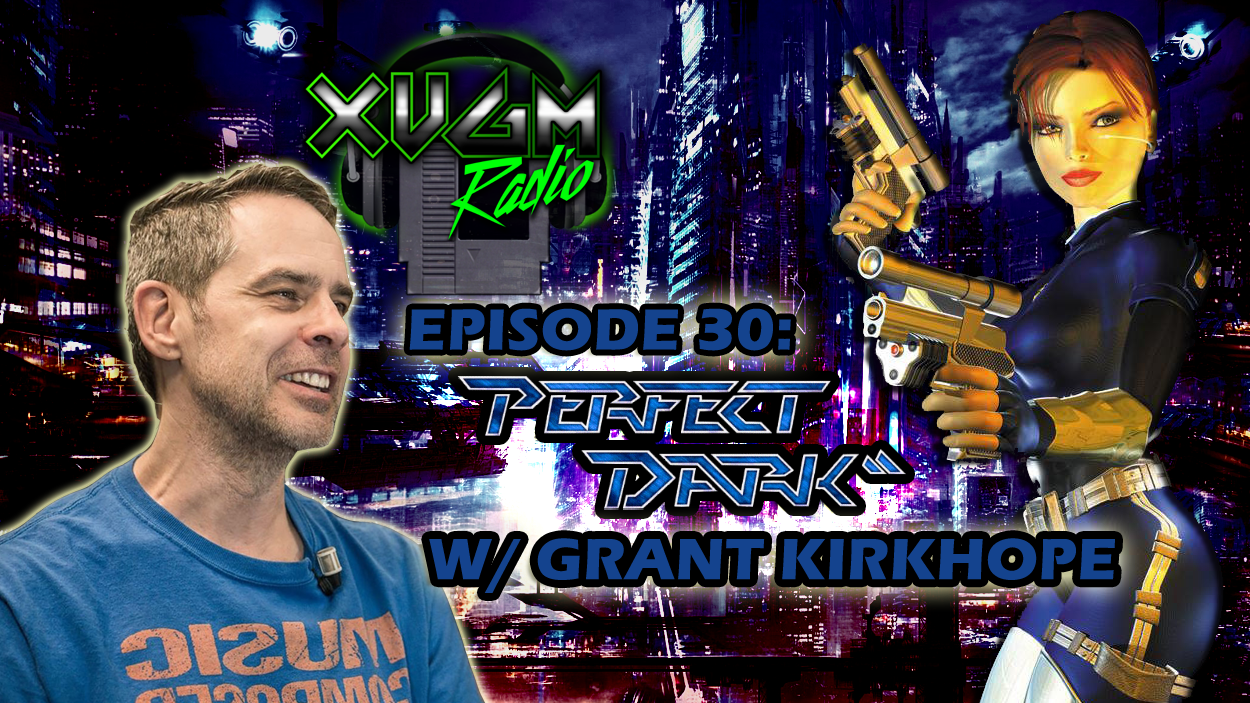 Following the N64 smash hit, Goldeneye, RARE lost the Bond license. But this didn't matter much to them, as their spiritual successor to Goldeneye pushed the Nintendo 64 to its limits. Hailed as one of the greatest First Person Shooters of all time, Perfect Dark introduced gamers to Joanna Dark, the Carrington Institute, the evil corporation Datadyne and the alien races of the Maians and the Skedar. But such a unique Cyberpunk-fused sci-fi stealth journey needed a perfect soundtrack to fit it's perfect name. Enter Grant Kirkhope, taking over for Graeme Norgate, along with David Clynick; a trifecta of composers that crafted a sound that was as unique on the N64 as it was technically impressive. Today on XVGM Radio, we are extremely excited to bring you an in depth interview with Grant Kirkhope, the primary composer on this stellar shooter. Hear about Grant's surprising hard rockin' roots and how a fellow RARE employee helped change his life forever. Listen to Grant's stories about the E3 where Perfect Dark was showcased, how he and the other composers created the tunes, and what Grant thinks could be Joanna's favorite cocktail. Count how many times a very excited Mike says "Extravaganza," and hear Justin be in awe of Grant's composing style. We promise, this episode won't leave you in the dark.
HUGE Thank You to Grant Kirkhope for joining us on this episode! Please do us a favor and check out his website and social media:
Website – https://www.grantkirkhope.com/
Twitter – @GrantKirkhope
Bandcamp – https://grantkirkhope.bandcamp.com/
We'd love to hear what you thought about this Perfect Dark Extravaganza! What was your favorite track? Shoot us an email at XVGMRadio@gmail.com or join in on the discussion at www.Facebook.com/Groups/XVGMRadio
We have a Discord Channel! Join us and chat about the show, share VGM you love, or just chit chat with Mike and Justin about tacos! Join for free here: https://discord.gg/zWxDYfn
Special thanks to Alex Messenger for his Patreon episode pick! Thanks to all of our wonderful Patrons: Alex Messenger, Cam Werme, Chris Murray, Chris Myers, Scott McElhone, Jordan & Anson Davis, Peter Panda, Kung Fu Carlito, Brad Austin and The Autistic Gamer 89. Become a Patron, get cool rewards, and more at www.Patreon.com/XVGMRadio
Our Twitter and Instagram are great ways to interact with us! Find us on there under our handle @XVGMRadio
If you're an iTunes listener, please consider leaving a rating and a review to let us know how we're doing! It also helps with getting the show to show up when others are searching for VGM!
PERFECT DARK
Nintendo 64, Released in 2000
Original Soundtrack by: Grant Kirkhope, David Clynick and Graeme Norgate
Intro: Main Title/Enter the Dark
1 – Datadyne Central: Extraction
2 – Carrington Villa: Hostage One
3 – Carrington Institute
4 – Chicago Stealth
5 – Airbase: Espionage
6 – Training
7 – Area 51: Infiltration
8 – Deep Sea: Nullify Threat
9 – Pelagic 2: Exploration
10 – Skedar Ruins: Battle Shrine
Outro: Credits
Podcast: Play in new window | Download