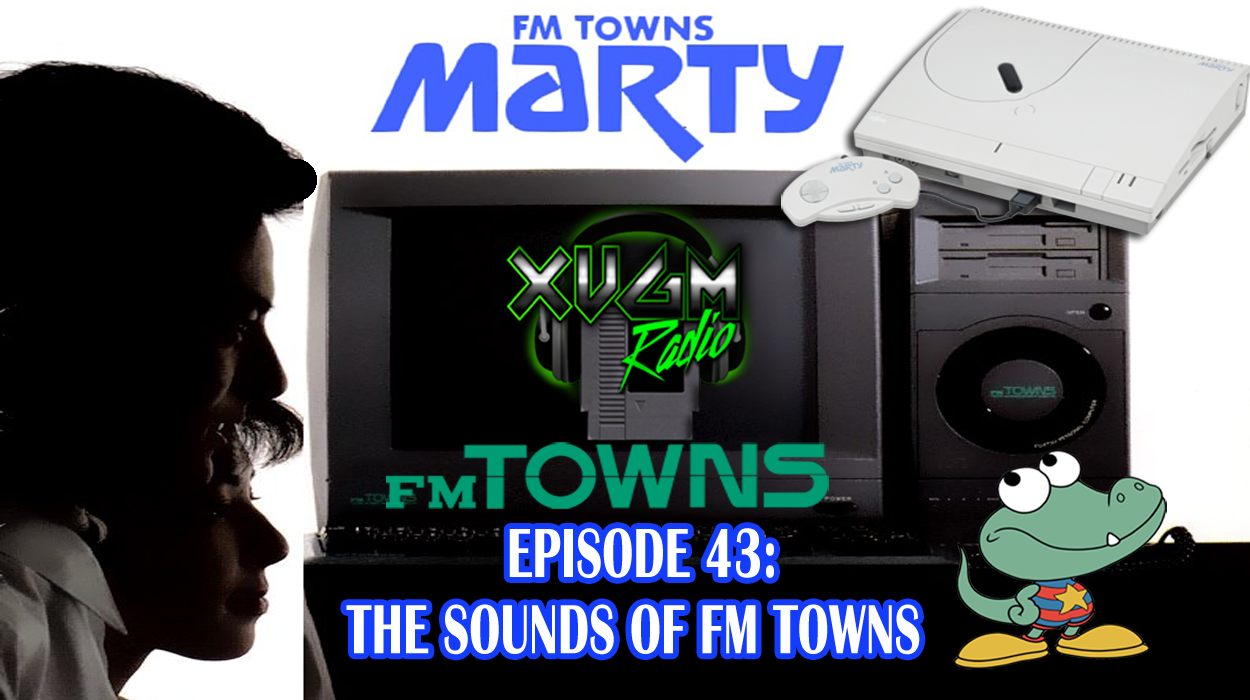 Japanese computer systems and consoles rarely coincide, but when it comes to Fujitsu, the two go hand in hand. Meet the FM Towns Computer System and the FM Towns Marty Console. Two systems with similar audio components that take the best of the 16 bit era (FM Synth, Redbook Audio, and PCM Sample-based music) and combines them all into one. Today's episode, the XVGM Radio hosts are digging deep into the world of Fujitsu's Towns systems to uncover some absolutely stellar music. Hear Mike showcase his love of Freestyle. Listen to Justin intentionally mispronounce a game title for the first time and rock out to the sounds…of the FM Towns.
Special thanks to Mrs. Popka for filling in on vocal duties for Cammy! She wanted to take a minute and promote her husband (and friend of the show's) channel, Dali Popka aka Viridian Flashback! Popka covers original XBOX games exclusively. Check him out here:
https://www.youtube.com/user/TheDaliPopka
We'd love to hear what you thought about the FM Towns and the FM Towns Marty and the tracks we picked! What was your favorite song? Shoot us an email at XVGMRadio@gmail.com or join in on the discussion at: https://www.facebook.com/groups/XVGMradio
We have a Discord Channel! Join us and chat about the show, share a random or obscure VGM song you love, or just chit chat with Mike and Justin about tacos! Join for free here: https://discord.gg/zWxDYfn
Thanks to all of our wonderful Patrons: Alex Messenger, Cam Werme, Chris Murray, Chris Myers, Scott McElhone, Jordan & Anson Davis, Llama Adam, Peter Panda, Kung Fu Carlito, Bedroth, Nick Davis, MixxMaster, Brad Austin, Dan Laughton, Jeremy Rutz and The Autistic Gamer 89. Become a Patron, get cool rewards, and more at http://www.Patreon.com/XVGMRadio
Our Twitter and Instagram are great ways to interact with us! Find us on there under our handle @XVGMRadio
If you're an Apple Podcasts listener, please consider leaving a rating and a review to let us know how we're doing! It also helps with getting the show to show up when others are searching for VGM!
TRACK LISTING:
Intro – FM Towns Marty Console Intro Music
Intro 2 – Alltynex (FMT, 1997) "Attack The Zoldyzant Base" Jirurun
1 – Muscle Bomber (ARC, FMTM, 1993/ SNES, GEN, 1994) – "Tokyo Stage" Masaki Izutani , Toshio Kajino, Shun Nishigaki, Ryo Mizutsuki, Nobuhiro Ōuchi,(original composers) Setsuo Yamamoto (Arrangement)
2 – Mobile Suit Gundam Hyper Classic Operation (FMT, 1992) "OPN_1" Ryu Umemoto
3 – Galaxy Force II – (ARC 1988, FMTM, 1991) "Alone Fighter" – Yoshitoku Sunahara (arranged), Koichi Namiki, Katsuhiro Hayashi
4 – Twin Cobra (ARC/FMT, 1987/1994) "Tsugaru (BGM 4, 9 Arranged)" – Takahiro Kuribayashi, Masaaki Yoneyama
5 – Psychic Detective Series Volume 5: Nightmare (FMT, 1991/PC-98, 1995/WIN, 1998) – "Track 2" Yasuhito Saito
6 – Mad Stalker: Full Metal Force (ARC/FMT/SX68000, 1994) "Player Select" – Keishi Yonao
7 – Super Street Fighter II (ARC 1993/SNES, GEN, X68000, FMTM 1994/AMI 1995) "Cammy's Theme" Shun Nishigaki, Isao Abe
8 – Blandia Plus (ARC/FMT, 1992/1994) "Track # 13" – Hisao Shiomi, Akira Inoue, Manabu Namiki
9 – Operation Wolf – "Track 4" – (FMT, 1990) Composer Unknown
10 – Dōkyūsei 2 (FMT/PS1/SAT/SFC, 1995) "In the Mood" – Shinichiro Sato (of T's Music)
Podcast: Play in new window | Download