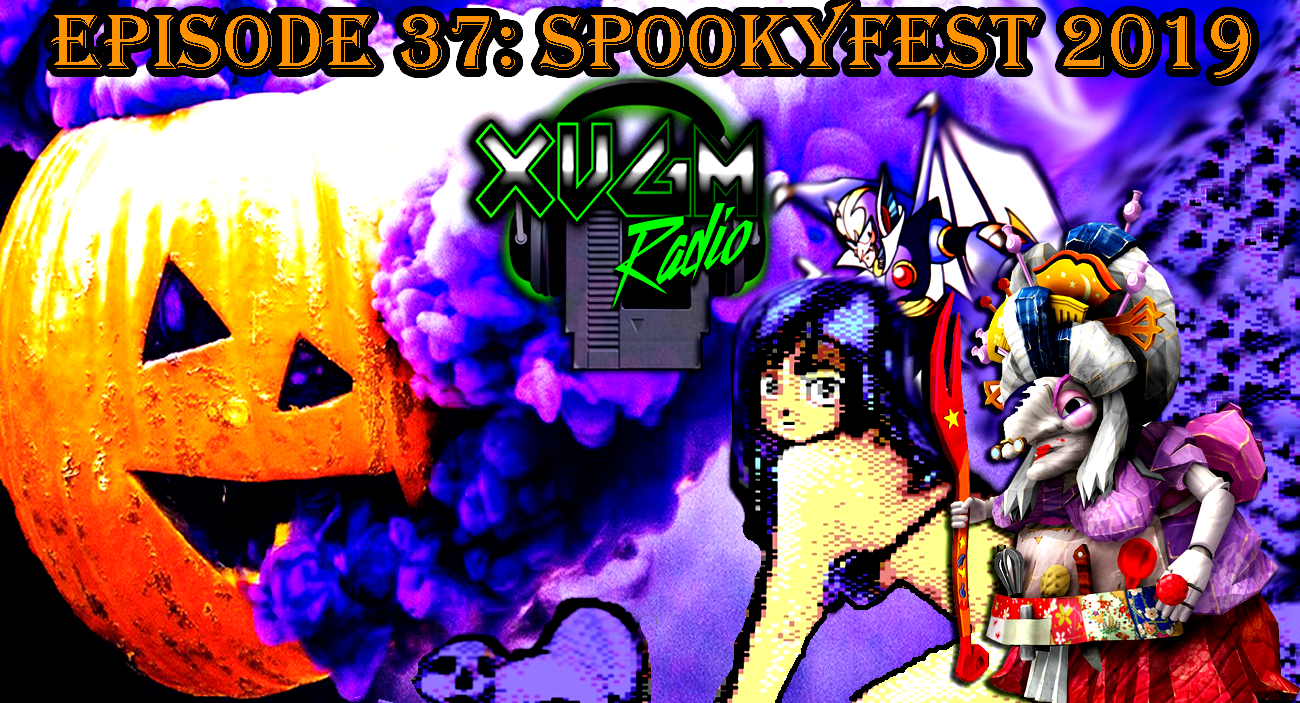 It's that time once again for…SPOOKYFEST….2019! Yes, Spookyfest has returned to a backyard near us. Every year we host a special Halloween-themed episode of our show, but it's totally done outdoors like a concert festival! Hear the crowds roar in between songs as Mike and Justin dig up 10 ghoulish tracks, a ghastly outro…and even a Patreon request! Listen to the guys discuss Knuckles' mode of transportation,debate about Phantom of the Opera's melodies, and try to figure out if a track is Cukey or Spute. All this, and more on XVGM Radio's SPOOKYFEST 2019!
We'd love to hear what you thought about SPOOKYFEST 2019! What was your favorite SPOOOOOOKY track? Shoot us an email at XVGMRadio@gmail.com or join in on the discussion at: https://www.facebook.com/groups/XVGMradio
We have a Discord Channel! Join us and chat about the show, share Halloween related VGM you love, or just chit chat with Mike and Justin about tacos! Join for free here: https://discord.gg/zWxDYfn
Thanks to all of our wonderful Patrons: Alex Messenger, Cam Werme, Chris Murray, Chris Myers, Scott McElhone, Jordan & Anson Davis, Peter Panda, Kung Fu Carlito, Bedroth, Brad Austin, Jeremy Rutz and The Autistic Gamer 89. Become a Patron, get cool rewards, and more at http://www.Patreon.com/XVGMRadio
Our Twitter and Instagram are great ways to interact with us! Find us on there under our handle @XVGMRadio
If you're an Apple Podcasts listener, please consider leaving a rating and a review to let us know how we're doing! It also helps with getting the show to show up when others are searching for VGM!
TRACK LISTING:
Intro – Sonic Adventure 2 (DC/GCN – 2001) "A Ghost's Pumpkin Soup (Pumpkin Hill Theme)" Fumie Kumatani, Tomoya Ohtani, Jun Senoue, Kenichi Tokoi, Hunnid P.
1 – The Haunting of Magnolia Manor (PC – 2011) "Frantic Haunting" Big Giant Circles
2 – Blazblue Continuum Shift (Arcade – 2009) "Howling Moon" Daisuke Ishiwatari
3 – Ms. Pac Man's Maze Madness (DC/N64/PS1/PC/GBA – 2000) "Haunted Halloween" Jon Holland
Patreon Pick: Carlito – Double Dragon Neon (360/PS3 – 2012) "Ghost Forest" Jake Kaufman
4 – Mega Man 7 (SNES – 1995) "Shade Man (Horror Fortress)" Tatsuya Nishimura, Yūko Takehara, Toshihiko Horiyama, Makoto Tomozawa, Hiroshi Shimada, Noriko Ando, Atsushi Mori, Nariyuki Nobuyama, Ippo Yamada
5 – Taz: Wanted (GCN/PS2/Xbox/PC – 2002) "Taz: Haunted: (Spin)" Nimrod Productions
6 – Puppeteer (PS3 – 2013) "Hallowee Ville" Patrick Doyle
7 – Nanako in Classic Japanese Monster Castle (ACPC/ZX81/ZXS/C64 – 2009) "In Game" Sascha "Linus" Zeidler, Mikael Backlund
8 – Kingdom Hearts 2 (PS2 – 2005) "Spooks of Halloween Town" Yoko Shimomura (Danny Elfman original comp)
9 – Blobcat (PC – 2017) "Halloween" Ben Zimmerman (The Green Piano on Youtube)
10 – Mario Party 2 (N64 – 1999) "Horror Land" Hironao Yamamoto, Shōhei Bandō, Kazuhiko Sawaguchi, Yasunori Mitsuda
Podcast: Play in new window | Download