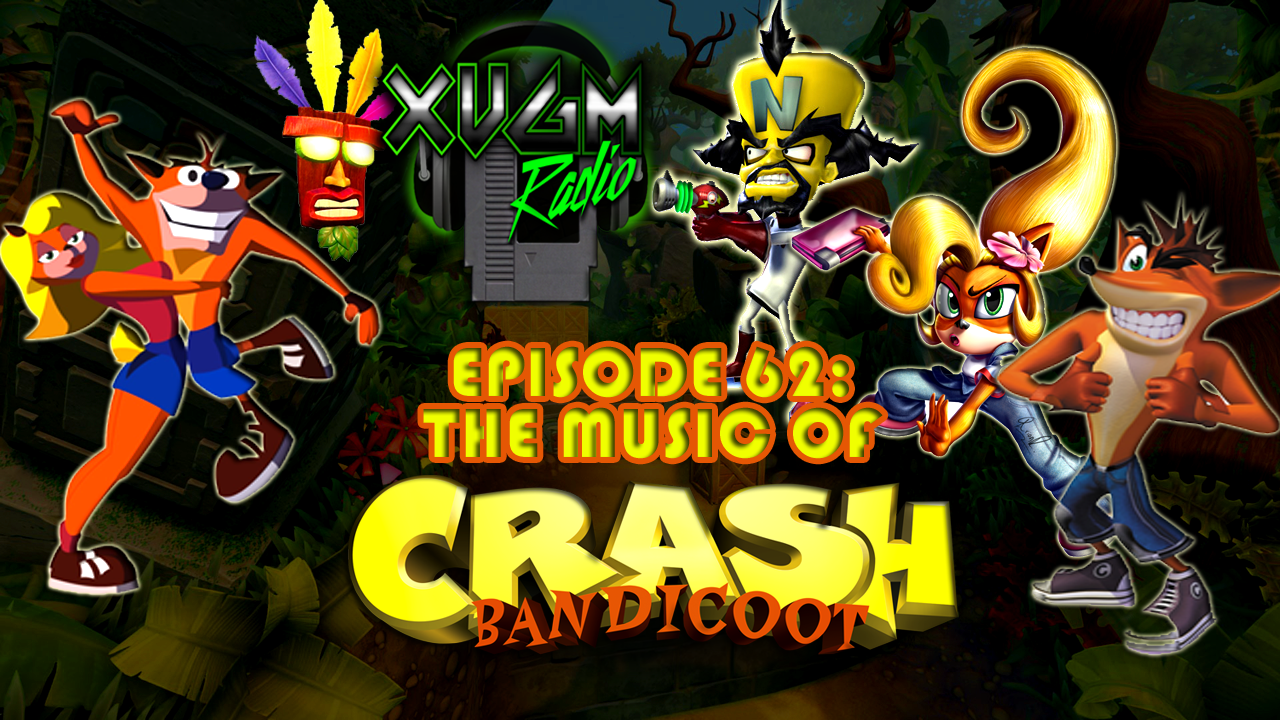 Crash Bandicoot games are often praised for their tight gameplay, innovative level designs, fun characters, and brilliant graphics…but the music, as usual, is the real all-star attraction on this week's episode as the XVGM Radio gents journey to the Wumpa Islands, and beyond! Mike hits on some crates wedged in between TNT, as he risks playing some truly oddball tunes whereas Justin plays it safe and platforms with ease on some of the most iconic Crash tunes heard in the series! Grab some wumpa fruit to snack on as you learn about some games you might've shrugged off because they weren't the holy PS1 trinity, as Mike and Justin have some truly nostalgic and nutty fun with the music of Crash Bandicoot!
Big time thank you to Heather Pasquale for voicing Tawna and TefiTafi for voicing Coco! Check out her art on Instagram: https://www.instagram.com/tefitafi/?igshid=ppj5cx90hiki
We'd love to hear what you thought about our Crashtastic Spectacular show! Did you have a favorite tune? Shoot us an email at 
XVGMRadio@gmail.com
 or join in on the discussion at: 
https://www.facebook.com/groups/XVGMradio
We have a Discord Channel! Join us and chat about the show, share a random or obscure VGM song you love, or just chit chat with Mike and Justin about tacos! Join for free here: 
https://discord.gg/zWxDYfn
Big thank you to Scotty McElhone for his Patreon pick this time around! Also, thanks to all of our wonderful Patrons: Alex Messenger, Cam Werme, Chris Murray, Chris Myers, Chris Hart, Scott McElhone, Jordan & Anson Davis, Llama Adam, Peter Panda, Kung Fu Carlito, Bedroth, Nick Davis, Ryan McPherson, Marques Stewart, MixxMaster, Jason SuperJES Dos, Brad Austin, Muddle MADness, Dan Laughton, Matthew Hannola, Jeremy Rutz and The Autistic Gamer 89. Become a Patron, get cool rewards, and more at
http://www.Patreon.com/XVGMRadio
Our 
Twitter
 and 
Instagram
 are great ways to interact with us! Find us on there under our handle @XVGMRadio
If you're an 
Apple Podcasts
 listener, please consider leaving a rating and a review to let us know how we're doing! It also helps with getting the show to show up when others are searching for VGM!
Track Listing:
Intro – Crash Bandicoot (PS1, 1996) "Map Theme/Title Screen" Mutato Muzika  (Mark Mothersbaugh, Josh Mancell)
1 – Crash Bandicoot 3: Warped (PS1, 1998) "Pirates and Waverunners"  Mutato Muzika  (Mark Mothersbaugh , Josh Mancell)
2- Crash Bandicoot: The Huge Adventure (GBA, 2002) "Frostbite Cavern" Manfred Linzner, Todd Masten
3 – N. Sane Trilogy: Crash 3 (PS4, 2017 – XBOne/Switch/PC, 2018) "Tiny Tiger" VV Audio Team (Arrangement), Mutato Muzika (Original)
4 – Crash Bandicoot 2 (Cortex Strikes Back) (PS1, 1997) "The Eel Deal, Sewer or Later, Hangin' Out" Mutato Muzika  (Mark Mothersbaugh , Josh Mancell)
5 – Crash Bandicoot Purple: Ripto's Rampage (GBA, 2004) "Tanks for the Memories" Manfred Linzner
6 – Crash Mind over Mutant (Wii, PS2, 360, PSP, 2008) "Subterranean Bandicoot" Marc Beril
Patreon Pick: Scotty McElhone – Crash of the Titans (GBA, DS, PSP, PS2, 360, Wii, 2007) "Neo's Complex" Mark Yeend, Tom Miller
7 – Crash Bandicoot: The Wrath Of Cortex (PS2, 2001 – GCN/XB, 2002) "Wizards and Lizards" Swallow Studios, Andy Blythe, Marten Joustra
8 – Crash Bandicoot: Twinsanity (PS2/XBOX, 2004) "Cavern Catastrophe" Spiralmouth
9 – Crash Bandicoot 4: It's About Time (PS4, 2020) "Booty Calls" Walter Mair
10 – Crash Bandicoot 2: N-Tranced (GBA, 2003) "Prints of Persia" Manfred Linzner
Podcast: Play in new window | Download