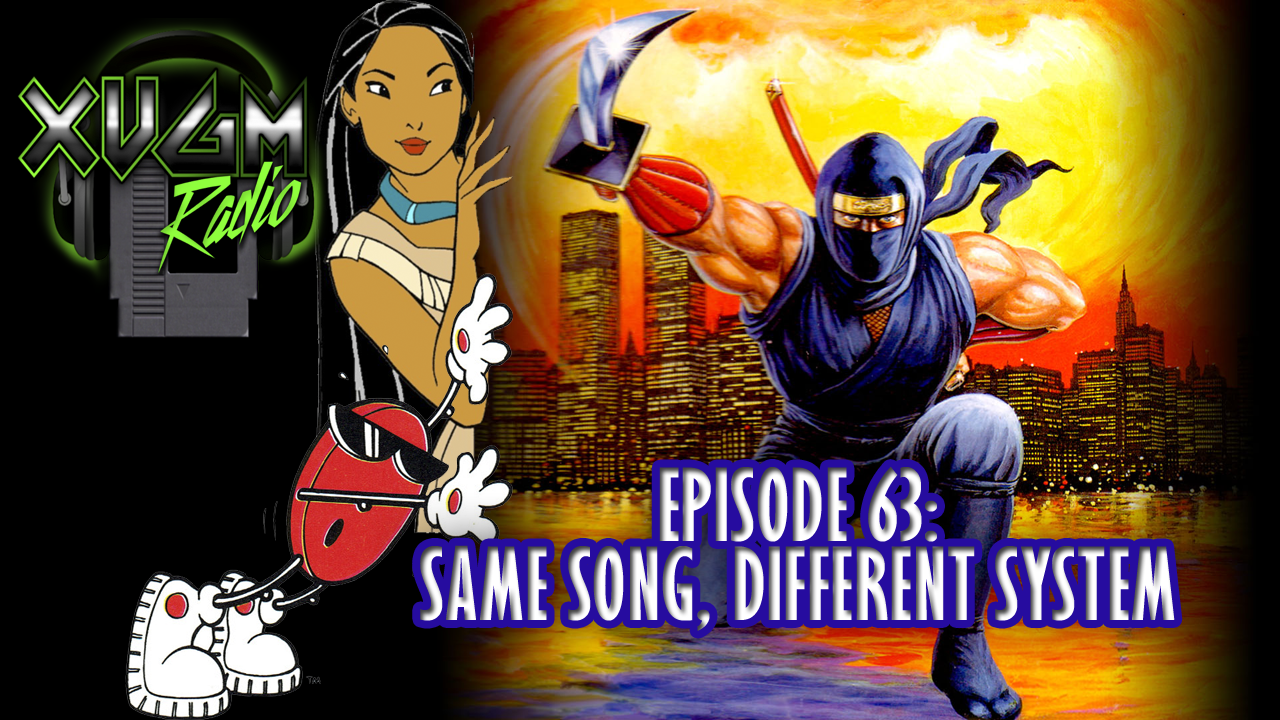 Comparing and analyzing differences is often done on XVGM Radio, but when it comes to the Same Song, Different System episodes, it's on a whole other level! Today, Mike and Justin are doing a deep dive into the world of retro gaming video game music in a special free picks episode, but unlike most free picks that happen every 20th episode, we're doing a comparison to other ports and versions of these songs! Mike attempts to serenade Justin with his best (or in this case, worst) Judy Kuhn vocal impressions, the guys chat about foreign 7-Up mascots, and discuss the highs and lows of songs that get arranged elsewhere. Welcome to XVGM Radio's 63rd episode!
Commercials and Janine take a break this episode due to the format, but they'll be back on Episode 65! What did YOU think of the versions of the songs we played? Do you disagree with Mike and Justin's opinions? Shoot us an email at 
XVGMRadio@gmail.com
 or join in on the discussion at: 
https://www.facebook.com/groups/XVGMradio
We have a Discord Channel! Join us and chat about the show, share a random or obscure VGM song you love, or just chit chat with Mike and Justin about tacos! Join for free here: 
https://discord.gg/zWxDYfn
Thanks to all of our wonderful Patrons: Alex Messenger, Cam Werme, Chris Murray, Chris Myers, Chris Hart, Scott McElhone, Jordan & Anson Davis, Llama Adam, Peter Panda, Kung Fu Carlito, Bedroth, Nick Davis, Ryan McPherson, Marques Stewart, MixxMaster, Jason SuperJES Dos, Brad Austin, Muddle MADness, Dan Laughton, Matthew Hannola, Jeremy Rutz and The Autistic Gamer 89. Become a Patron, get cool rewards, and more at
http://www.Patreon.com/XVGMRadio
Our 
Twitter
 and 
Instagram
 are great ways to interact with us! Find us on there under our handle @XVGMRadio
If you're an 
Apple Podcasts
 listener, please consider leaving a rating and a review to let us know how we're doing! It also helps with getting the show to show up when others are searching for VGM!
TRACK LISTING:
Intro – Mega Man 4 (NES, 1991) "Skull Man" Minae Fujii, Yasuaki Fujita
Mega Man III (GB, 1992) "Skull Man" Kouji Murata
1 – Ninja Gaiden III: Ancient Ship of Doom (NES, 1991) "Weapons Lab" Sugito Miyashiro, Kaori Nakabai, Rika Shigeno
Ninja Gaiden Trilogy (SNES, 1995) "Laboratory" Original (Sugito Miyashiro, Kaori Nakabai, Rika Shigeno) unknown arranger
2 – Power Strike/Aleste (SMS, 1988) "The Devastation" Takayuki Hirono
Power Strike/Aleste (MSX, 1988) "The Devastation" Takeshi Santō, Shin-kun
3 – Cool Spot (Amiga, 1993) "BGM05" Andrew Barnabas (arranger), Tommy Tallarico
Cool Spot (GB, 1994) "BGM4" Mark Cooksey (arranger), Tommy Tallarico
4 – Ninja Remix (AMI, 1990) "Title Screen/The Inner Sanctum" Jochen Hippel
Ninja Remix (AST, 1990) "Title Screen/The Inner Sanctum" Jochen Hippel
5 –  Pocahontas (SGB, 1996) "Colors of the Wind" Alan Menken, Mark Ortiz, John Prince
Pocohantas (GEN, 1996) "Colors of the Wind" Patrick J. Collins, Alan Menken
6 – Arch Rivals (NES, 1990) "Track 2/Title Screen" David Wise (Arranger), Dan Forden
Arch Rivals (SGG, 1992) "Track 2/Title Screen"  Mark Cooksey(Arranger), Dan Forden
Podcast: Play in new window | Download