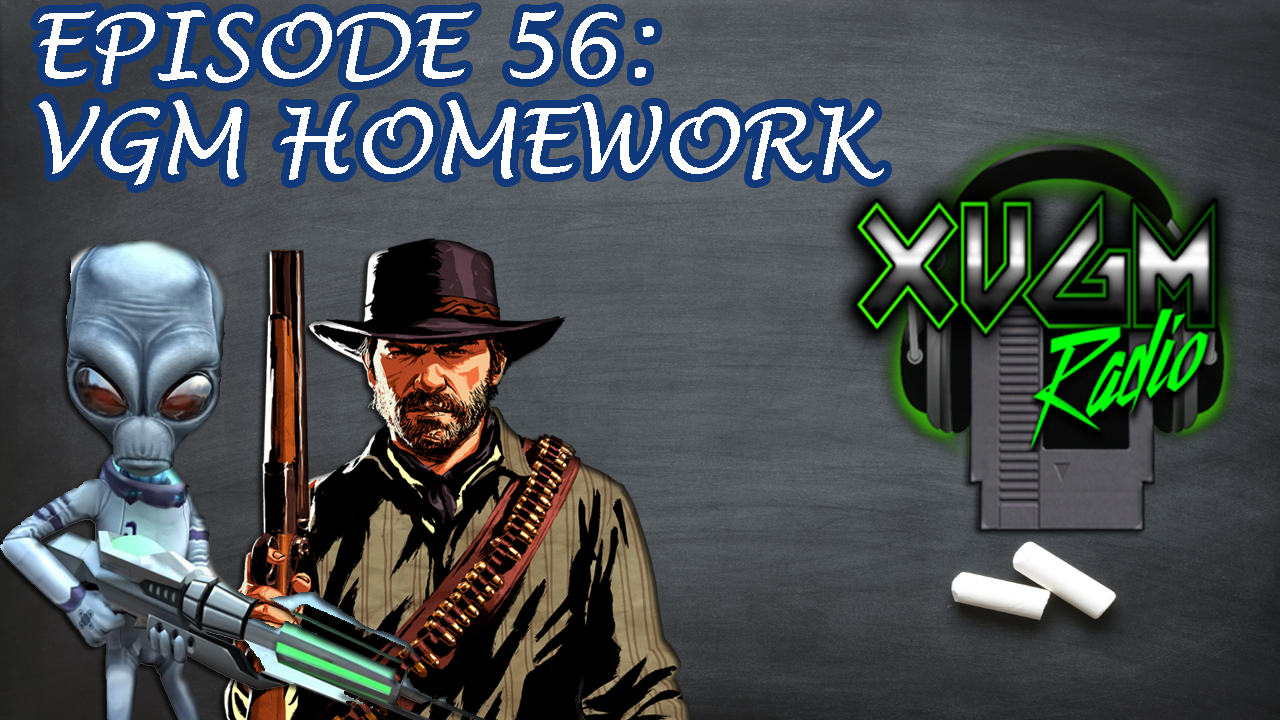 School's out and summer is all the rage…but that doesn't stop Mike and Justin from challenging their minds when it comes to video game music! Back on Episode 54, Mike and Justin did an episode entirely on Continue themes in games, which was challenging to say the least. But now, they're headed on a different part of their VGM studies by assigning each other some homework! Mike picks a game and Justin picks a track from that game, and vice versa. Each person also gives a brief explanation on why they picked the game they picked! The results are some engaging and exciting songs from games that the XVGM Radio guys would never typically pick for each other! Listen in as Mike shares his hatred of Axl from the Mega Man X series, Justin shares his love for Westerns, and Janine eats Triscuits from home since she has the night off! All on this educational yet entertaining episode of XVGM Radio!
We'd love to hear what you thought about our Homework episode ! Did you have a favorite tune? What game do you want to play the most after this? Shoot us an email at XVGMRadio@gmail.com or join in on the discussion at: https://www.facebook.com/groups/XVGMradio
We have a Discord Channel! Join us and chat about the show, share a random or obscure VGM song you love, or just chit chat with Mike and Justin about tacos! Join for free here: https://discord.gg/zWxDYfn
Thanks to all of our wonderful Patrons: Alex Messenger, Cam Werme, Chris Murray, Chris Myers, Chris Hart, Scott McElhone, Jordan & Anson Davis, Llama Adam, Peter Panda, Kung Fu Carlito, Bedroth, Nick Davis, Ryan McPherson, MixxMaster, Jason SuperJES Dos, Brad Austin, Muddle MADness, Dan Laughton, Matthew Hannola, Jeremy Rutz and The Autistic Gamer 89. Become a Patron, get cool rewards, and more at http://www.Patreon.com/XVGMRadio
Our Twitter and Instagram are great ways to interact with us! Find us on there under our handle @XVGMRadio
If you're an Apple Podcasts listener, please consider leaving a rating and a review to let us know how we're doing! It also helps with getting the show to show up when others are searching for VGM!
TRACK LISTING:
Intro – Treasure of the Usas (MSX, 1987) "Stage 4" Kinuyo Yamashita(Primary), Iku Mizutani, Motoaki Furukawa, and Kazuhiko Uehara
1 – Gradius V (PS2, 2004) "High Speed – Stage 7" Hitoshi Sakimoto
2 – Die Maus (GB/GBC, 1998/99) "BGM 06" Alberto Jose Gonzalez
3 – Albert Odyssey: Legend of Eldean (SAT, 1996) "Another Loan?" Naoki Kodaka
4 – Destroy All Humans (PS2/XB, 2005) "Beyond The Stars" Garry Schyman
5 – Ys VIII: Lacrimosa of Dana (PSV/PS4/Switch/PC, 2016/17/18) "Smash Up!" Hayato Sonoda, Takahiro Unisuga, Yukihiro Jindo, Mitsuo Singa
6 – Taz-Mania (SNES, 1992) "Kiwi Roadside" Mitchell Stein
7 – Mega Man X7 (PS2, 2003) "Underground ~ Tunnel Base Stage" Yuko Komiyama, Shinya Okada ('midnight'), Seiko Kobuchi, Naoto Tanaka, Makoto Asai, Teruo Konishi, Shuichi Mizohata, Noriyuki Iwadare, Takuya Miyawaki
8 – Red Dead Redemption (XB360/PS3, 2010) "Estancia" Bill Elm, Woody Jackson
9 – Power Quest (GBC, 1998) "1995" Kumiko Fujiwara
10 – Solstice: The Quest for the Staff of Demnos "Title Theme" (NES, 1990) Tim Follin
Podcast: Play in new window | Download