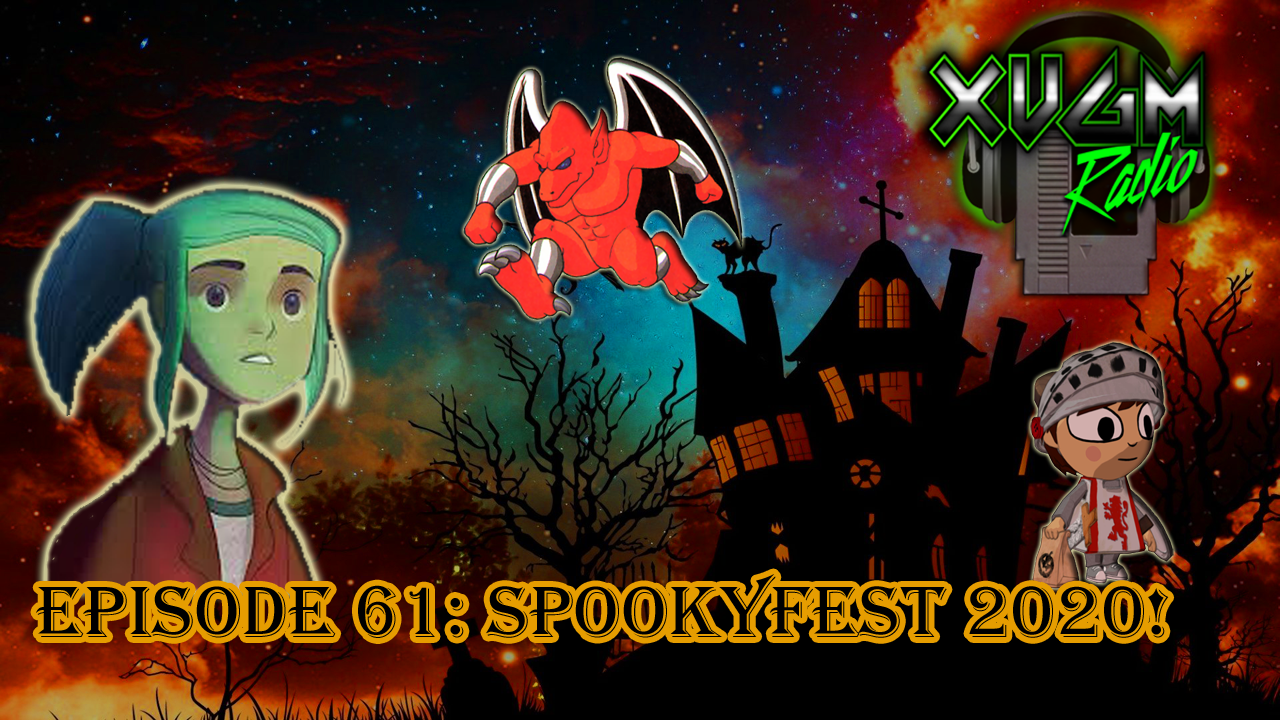 It's Halloween time! Due to the current Covid-19 pandemic, the guys had to, of course, cancel the "live" festival of previous years for something more….virtual. Mike and Justin picked 11 scary, haunting, creepy, and most of all SPOOKY video game music tunes that will put the stalk in your scarecrows….the flaps in your bats….the lasagna in your….fat cats? Well, you'll understand when you listen. A ghoulish mix of modern and classic tunes will flood your VGM well, and in 7 days, you'll STILL be jamming to 2020's SPOOKYFEST!
Don't forget to check out Justin's Extra Life page, and make a donation to help children with cancer, if you can.
We'd love to hear what you thought about our tunage tricks and VGM treats! Did you have a favorite tune? Shoot us an email at XVGMRadio@gmail.com or join in on the discussion at: https://www.facebook.com/groups/XVGMradio
We have a Discord Channel! Join us and chat about the show, share a random or obscure VGM song you love, or just chit chat with Mike and Justin about tacos! Join for free here: https://discord.gg/zWxDYfn
Big thank you to Cam Werme for his Patreon pick this time around! Also, thanks to all of our wonderful Patrons: Alex Messenger, Cam Werme, Chris Murray, Chris Myers, Chris Hart, Scott McElhone, Jordan & Anson Davis, Llama Adam, Peter Panda, Kung Fu Carlito, Bedroth, Nick Davis, Ryan McPherson, Marques Stewart, MixxMaster, Jason SuperJES Dos, Brad Austin, Muddle MADness, Dan Laughton, Matthew Hannola, Jeremy Rutz and The Autistic Gamer 89. Become a Patron, get cool rewards, and more at http://www.Patreon.com/XVGMRadio
Our Twitter and Instagram are great ways to interact with us! Find us on there under our handle @XVGMRadio
If you're an Apple Podcasts listener, please consider leaving a rating and a review to let us know how we're doing! It also helps with getting the show to show up when others are searching for VGM!
TRACK LISTING:
Intro – Oxenfree (Mobile,/Switch – 2016) "Dead Light" C. Andrew Rohrmann (credited as SCNTFC)
1 – Dead of the Brain: Shiryo No Sakebi (SX68K/FMT/MSX/PC-98 – 1992) "Track 5" Muse, Ryu Takami
2 – Costume Quest (XB360 – 2010) "Winterland Suburban Houses" Peter McConnell
3 – Garfield: Caught in the Act (GEN/GG – 1995) "Count Slobula's Castle" Tristan des Prés, Dwight Stone, Jeffrey Glenn Tveraas
4 – Bloodborne (PS4 – 2015) "Living Failures" Ryan Amon, Tsukasa Saitoh, Yuka Kitamura, Nobuyoshi Suzuki, Cris Velasco, Michael Wandmacher
5 – The End is Nigh(PS4 – 2019) "Catastrovania: Retro Dante Symphony(Liszt 1857)" Ridiculon, And a bunch of dead dudes (Franz Liszt), Matthias Bossi, Jon Evans
6 – Undertale (Mac/PC – 2015) "Death by Glamour" Toby Fox
7 – Gargoyle's Quest 2 (NES – 1992) "The Ghoul Realm" Yuki Iwai
Patreon Request: Cam Werme – Willow (NES – 1989) "Cave Theme" Harumi Fujita
8 – Shadow Hearts (PS2 – 2004) "Demon's Gig" Yoshitaka Hirota, Yasunori Mitsuda
9 – Obscure 2: The Aftermath (PS2/WIN – 2007) "Infested People" Olivier Deriviere
10 – Dead Island (PS3/XB360/PC – 2011) "They're Coming" Paweł Błaszczak
Podcast: Play in new window | Download