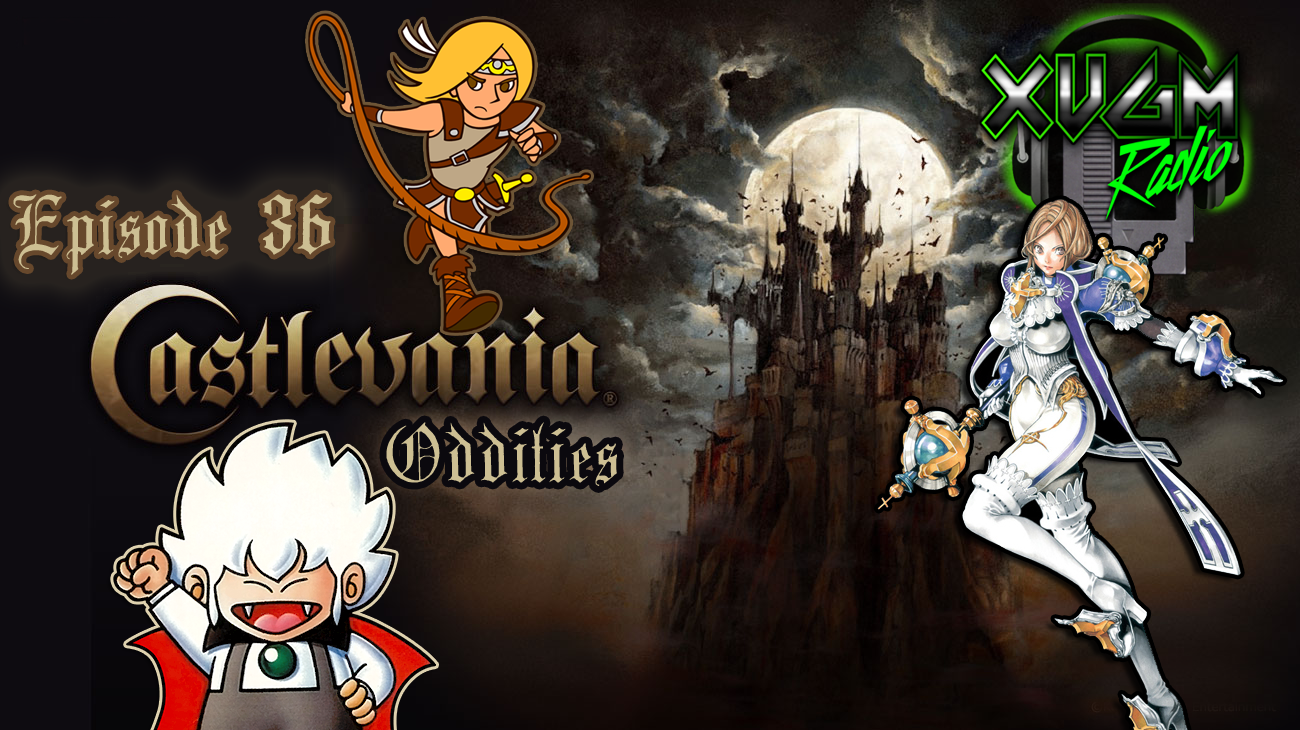 Castlevania music has a special place in our hearts. But what about the wacky, wild world of Castlevania cameos, bizarre ports and side story games and other 'Vania obscurities? Mike and Justin take the listener on a bumpy hayride past Dracula's castle, and into his backyard to listen to some of the stranger versions of mainline games in the Castlevania franchise. From mobile to only in the arcade and even multiplayer preferred, the series has certainly had its ups and downs but the tunes have mostly always been the best kind of wall meat: tough to find, yet fully satisfying! So, grab your garlic water and rave sticks and join XVGM Radio as they explore these weird and wacky Castlevania remixes…with a few originals to boot!
***Please note: We caught an error in our information regarding the IIDX Bloody Tears Track during the final hour, so we updated the show notes here and will make a clarification in a future episode.***
Thanks to Vincent Diamonte for chatting with us about Order of Shadows! Please check out his soundcloud here: https://soundcloud.com/vincentdiamante
We'd love to hear what you thought about this Castlevania oddities episode! What was your favorite vampire-slaying tunes? Do you want to hear MORE Castlevania VGM? Shoot us an email at XVGMRadio@gmail.com or join in on the discussion at: https://www.facebook.com/groups/XVGMradio
We have a Discord Channel! Join us and chat about the show, share Castlevania VGM you love, or just chit chat with Mike and Justin about tacos! Join for free here: https://discord.gg/zWxDYfn
Thanks to all of our wonderful Patrons: Alex Messenger, Cam Werme, Chris Murray, Chris Myers, Scott McElhone, Jordan & Anson Davis, Peter Panda, Kung Fu Carlito, Brad Austin, Jeremy Rutz and The Autistic Gamer 89. Become a Patron, get cool rewards, and more at http://www.Patreon.com/XVGMRadio
Our Twitter and Instagram are great ways to interact with us! Find us on there under our handle @XVGMRadio
If you're an Apple Podcasts listener, please consider leaving a rating and a review to let us know how we're doing! It also helps with getting the show to show up when others are searching for VGM!
TRACK LISTING:
Intro: – Castlevania Judgment (Wii – 2009) "Darkness of Fear" Hideki Sakamoto (Director), Yasushi Asada
1 – Pop'n Music 15 ADVENTURE (Arcade – 2007) "Akumajo Dracula Medley -Hybrid Version-" KONAMI Kukeiha Club, Michiru Yamane
2 – Castlevania: The Arcade (Arcade – 2009) "Walking on the Edge" Arranged by: Gō Fujiwara, Masayuki Maruyama, (original by Kinuyo Yamashita, Satoe Terashima, Hidenori Maezawa
3 – Haunted Castle (Arcade – 1988) "Basement Melodies/Stage 5" Kenichi Matsubara, Masahiro Ikariko, "T"
Patreon Pick: Cam Werme – Castlevania (DOS – 1990) "Vampire Killer Ad-Lib and IBM PC Versions" Kris Hatlelid (arranger), (Original by: Kinuyo Yamashita, Satoe Terashima, Hidenori Maezawa)
4 – Castlevania Order of Shadows (Mobile – 2007) "Daring Assault (Roland Mix)" Vincent Diamante
5 – Wai Wai World 2: SOS!! Parsley Castle (FC – 1991) "Bloody Tears" Yūichi Sakakura, Kenichi Matsubara, Satoko Minami
6 – Castlevania: Harmony of Despair (PS3/360 – 2011) "Ruined Castle Corridor" (Original by Michiru Yamane, Takashi Yoshida, Sashiro Hokkai) (Arranged by: Tomoaki Hirono, Norikazu Miura, Atsushi Sato, Nobuyuki Akena, Yasuhisa Ito, Sota Fujimori, Yasuhiro Ichihashi, Toshihisa Furusawa )
7 – Castlevania Judgment (Wii – 2009) "Clock Work" Hideki Sakamoto (Director), Yasushi Asada
8 – Beatmania IIDX 13: DistorteD (PS2 – 2007) "Bloody Tears IIDX Edition" Arranged by DJ Yoshitaka aka Yoshitaka Nishimura, Original by Kenichi Matsubara
9 – Contra Hard Corps (Genesis – 1994) "Simon 1994rd" (Original by Kinuyo Yamashita, Satoe Terashima, Hidenori Maezawa) Michiru Yamane (Remix)
10 – Akumajou Special: Boku Dracula-Kun (Kid Dracula) (Famicom – 1990) "Disappearing at Tiffany's (Stages 5&8)" Shinji Tasaka, Satoko Minami
Podcast: Play in new window | Download