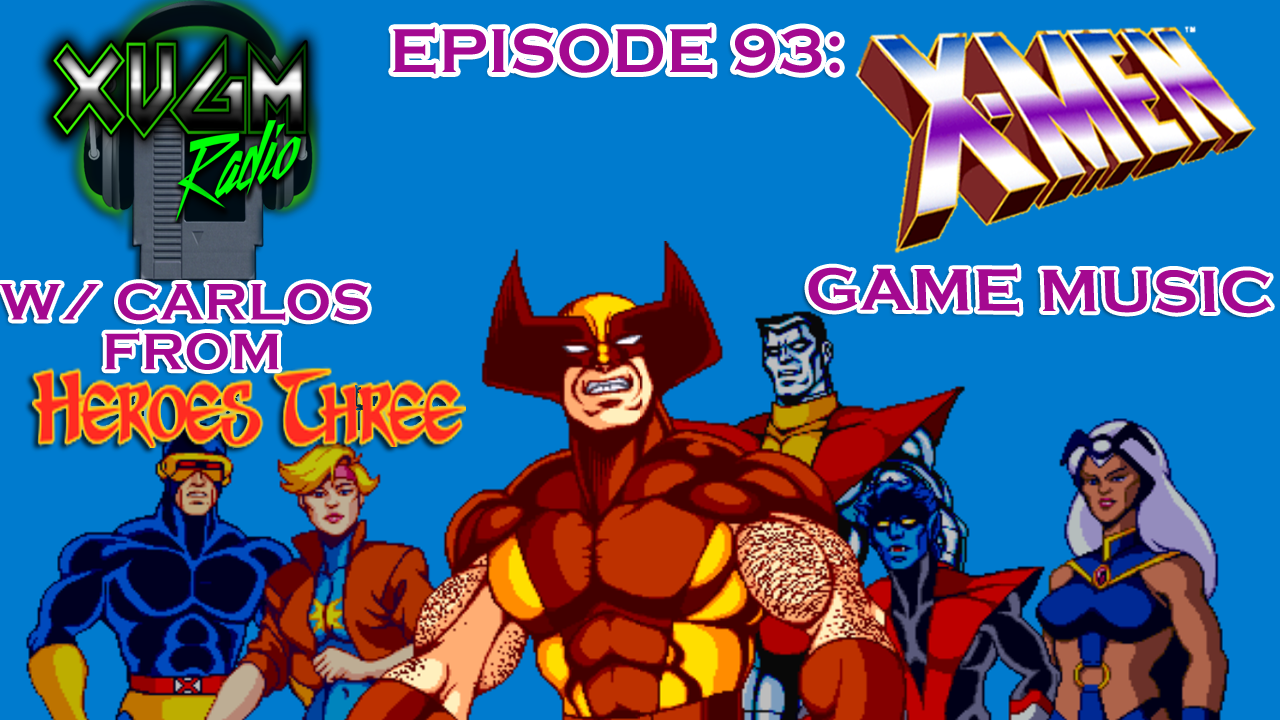 Marvel Comics' X-Men series is a franchise that means a lot to millions all over the planet. In the 90s, it was the pinnacle of X-citing, engaging storytelling coupled with a major media boost thanks to the comics, collectible cards, Saturday morning cartoons and of course, video games. On today's episode of XVGM Radio, Mike and Justin invite fellow X-Men fan Carlos from the Heroes Three Podcast to share some nostalgic memories on how the gaming experiences featuring the mighty Mutants changed their lives forever. Choosing from mostly the 90s era of X-related games and their music, the boys dish the dirt on 10 awesome songs from that era. Listen to tales of Mike piddling around with ZSNES' emulator to make music remixes of Cyclops' theme. Hear how the X-Men changed Carlos' life when it came to becoming an artist. Revel in Justin's tale on how his appreciation for Genesis music has flipped the switch. They share their favorite X-heroes, open up about their pre-pubescent love of Psylocke and try to figure out what's up with people who are anti-Capcom guitar tones. The guys discuss the deeper meanings of the X-Men metaphor and how it relates to real life in this personal, fulfilling episode that features songs you love AND some you might discover for the first time!
Big thank you to Carlos from The Heroes Three Podcast! Follow him on Twitter and check out his podcast!
Heroes Three Podcast Site
Carlos' Twitter
What'd you think of our X-Men episode? Favorite track? Who are YOUR Top 5 Favorite X-characters?  Shoot us an email at XVGMRadio@gmail.com or join in on the discussion at: https://www.facebook.com/groups/XVGMradio
Also, we have a Discord Channel! Join us and chat about the show, share a random or obscure VGM song you love, or just chit chat with Mike and Justin about tacos! Join for free here: https://discord.gg/zWxDYfn
Thanks to all of our wonderful Patrons: Alex Messenger, Cam Werme, Chris Murray, Chris Myers, Chris Hart, Scott McElhone, Jordan & Anson Davis, Rayjkayj, Llama Adam, Kung Fu Carlito, Nick Davis, Bedroth, Ryan McPherson, Marques Stewart, Scott Brackett, and Brad Austin. Become a Patron, get cool rewards, and more at http://www.Patreon.com/XVGMRadio
Our Twitter and Instagram are great ways to interact with us! Find us on there under our handle @XVGMRadio
If you're an Apple Podcasts listener, please consider leaving a rating and a review to let us know how we're doing! It also helps with getting the show to show up when others are searching for VGM!
TRACK LISTING:
Intro – X-Men (ARC – 1992) "Here Comes the Hero" Seichi Fukami, Yuji Takenouchi, Junya Nakano, Ayako Nishigaki
1 – Marvel Super Heroes (ARC – 1995) – "Wolverine Stage" Takayuki Iwai, Yuki Iwai, Tatsuro Suzuki
2 – X-Men (GEN – 1993) "Final Boss" Fletcher Beasley
3 – X-Men Mutant Apocalypse (SNES – 1994) "Theme of Cyclops" Setsuo Yamamoto
4 – The Uncanny X-Men (NES – 1989) – "Level 3 – Search and Destroy the Robofactory" Unknown Composer
5 – Patreon Pick: RayjCayj – X-Men: Children of the Atom (ARC – 1994, SAT -1995, DOS – 1997, PS1 – 1998) "Moon Night – Psylocke's Theme" – Shun Nishigaki
6 – X2: Wolverine's Revenge (GBA – 2003) "Boss" Shin'en (Manfred Linzner)
7 – Spider-Man and the X-Men (SNES – 1992) – "Gambit" Geoff Follin, Tim Follin
8 – X-Men vs. Street Fighter (ARC – 1996) "Magneto Stage" Yuki Iwai, Yūko Takehara
9 – X-Men Mutant Wars (GBC – 2000) "Sewers" Kazuo Sawa
Podcast: Play in new window | Download