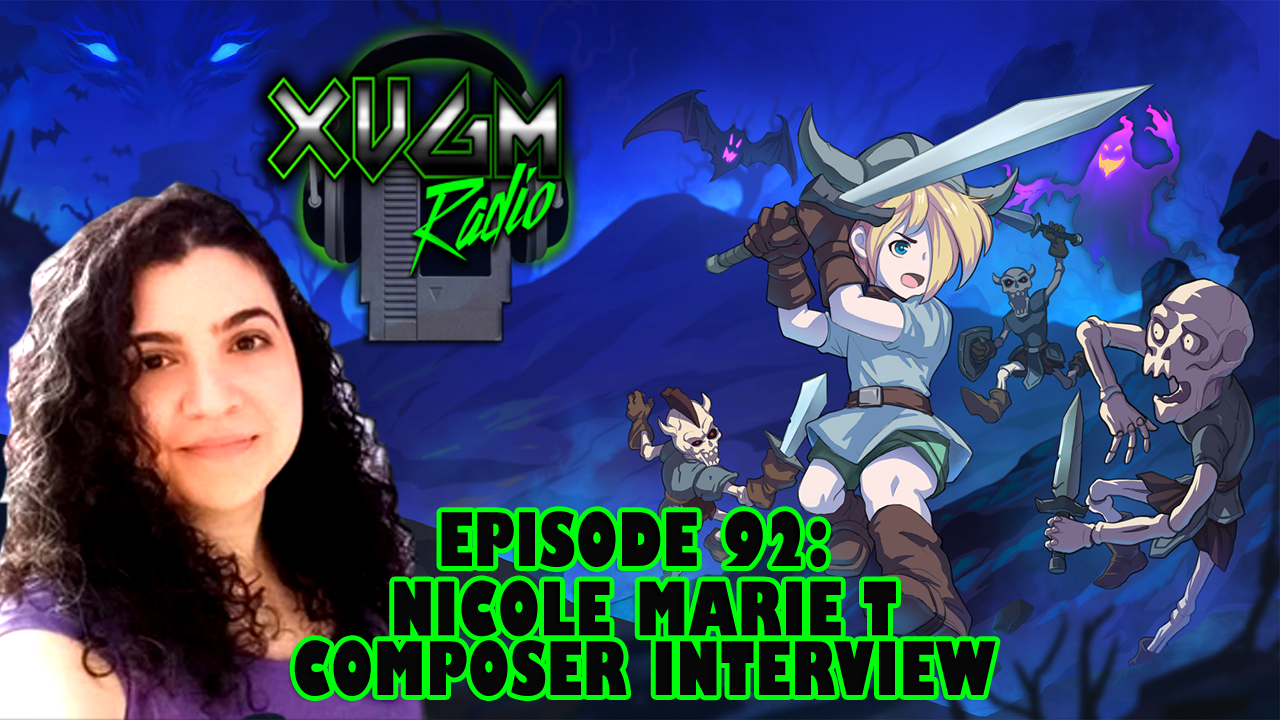 Indie composers of video games are leading the way with their creativity, ingenuity and hunger to create the next wave of classics. One such composer is Nicole Marie T, who we had the pleasure of interviewing. From her love and appreciation of Sega to her evolution into a Sony fan, Nicole's video game upbringing shines through her music as she churns out tons of tunes that we showcased in this interview. From hearing about her reaction to seeing her name in the credits of her first game to her excitement over orchestral tunes, you'll get to hear a prime example of the next generation of VGM composers in this very episode. Justin and Mike are stoked for you to hear the sounds of Ghoulboy, Robozarro and beyond in this composer interview!
What did you think of Nicole's tunes?
Shoot us an email at XVGMRadio@gmail.com or join in on the discussion at: https://www.facebook.com/groups/XVGMradio
Also, we have a Discord Channel! Join us and chat about the show, share a random or obscure VGM song you love, or just chit chat with Mike and Justin about tacos! Join for free here: https://discord.gg/zWxDYfn
Thanks to all of our wonderful Patrons: Alex Messenger, Cam Werme, Chris Murray, Chris Myers, Chris Hart, Scott McElhone, Jordan & Anson Davis, Rayjkayj, Llama Adam, Kung Fu Carlito, Nick Davis, Bedroth, Ryan McPherson, Marques Stewart, Scott Brackett, and Brad Austin. Become a Patron, get cool rewards, and more at http://www.Patreon.com/XVGMRadio
Our Twitter and Instagram are great ways to interact with us! Find us on there under our handle @XVGMRadio
If you're an Apple Podcasts listener, please consider leaving a rating and a review to let us know how we're doing! It also helps with getting the show to show up when others are searching for VGM!
TRACK LISTING:
Intro -Ghoulboy: Dark Sword of Goblin (SWI/Steam/PS4/XBONE/Mobile/IOS/VITA – 2017) "Song 1"
1 – Robozarro (SWI/Steam/PS4/XBONE – 2019) "Processing Plant (Main Boss)"
2 – Robozarro (SWI/Steam/PS4/XBONE – 2019) "Construction Area (Mini Boss)"
3 – Mina and Michi (SWI/Steam/PS4/XBONE – 2020) "Juliano Song 3"
4 – Mina and Michi (SWI/Steam/PS4/XBONE – 2020) "Song 5"
5 – Ghoulboy: Dark Sword of Goblin (SWI/Steam/PS4/XBONE/Mobile/IOS/VITA – 2017) "Song 5"
6 – Ghoulboy: Dark Sword of Goblin (SWI/Steam/PS4/XBONE/Mobile/IOS/VITA – 2017) "Song 10"
7 – Ghoulboy: Dark Sword of Goblin (SWI/Steam/PS4/XBONE/Mobile/IOS/Vita – 2017) "Song 2"
8 -Nevergrind Online (SWI/Steam/PS4/XBONE, 2022 ) "Boss Theme"
9 -Nevergrind Online (SWI/Steam/PS4/XBONE, 2022 ) "Combat Theme 1"
10 – Around the Clock at Bikini Bottom (PC – 2021) "Doodle Patrick Boss Theme
Podcast: Play in new window | Download