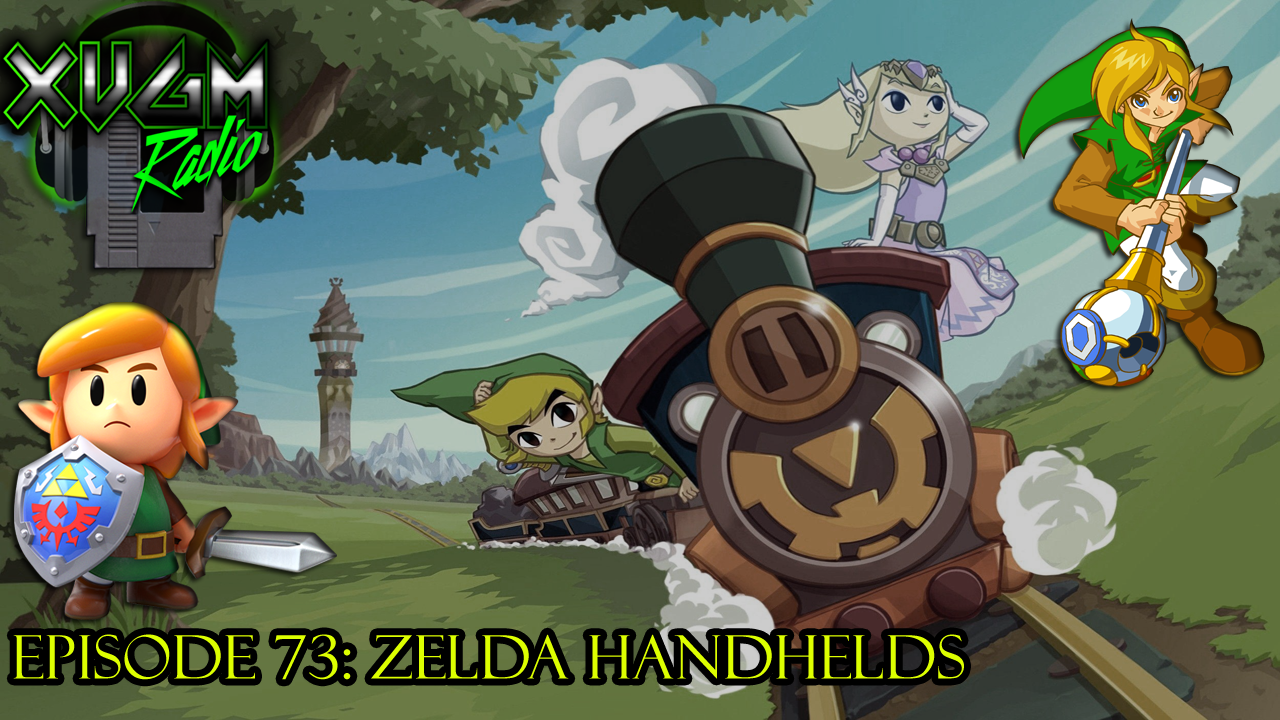 The Legend of Zelda is perhaps most famous for being one of the flagship franchises on Nintendo consoles, expanding into the third dimension and consistently innovating as time has marched on. However, the franchise has also had its fair share of exploration on handhelds beginning with Link's Awakening and continues to this day on the console/handheld hybrid Nintendo Switch with the remake all these years later. Today on XVGM Radio, we explore the vast history of the Legend of Zelda on handhelds and dive deep into their soundtracks all while sharing our own memories of playing them. From Mike and Justin's shared dislike of Tingle to Mike's sad story about his grandmother and even our patron pick gets a little deep! Draw your Master Sword, grab some headphones and get ready for some amazing music on Episode 73 of XVGM Radio!
What was your favorite track of the episode? Do you have a favorite Zelda handheld game or experience? Have you played any of these games and if not, are you going to seek them out and their soundtracks? Shoot us an email at XVGMRadio@gmail.com or join in on the discussion at: https://www.facebook.com/groups/XVGMradio
Also, we have a Discord Channel! Join us and chat about the show, share a random or obscure VGM song you love, or just chit chat with Mike and Justin about tacos! Join for free here: https://discord.gg/zWxDYfn
Thanks to all of our wonderful Patrons: Alex Messenger, Cam Werme, Chris Murray, Chris Myers, Chris Hart, Scott McElhone, Jordan & Anson Davis, Llama Adam, Kung Fu Carlito, Nick Davis, Ryan McPherson, Marques Stewart, Brad Austin, Dan Laughton, Jeremy Rutz and The Autistic Gamer 89. Become a Patron, get cool rewards, and more at http://www.Patreon.com/XVGMRadio
Our Twitter and Instagram are great ways to interact with us! Find us on there under our handle @XVGMRadio
If you're an Apple Podcasts listener, please consider leaving a rating and a review to let us know how we're doing! It also helps with getting the show to show up when others are searching for VGM!
TRACK LISTING:
Intro – The Legend of Zelda: Oracle of Seasons (GBC – 2001) "Title Screen" Kyōko Nakamura, Minako Adachi
1 – Legend of Zelda: Oracle of Ages (GBC – 2001) "Level 4: Skull Dungeon" Kyōko Nakamura, Minako Adachi
2 – The Legend of Zelda: Link's Awakening (remake) (Switch – 2019) "Nightmare's Boss Battle" Ryo Nagamatsu, (Original by Minako Hamano, Kozue Ishikawa, Kazumi Totaka)
3 – The Legend of Zelda: Spirit Tracks (DS – 2009) "Overworld Adventures" Tōru Minegishi, Manaka Tominaga, Asuka Ohta, Kōji Kondō
4 – Freshly-Picked Tingle's Rosy Rupeeland (NDS – 2006) "BGM 127" Masanori Adachi
5 – The Legend of Zelda: Link's Awakening (GB – 1993, GBC – 1998) "Mabe Village" Minako Hamano, Kozue Ishikawa, Kazumi Totaka
6 – The Legend of Zelda: A Link to the Past/Four Swords (GBA – 2002) "Sea of Trees" Yūko Takehara
7 – Patreon Pick: Dan Laughton – The Legend of Zelda: Link's Awakening (GB – 1993, GBC – 1998) "Face Shrine" Minako Hamano, Kozue Ishikawa, Kazumi Totaka
8 – The Legend of Zelda: Phantom Hourglass (NDS – 2007) "The Great Sea" Kenta Nagata, Tōru Minegishi
9 – The Legend of Zelda: Link Between Worlds (3DS, 2013) "Princess Hilda Appears" Ryo Nagamatsu, Koji Kondo (LttP Originals)
10 – The Legend of Zelda: The Minish Cap (GBA – 2004) "Minish Woods" Mitsuhiko Takano
Podcast: Play in new window | Download