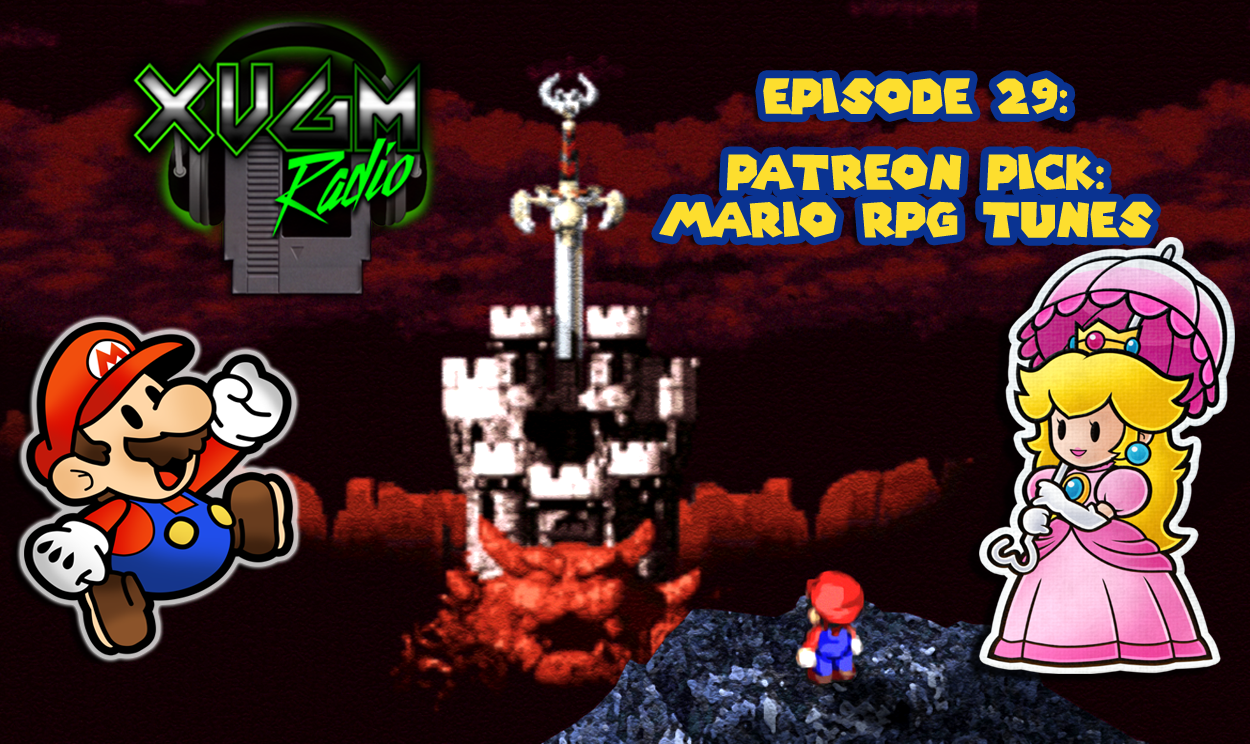 Super Mario RPG kicked off a huge franchise unknowningly which has spawned two different Mario role playing game series: Paper Mario and Mario and Luigi games. Today, we're taking a listen across vast amounts of Mario RPG games to hear both original tracks and Mario franchise remixes as well. With a full variety of tunes to hear, there's everything from Swing to Industrial-inspired, and everything in between! Hear Mike and Justin serenade you with tracks that remind them of these tunes, as the XVGM Radio guys get a visit from the Patreon member who requested this theme to begin with: Alex Messenger! Plus….peanut butter and handcuffs, Geno feeding Ana Kournikova pizza in bed and more!
We'd love to hear what you thought about this Mario RPG games-themed track listing. What was your favorite track? Shoot us an email at XVGMRadio@gmail.com or join in on the discussion at www.Facebook.com/Groups/XVGMRadio
We have a Discord Channel! Join us and chat about the show, share VGM you love, or just chit chat with Mike and Justin about tacos! Join for free here: https://discord.gg/zWxDYfn
Special thanks to Alex Messenger for his Patreon episode pick! Thanks to all of our wonderful Patrons: Alex Messenger, Cam Werme, Chris Murray, Chris Myers, Scott McElhone, Jordan & Anson Davis, Peter Panda, Kung Fu Carlito, Brad Austin, John "Mixxmaster" Jekel and The Autistic Gamer 89. Become a Patron, get cool rewards, and more at www.Patreon.com/XVGMRadio
Our Twitter and Instagram are great ways to interact with us! Find us on there under our handle @XVGMRadio
If you're an iTunes listener, please consider leaving a rating and a review to let us know how we're doing! It also helps with getting the show to show up when others are searching for VGM!
TRACK LISTING:
Intro : Mario & Luigi Paper Jam (3DS – 2015) "Ready For A New Adventure!" Yoko Shimomura
1 – Super Paper Mario (Wii – 2007) "Champion of Destruction" Chika Sekigawa, Naoko Mitome
2 – Paper Mario: Sticker Star (3DS – 2012) "Swinging Swing" Masanobu Matsunaga, Saki Kurata, Shoh Murakami, Yoshito Sekigawa, Yasuhisa Baba, Hiroki Morishita, Masanori Adachi, Kiyoshi Hazemoto, Tomoko Sano, Kousei Muraki, Hiroaki Hanaoka, Yasumasa Yamada
3 – Mario & Luigi Superstar Saga (GBA – 2003) "Come On!" Yoko Shimomura
4 – Super Mario RPG: Legend of the Seven Stars (SNES – 1996) "Weapons Factory" Yoko Shimomura
5 – Mario and Luigi Dream Team (3DS – 2013) "Victory in the Dream World" Yoko Shimomura
6 – Paper Mario (N64 – 2000) "Welcome to Yoshi Village" Yuka Tsujiyoko
7 – Paper Mario: Thousand Year Door (GCN – 2004) "Rogueport's Underground City" Yoshito Hirano, Yuka Tsujiyoko
8 – Mario & Luigi: Partners in Time (NDS – 2005) "Dark Dungeon" Yoko Shimomura
Patreon Pick: Alex Messenger – Mario and Luigi Dream Team (3DS – 2013) "Mysteries of the Cave" Yoko Shimomura
9 – Super Mario RPG: Legend of the Seven Stars (SNES – 1996) "Still the Road is Full of Dangers" Yoko Shimomura
10 – Mario & Luigi: Bowser's Inside Story (NDS – 2009) "Tough Guy Alert/They're Pretty Tough, We Should Be Careful" Yoko Shimomura
Outro: Paper Mario: Color Splash (WiiU – 2016) "Your Answers, Please!" Shigemitsu Goto, Fumihiro Isobe, Takeru Kanazaki
Podcast: Play in new window | Download