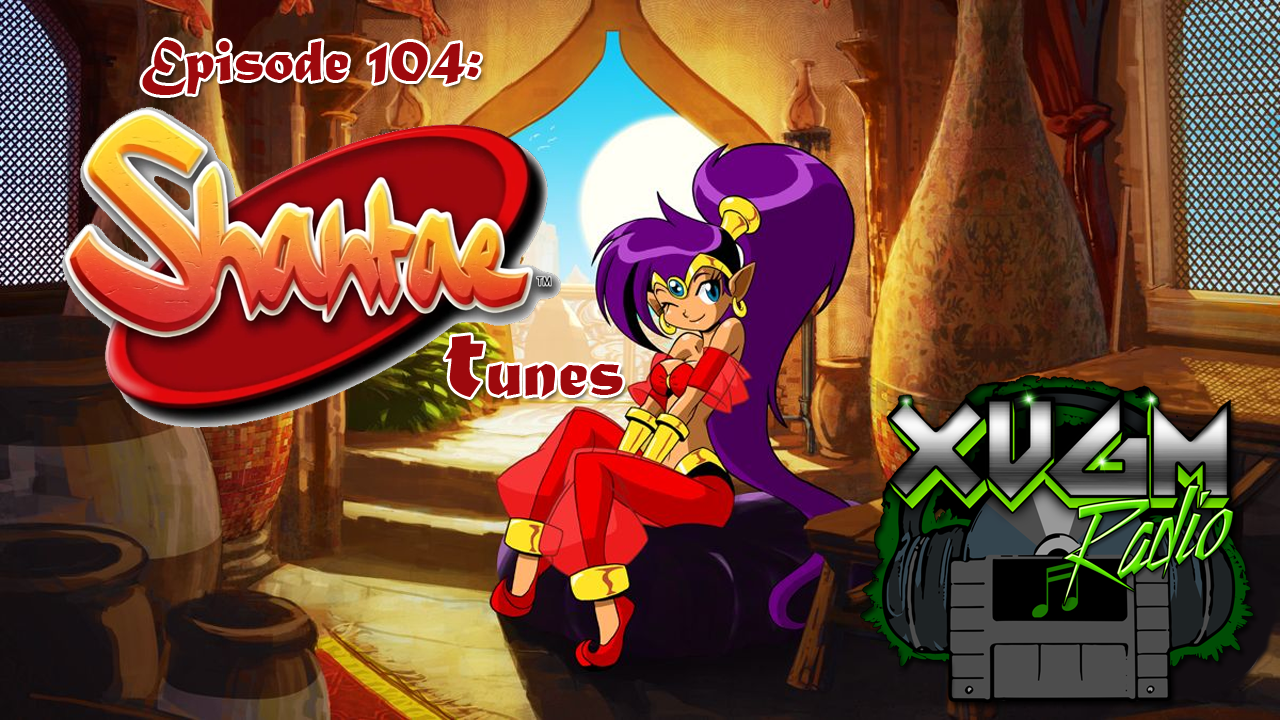 Wayforward's Shantae on the Game Boy Color was the swansong release on the handheld and the beginning of a franchise in the making. Now, Shantae has not only blossomed into a 5 (soon to be 6) game series, but can be widely considered Queen of the indie game scene. One particular stand out in this game franchise is the stellar music by Jake Kaufman which will easily get you whipping your hair back and forth! Join the XVGM Radio guys (Mike and Justin) as they uncover some of the best Shantae tunes across the current 5 games, talk about the lack of Kaufman's tunes in the newest entry as well as Kaufman's wide range of musical genres. Move those hips to the sultry Arabian style tunes that Shantae has become famous for and believe in magic…or…well, you'll hear for yourself. It's SHANTAE TUNES!
Special thanks to TefiTafi for voicing Shantae in the commercial! Check out her art on Instagram: https://www.instagram.com/tefitafi/?igshid=ppj5cx90hiki
Did we pick all your favorite Shantae tunes? Which ones can you recommend to us?  Shoot us an email at XVGMRadio@gmail.com or join in on the discussion at: https://www.facebook.com/groups/XVGMradio
Also, we have a Discord Channel! Join us and chat about the show, share a random or obscure VGM song you love, or just chit chat with Mike and Justin about tacos! Join for free here: https://discord.gg/zWxDYfn
Thanks to all of our wonderful Patrons: Cam Werme, Chris Murray, Chris Myers, Scott McElhone, Jordan & Anson Davis, Rayjkayj, Llama Adam, Kung Fu Carlito, Nick Davis, Ryan McPherson, Marques Stewart, Scott Brackett, and Brad Austin. Become a Patron, get cool rewards, and more at http://www.Patreon.com/XVGMRadio
Check out all episodes of XVGM Radio on www.youtube.com/dongled for another more visual format!
Our Twitter and Instagram are great ways to interact with us! Find us on there under our handle @XVGMRadio
If you're an Apple Podcasts listener, please consider leaving a rating and a review to let us know how we're doing! It also helps with getting the show to show up when others are searching for VGM!
TRACK LISTING:
Intro – Shantae (GBC – 2002) "Burning Town" Jake Kaufman
1 – Shantae (GBC – 2002) "Zombie Caravan" Jake Kaufman
2 – Shantae (GBC – 2002) "Oasis Town" Jake Kaufman
3 – Shantae: Risky's Revenge (DSi – 2010) "Through The Trees" Jake Kaufman
4 – Shantae: Risky's Revenge (DSi – 2010) "ORLY YARLY" Jake Kaufman
5 – Shantae and the Pirate's Curse (Wii U/3DS – 2014) "Trip Through Sequin Land" Jake Kaufman
6 – Patreon Pick: Jordan & Anson Davis – Shantae and the Pirate's Curse (Wii U/3DS – 2014) "Rave in the Grave (Zombie Island)" Jake Kaufman
7 – Shantae: Half-Genie Hero (Wii U/PS4/PSV/PC/XBOne – 2016) "Castle" Jake Kaufman
8 – Shantae: Half-Genie Hero (Wii U/PS4/PSV/PC/XBOne – 2016) "Scuttle Town" Jake Kaufman
9 – Shantae and the Seven Sirens (iOS/Mac – 2019) "Turbulent Hip Shake" Kentaro Sakamoto, Mark Sparling, Maddie Lim, Gavin Allen, Alexander Aniel
10 – Shantae and the Seven Sirens (iOS/Mac – 2019) "Off to the Squidsmith" Kentaro Sakamoto, Mark Sparling, Maddie Lim, Gavin Allen, Alexander Aniel
Podcast: Play in new window | Download