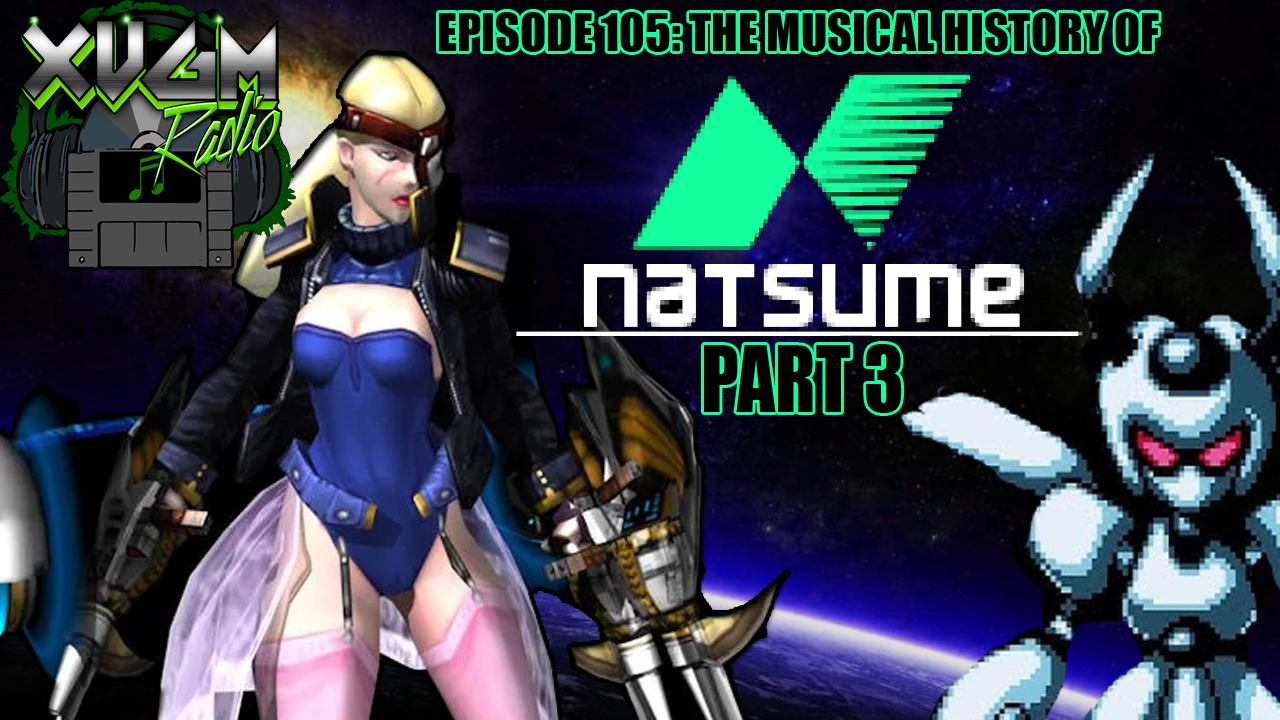 Continued from Episodes 99 and 102, Mike and Justin close out the musical history of the developer, Natsume Co. Ltd. After the split between Natsume Co. Ltd. and Natsume Inc, Natsume Co. Ltd. would continue to work on developing games, mostly on the Super NES and eventually handhelds like the Game Boy Color. Here is where we get to see a bigger shift in focus to games based on licensed IPs as well as being published by the likes of companies such as THQ, Crave, and of course Natsume Inc. Continuing to explore the exciting music from Natsume legends like Iku Mizutani, Kinuyo Yamashita and Hiroyuki Iwatsuki, its a bit bittersweet to close out this look back at the incredible run Natsume has had in video games and video game music. However, right around the corner is the modern re-investment into some of Natsume's most beloved titles courtesy of Tengo Project, a small group of original Natsume devs who are still with the company today. But for now, join us as we close out this exciting listen to Natsume's musical history books.
We hope you've enjoyed our three part journey through Natsume's musical history. Do you have any Natsume songs you can recommend to us? Shoot us an email at XVGMRadio@gmail.com or join in on the discussion at: https://www.facebook.com/groups/XVGMradio
Also, we have a Discord Channel! Join us and chat about the show, share a random or obscure VGM song you love, or just chit chat with Mike and Justin about tacos! Join for free here: https://discord.gg/zWxDYfn
Thanks to all of our wonderful Patrons: Cam Werme, Chris Murray, Chris Myers, Scott McElhone, Jordan & Anson Davis, Rayjkayj, Llama Adam, Kung Fu Carlito, Nick Davis, Ryan McPherson, Marques Stewart and Brad Austin. Become a Patron, get cool rewards, and more at http://www.Patreon.com/XVGMRadio
Check out all episodes of XVGM Radio on www.youtube.com/dongled for another more visual format!
Our Twitter and Instagram are great ways to interact with us! Find us on there under our handle @XVGMRadio
If you're an Apple Podcasts listener, please consider leaving a rating and a review to let us know how we're doing! It also helps with getting the show to show up when others are searching for VGM!
TRACK LISTING:
Intro – Medarot 3: Kabuto (GBC – 2000) "BGM 06" Kinuyo Yamashita, Iku Mizutani
1 – Shin Kidō Senki Gundam Wing: Endless Duel (SNES – 1996) "Credits" Hiroyuki Iwatsuki, Haruo Ohashi
2 – Mark Davis' The Fishing Master (SNES – 1996) "Summer" Kinuyo Yamashita, Iku Mizutani (Sound Direction)
3 – Dragon Dance (GBC – 1998) "BGM 05" Iku Mizutani
4 – Action Man Search for Base X (GBC – 2001) "Boss" Iku Mizutani
5 – Shaun Palmer's Pro Snowboarder (GBA – 2001) "BGM #02" Yoshio Watanabe
6 – Power Rangers Time Force (GBC – 2001) "Fabled City (Future)" Iku Mizutani
7 – Buffy the Vampire Slayer: Wrath of the Darkhul King (GBA – 2003) "Track 9" Iku Mizutani, Tetsuari Watanabe, Kinuyo Yamashita
8 – Fullmetal Alchemist: Dual Sympathy (NDS – 2005) "Stage 02" Tetsuari Watanabe, Kaoru Mizutani
9 – Omega Five (360 – 2008) "Stage 1: The Glacial Fortress" Hiroyuki Iwatsuki
10 – Kamen Rider: Dragon Knight (NDS – 2009) "Track 8" Hiroyuki Iwatsuki, Tatsuya Fujiwara, Seiichi Takamoto
Podcast: Play in new window | Download