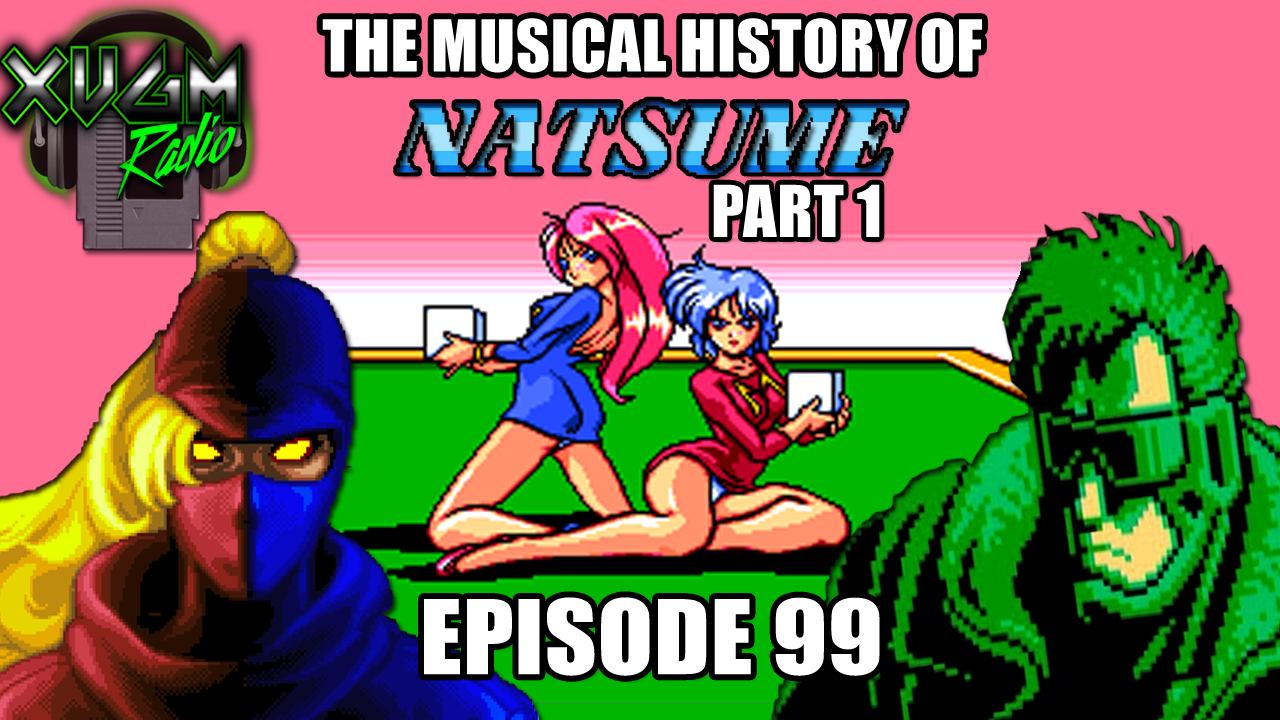 It's Technostasy! Since 1987, Natsumi, a company created by ex-Konami employees, has been one of the best developers from the 8 and 16 bit eras of gaming. However, their history has been muddled by confusing ownership and history to the common fan. Today on XVGM Radio, Mike and Justin uncover the truth behind Natsume's story in part 1 of a multi-part series on the history of Natsume's company, games and most importantly, its sound. Hear about the beginnings of the developer and eventual self-publisher, which started out as Natsume Co. Ltd. From 1987 until 1995, the company was host to some of the best soundtracks available. We scratch the surface on these incredible, high energy tracks from the NES, Game Boy, Super NES…and even a PC Engine game?! A handful of legendary composers are spotlighted in this episode, as Mike gushes on his love for Natsume, Justin discusses metal arm replacement options, and the boys wrap up their first 99 episodes with an absolute BANGER of a closing track from none other than….well, you'll just have to hear it for yourself! This is a can't miss episode before the XVGM Radio guys hit 100 episodes!
What'd you think of this kick-ass first part Natsume deep dive? Did you have a favorite track? Shoot us an email at XVGMRadio@gmail.com or join in on the discussion at: https://www.facebook.com/groups/XVGMradio
Also, we have a Discord Channel! Join us and chat about the show, share a random or obscure VGM song you love, or just chit chat with Mike and Justin about tacos! Join for free here: https://discord.gg/zWxDYfn
Thanks to Patron Ryan Mcpherson for picking a track on today's episode, but also thanks to all of our wonderful Patrons: Cam Werme, Chris Murray, Chris Myers, Scott McElhone, Jordan & Anson Davis, Rayjkayj, Llama Adam, Kung Fu Carlito, Nick Davis, Ryan McPherson, Marques Stewart, Scott Brackett, and Brad Austin. Become a Patron, get cool rewards, and more at http://www.Patreon.com/XVGMRadio
Check out all episodes of XVGM Radio on www.youtube.com/dongled for another more visual format!
Our Twitter and Instagram are great ways to interact with us! Find us on there under our handle @XVGMRadio
If you're an Apple Podcasts listener, please consider leaving a rating and a review to let us know how we're doing! It also helps with getting the show to show up when others are searching for VGM!
TRACK LISTING:
Intro – Idol Hakkenden (FC – 1989) "Track 20" Kiyohiro Sada, Tomoo Misato
1 – Dungeon Magic: Sword of the Elements (NES – 1989) "Track 8" Kiyohiro Sada
2 – Dragon Fighter (NES – 1990) "The Dragon Fighter" Iku Mizutani, Kouichi Yamanishi
3 – Amazing Penguin (GB – 1990) "Ending" Iku Mizutani, Kouichi Yamanishi
4 – Shatterhand (NES – 1991) "Areas E & F" Iku Mizutani
5 – Toukon Club (FC – 1992) "Doll Masquerade's Theme" Iku Mizutani
6 – Power Blade 2 (NES – 1992) "Stage 4" Kinuyo Yamashita
7 – Patreon Request: Ryan Mcpherson – Zen Nihon Pro Wrestling (SFC – 1993) "Staff Roll" Iku Mizutani,Hiroyuki Iwatsuki, Kinuyo Yamashita
8 – Jantei Monogatari 3: Saver Angels (PCE-CD – 1993) "Battle Scene (Charlotte)" Iku Mizutani
9 – The Ninja Warriors (SNES – 1994) "Best Room" Hiroyuki Iwatsuki, N. Tate
10 – Mighty Morphin' Power Rangers (SNES – 1994) "City" Kinuyo Yamashita, Iku Mizutani
Podcast: Play in new window | Download