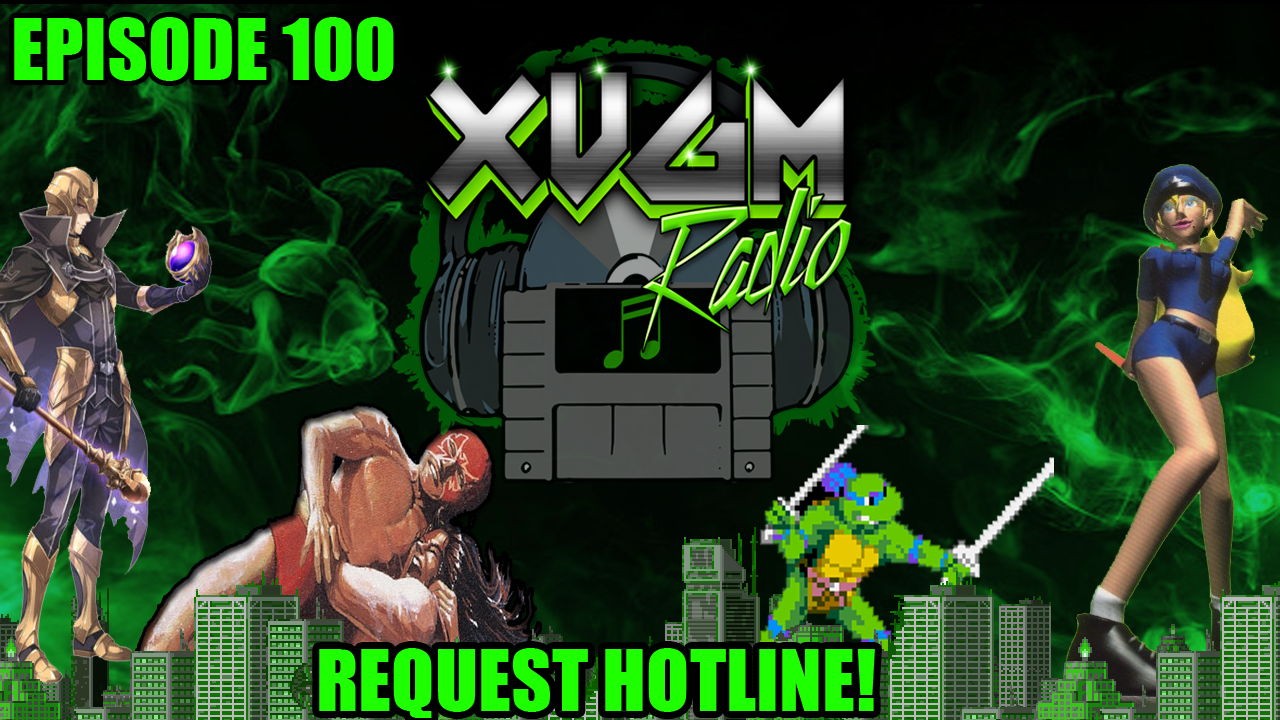 WE DID IT! 100 EPISODES OF XVGM RADIO! We're still thrilled to be able to bring you engaging topics and themes, a wide variety of VGM related guests and of course, fun wacky times with a dash of game music knowledge. Thanks so much for listening to our little show! In celebration, we decided to let you all pick the music! This episode's tracks were all sent in from listeners like YOU. Hear us reminisce about how XVGM Radio got started, how we came up with the name and style. Rock or Chill out to a pretty wild selection of game music from the arcades all the way to modern day releases! If you're new to the show, this is a GREAT jumping on point. Visually, we have a new look and style as well so enjoy the All-New, All-Different-yet-similar stylings of XVGM Radio as we begin the path to our next 100 episodes!
HUGE shout out to our pal Carlos aka KungFuCarlito of the Heroes Three Podcast, and his friend Warren for taking on the commission to redesign our logo and visual background! Check out Carlos on The Heroes Three Podcast: http://heroes3podcast.blogspot.com/
Did you have a favorite track on this epic celebration listener request episode?  Shoot us an email at XVGMRadio@gmail.com or join in on the discussion at: https://www.facebook.com/groups/XVGMradio
Also, we have a Discord Channel! Join us and chat about the show, share a random or obscure VGM song you love, or just chit chat with Mike and Justin about tacos! Join for free here: https://discord.gg/zWxDYfn
Thanks to all of our wonderful Patrons: Cam Werme, Chris Murray, Chris Myers, Scott McElhone, Jordan & Anson Davis, Rayjkayj, Llama Adam, Kung Fu Carlito, Nick Davis, Ryan McPherson, Marques Stewart, Scott Brackett, and Brad Austin. Become a Patron, get cool rewards, and more at http://www.Patreon.com/XVGMRadio
Check out all episodes of XVGM Radio on www.youtube.com/dongled for another more visual format!
Our Twitter and Instagram are great ways to interact with us! Find us on there under our handle @XVGMRadio
If you're an Apple Podcasts listener, please consider leaving a rating and a review to let us know how we're doing! It also helps with getting the show to show up when others are searching for VGM!
TRACK LISTING:
Intro – Pernell Vaughan – Labyrinth of Galleria: The Moon Society (PS4/PSV – 2020) "Aku-max" Tenpei Sato
 1 – Scott McElhone – Teenage Mutant Ninja Turtles: Turtles in Time (ARC – 1991) "Bury My Shell at Wounded Knee (A.D. 1885)" Mutsuhiko Izumi
2 – Camille (of Banshee Beats) – Naruto: Ultimate Ninja Storm (PS3 – 2010) "Along with the Dancing Leaves" Chikayo Fukuda
3 – Joel Berube – Champion Wrestler (ARC – 1989) "Main BGM 01" Hidehito Kitamura, Kazuyuki Onui, Zuntata 
4 – Brad Austin – Deltarune Ch1 (PC – 2018) "Field of Hopes and Dreams" Toby Fox
5 – Rob Nichols – Bust-a-Groove 2 (PS1 – 1999) "Moonlight Party (Kelly's Theme – English)" DJ Hisebe feat. Emiko
6 – Hammock – Anna Kournikova's Smash Court Tennis (AKA"Smash Court 2") (PS1 – 1998) "BGM 02 (AKA Time Square Stage)" Nobuhiro Ōuchi, Kaori Idaya, Kenji Matsuo, Masashi Sugiyama, Ayako Yamaguchi
7 – "Kurly" Kevin Stevens – Paradise Killer (SWI/PC – 2020) "Moonrise Rapture/About That…" Barry Topping
8 – Chris Murray – The Legend of Heroes: Hajimari no Kiseki (PS4 – 2020) "Like a Whirlwind" Falcom Sound Team jdk
9 – Muddle MADness – Tower of Heaven (PC – 2009) "Indignant Divinity" Flashygoodness
10 – Ryan Mcpherson – Octopath Traveler (SWI – 2018) "Main Theme" Yasunori Nishiki
Podcast: Play in new window | Download