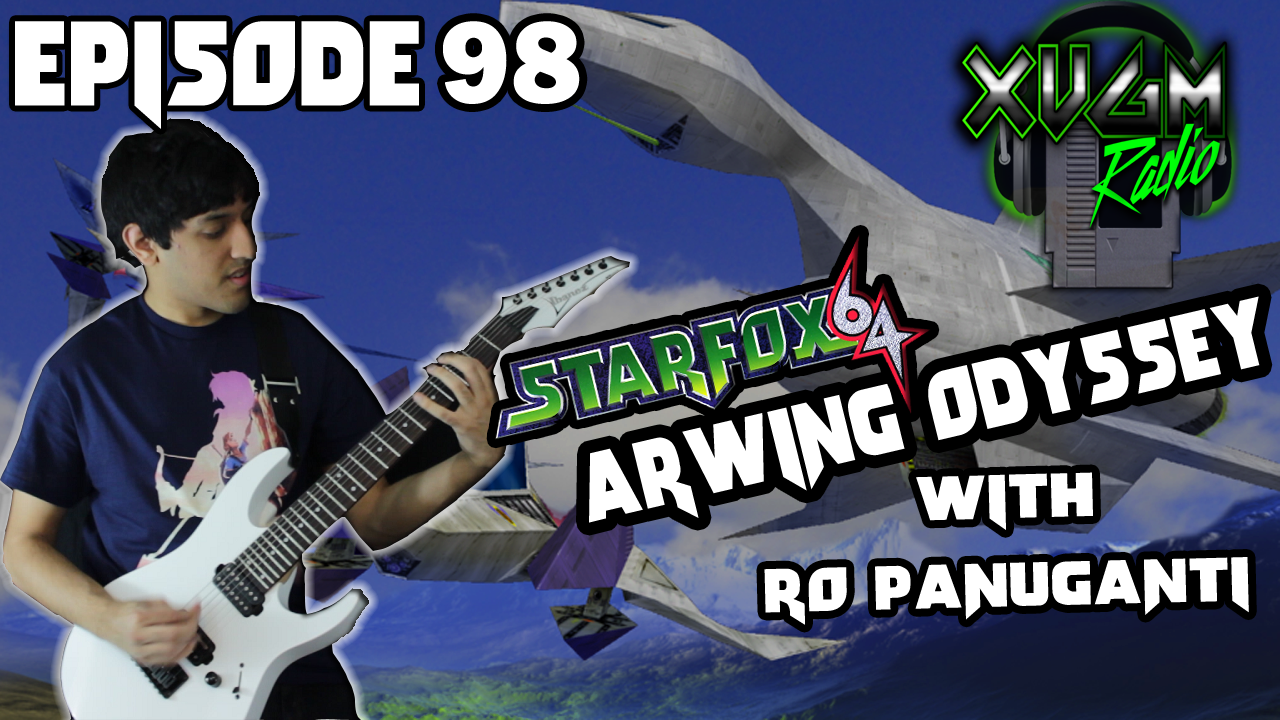 Podcast: Play in new window | Download
Star Fox 64 is sometimes viewed as the evolution in the Star Fox franchise's musical journey. But with this more cinematic orchestral vision, the sounds of a more popular style of music has disappeared. But with musician Ro Panuganti's prowess, Arwing Odyssey is born. A Progressive Metal thematic voyage through most of Star Fox 64's music, Panuganti brings the modern musical themes back into play. Join us as we speak with him as we compare the original Star Fox 64 tracks with Ro's updated arrangements. We speak to him about how Respawned Records approached him with the idea and how he had to fit the arrangement into a vinyl format upfront. Listen to Mike and Justin break down both of these styles artisitcally, all while sharing some fun Star Fox 64 memories from the 90s!
Special thank you to Scarlet Moon Records for setting up the interview! Check out their site for more information on the album and other releases!
Thanks to Ro Panuganti for joining us to discuss his fantastic arrangements! You can check out the bandcamp here and stay tuned to Respawned Records for the release!
Ro's Bandcamp: https://ropanuganti.bandcamp.com/album/arwing-odyssey-music-from-star-fox-64
Respawned Records: https://respawnedrecords.com/
What'd you think of these Star Fox 64 arrangements in comparison with the originals? Are you going to pick up the Arwing Odyssey record or just go with the digital? Did you have a favorite track? Shoot us an email at XVGMRadio@gmail.com or join in on the discussion at: https://www.facebook.com/groups/XVGMradio
Also, we have a Discord Channel! Join us and chat about the show, share a random or obscure VGM song you love, or just chit chat with Mike and Justin about tacos! Join for free here: https://discord.gg/zWxDYfn
Thanks to all of our wonderful Patrons: Cam Werme, Chris Murray, Chris Myers, Scott McElhone, Jordan & Anson Davis, Rayjkayj, Llama Adam, Kung Fu Carlito, Nick Davis, Ryan McPherson, Marques Stewart, Scott Brackett, and Brad Austin. Become a Patron, get cool rewards, and more at http://www.Patreon.com/XVGMRadio
Check out all episodes of XVGM Radio on www.youtube.com/dongled for another more visual format!
Our Twitter and Instagram are great ways to interact with us! Find us on there under our handle @XVGMRadio
If you're an Apple Podcasts listener, please consider leaving a rating and a review to let us know how we're doing! It also helps with getting the show to show up when others are searching for VGM!
Star Fox 64 – Original Compositions by: Kōji Kondō, Hajime Wakai
All Arrangements for Arwing Odyssey by Ro Panuganti
TRACK LISTING:
Intro – Corneria
1 – Katina
2 – Star Wolf
3 – Zoness
4 – Aquas
5 – Boss Battle 3