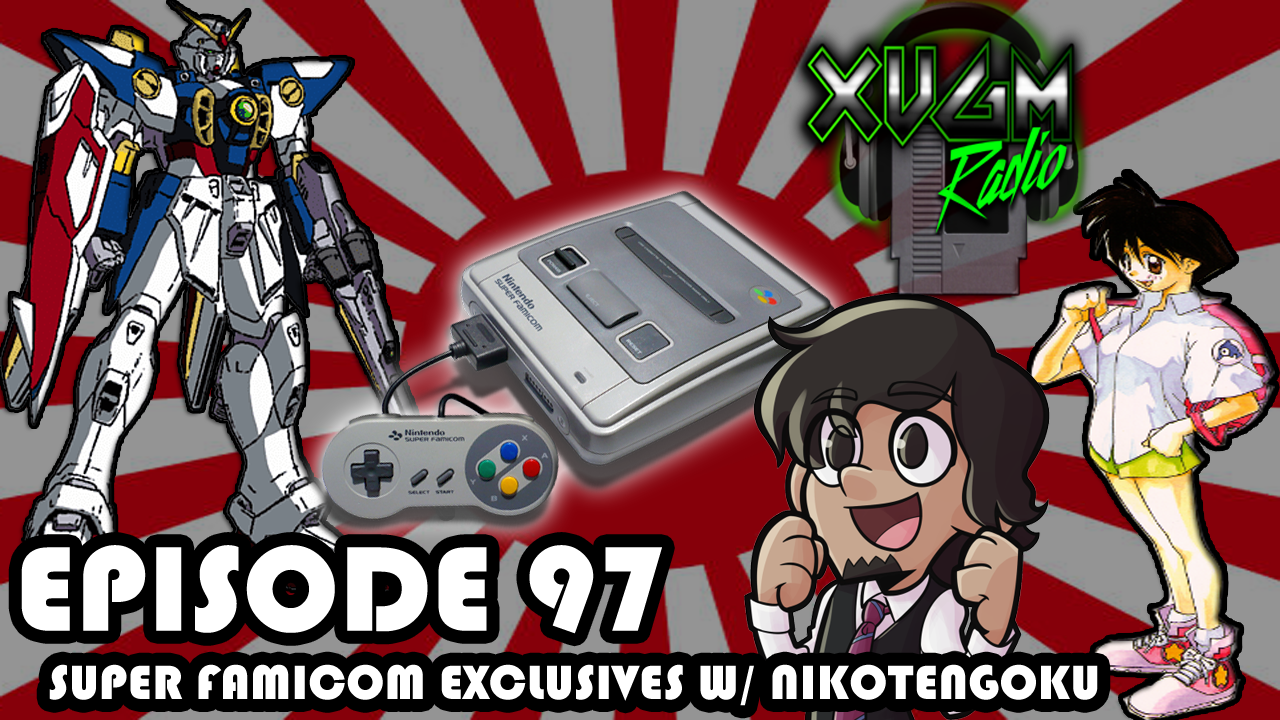 New Year! New Episode! Starting off 2023, our 5th year as a podcast, we're joined once again by our good pal, NikoTengoku! The Super Famicom (or as we know it outside of Japan, the Super NES) is host to a COLOSSAL list of excellent game soundtracks, but the Japan exclusive stuff usually gets overlooked. Niko helps us pick 10 awesome tracks that we know you're gonna love, along with a very, VERY silly episode as per usual with Niko. We poke fun of certain game title names and songs, get a visit from not one but TWO legacy PixelTunes Radio characters, AND officially "knight" Niko as our 3rd co-host! Though his role will remain as a guest contributor to the show, we're always excited to be joined by Niko and he always brings the funny and engaging discussions to XVGM Radio!
Big thanks to NikoTengoku for guesting on the episode! As always, check out his stuff here:
Niko's8BitStereo: https://www.youtube.com/@Nikos8BitStereo
8Beats: https://8beats.co/residents/nikotengoku
NikoTengoku: https://www.youtube.com/channel/UCXcivGPk4XlEU-Tq7CgMx7A
Also special shout out and thanks to Ed Wilson from TheVGMbassy for his commercial assistance! Check out his excellent VGM podcast here: TheVGMbassy.com
What'd you think of this very silly, very exciting episode of XVGM Radio? Want to hear more from Niko Tengoku? Did you have a favorite track? Shoot us an email at XVGMRadio@gmail.com or join in on the discussion at: https://www.facebook.com/groups/XVGMradio
Also, we have a Discord Channel! Join us and chat about the show, share a random or obscure VGM song you love, or just chit chat with Mike and Justin about tacos! Join for free here: https://discord.gg/zWxDYfn
Thanks to all of our wonderful Patrons: Cam Werme, Chris Murray, Chris Myers, Scott McElhone, Jordan & Anson Davis, Rayjkayj, Llama Adam, Kung Fu Carlito, Nick Davis, Ryan McPherson, Marques Stewart, Scott Brackett, and Brad Austin. Become a Patron, get cool rewards, and more at http://www.Patreon.com/XVGMRadio
Check out all episodes of XVGM Radio on www.youtube.com/dongled for another more visual format!
Our Twitter and Instagram are great ways to interact with us! Find us on there under our handle @XVGMRadio
If you're an Apple Podcasts listener, please consider leaving a rating and a review to let us know how we're doing! It also helps with getting the show to show up when others are searching for VGM!
TRACK LISTING:
Intro (Niko) – Dynami Tracer (SFC – 1996) "Title" Nobuo Uemetsu
1 – Mahjong Hishouden: Naki no Ryuu (SFC – 1992) "Battle Theme 1" IGS Sound Team
2 – Donald Duck no Mahô no Bôshi (SFC – 1995) "Forest of Angles" Takahisa Hirano, Takeshi Miura
3 – Shin Kido Senki (Mobile Suit Gundam Wing): Endless Duel (SFC – 1996) "Versus Screen" Hiroyuki Iwatsuki, Haruo Ohashi
4 – Kyouraku Sanyou Toyomaru Okumura Daiichi Maruhon Parlor Parlor! 4 CR (SFC – 1995) "Menu" Motoi Sakuraba, Shinji Tamura
5 – Magic Knight Rayearth (SFC – 1995) "Mashin Battle" Daisuke Tamura
6 – Star Ocean (SFC – 1996) "Dancin' Sword" Motoi Sakuraba
7 – Last Bible 3 (SFC – 1995) "Battle with Alec" Hiroyuki Yanada
8 – Umihara Kawase (SFC – 1994) "Keiryu Theme" Masahito Nakano, Atsuhiro Motoyama, Shinji Tachikawa
9 – '96 Zenkoku Koukou Soccer Senshuken (SFC – 1996) "Staff Roll" Toshiyuki Takine, Gocky in Bose
Podcast: Play in new window | Download