Episode 96 – Slayin' 2 with composer Matt Creamer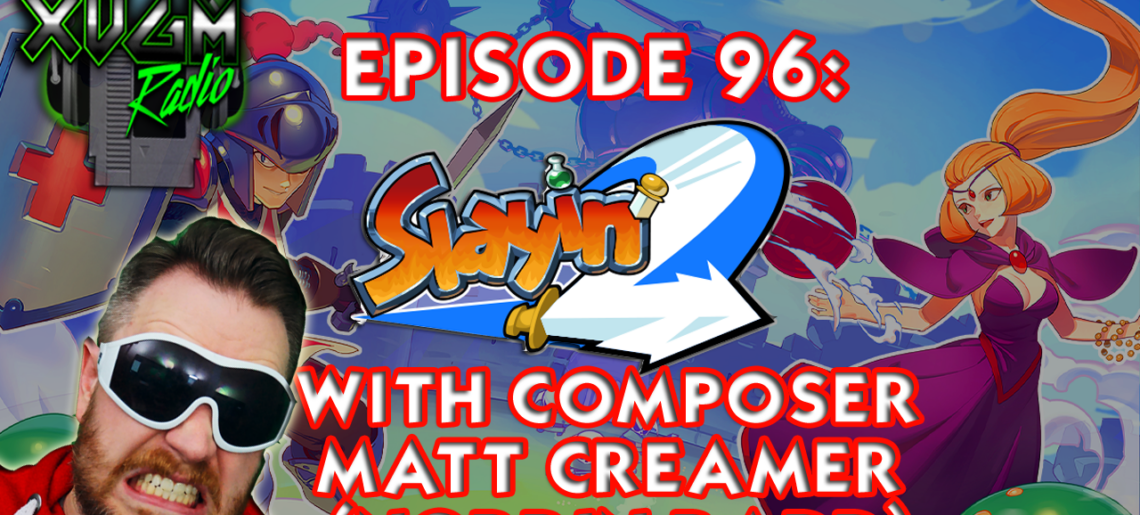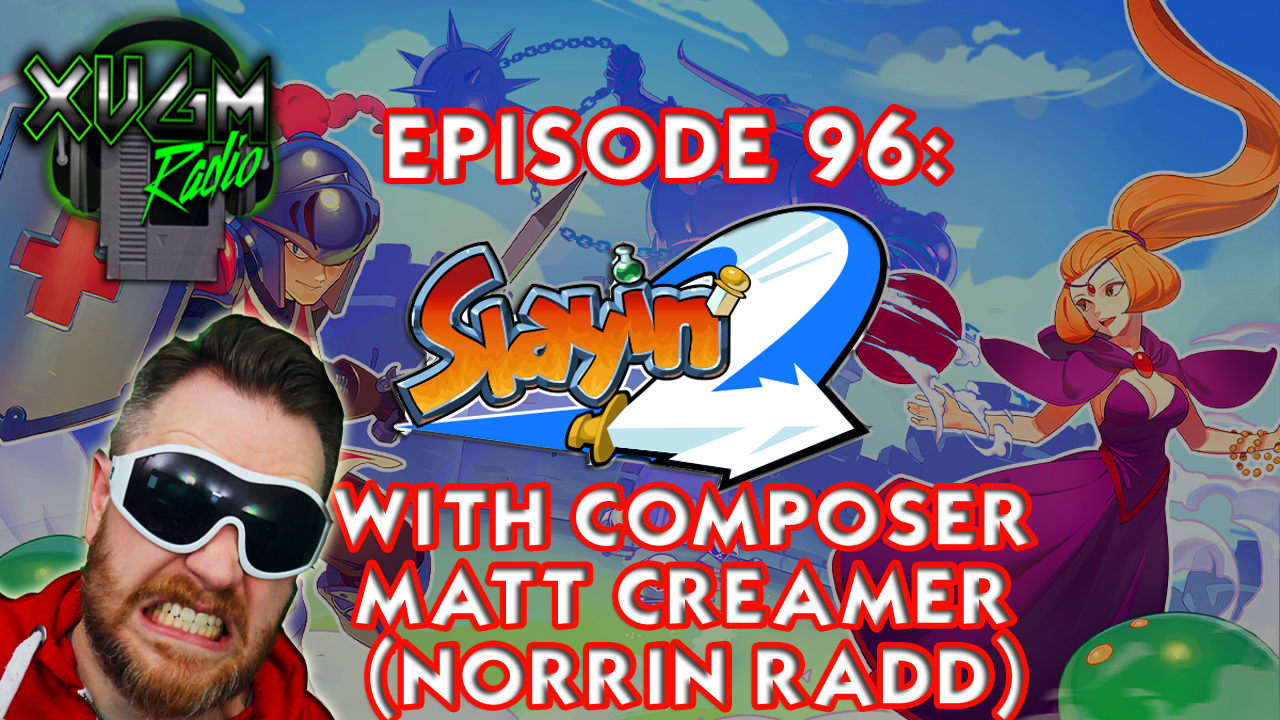 Matt Creamer (AKA Norrin Radd) has been one of our favorite guests (and composers) for some time now, but he's been holding back from us. He's unleashed his final musical form in the mold of Slayin' 2's original soundtrack and it is A BANGER/ROCKER! Now it's time for you to feast your ears on over a dozen epic tracks that perfectly merge the worlds of modern and retro VGM. From the guys gettin' goofy about one of Matt's inspirations for a song (Home Improvement?!) to Justin poking fun at Mike for picking almost all Grassland tracks, we dissect the soundtrack's sound like never before on the show and Matt answered all our questions like a pro. Step into the world of this modern retro indie that takes inspiration from Guardian Heroes, the early Ys games and more in this truly SLAYIN' episode of XVGM Radio!
If you enjoyed the soundtrack and want a chance to win it yourself, visit our social media platforms below and either send us an email or leave us a comment with your favorite track that we played on the Episode 96 post. There's 6 different ways to win a copy, one per platform, per person. Youtube, Email, Twitter, Facebook, Instagram and Discord!
Big thanks to Matt Creamer for hanging and chatting up his amazing Slayin' 2 OST! Check out the soundtrack here: https://mattcreameraudio.bandcamp.com/album/slayin-2-original-soundtrack
Also check out Matt's Twitch
What'd you think of this journey into Slayin' 2 and Matt's thoughts about its music? Did you have a favorite track, or was it impossible to pick?  Shoot us an email at XVGMRadio@gmail.com or join in on the discussion at: https://www.facebook.com/groups/XVGMradio
Also, we have a Discord Channel! Join us and chat about the show, share a random or obscure VGM song you love, or just chit chat with Mike and Justin about tacos! Join for free here: https://discord.gg/zWxDYfn
Thanks to all of our wonderful Patrons: Cam Werme, Chris Murray, Chris Myers, Scott McElhone, Jordan & Anson Davis, Rayjkayj, Llama Adam, Kung Fu Carlito, Nick Davis, Ryan McPherson, Marques Stewart, Scott Brackett, and Brad Austin. Become a Patron, get cool rewards, and more at http://www.Patreon.com/XVGMRadio
Check out all episodes of XVGM Radio on www.youtube.com/dongled for another more visual format!
Our Twitter and Instagram are great ways to interact with us! Find us on there under our handle @XVGMRadio
If you're an Apple Podcasts listener, please consider leaving a rating and a review to let us know how we're doing! It also helps with getting the show to show up when others are searching for VGM!
TRACK LISTING:
Intro – Attract Mode Intro + Title Screen
1 – Swarms of the Eastern Grassland
2 – Remains of the Burned Forest
3 – Hordes Faced in the Lagoon
4 – Showdown with the Giant Dragon
5 – Tested in the Southern Grasslands
6 – Graveyards, Curses, and the Undead
Intermission – Goblin Builders Guild
7 – Monsters Spotted in the Grasslands
8 – Long Forgotten Ancient Library
9 – Charging the Volcano
10 -The Best Performance of your Life
Podcast: Play in new window | Download