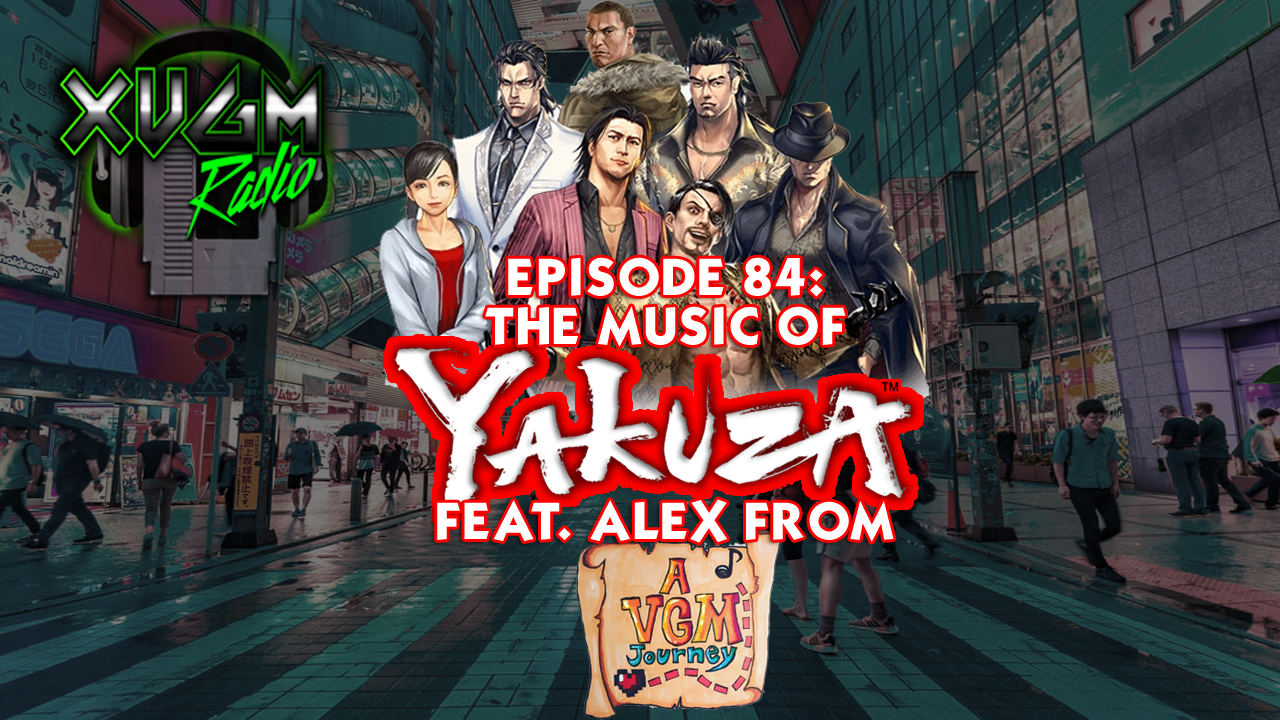 On XVGM Radio, we generally are pretty knowledgable about the subject matter of both game music and the game series we discuss. But what about when we're not familiar with a franchise or its tunes? We bring in someone who's played them all and in this circumstance that would be patron saint of video game music podcasts and leader of his own show, Alex Messenger of A VGM Journey. Together, we discuss Alex's history with the Yakuza series as Justin and Mike experience the franchise through Alex. From misheard vocal lyrics "Can You Hungry – Just Brillo!" to Mike's experience growing up listening to whatever his parents played in the car and of course Justin had to jokingly give Mike a hard time about a track! Come along for the trip to Japan as we chat about one of Sega's newer yet most prominent IPs of the PS2 era and beyond! This…is a journey through the Yakuza franchise's video game music!
Big thank you to Alex from A VGM Journey for joining us on this show! You can check out his podcast at https://anchor.fm/vgmjourney or other podcatchers!
What was your favorite track of the episode? Are you a fan of the Yakuza series? If not, are you going to check out the franchise?  Shoot us an email at XVGMRadio@gmail.com or join in on the discussion at: https://www.facebook.com/groups/XVGMradio
Also, we have a Discord Channel! Join us and chat about the show, share a random or obscure VGM song you love, or just chit chat with Mike and Justin about tacos! Join for free here: https://discord.gg/zWxDYfn
Thanks to all of our wonderful Patrons: Alex Messenger, Cam Werme, Chris Murray, Chris Myers, Chris Hart, Scott McElhone, Jordan & Anson Davis, Llama Adam, Kung Fu Carlito, Nick Davis, Ryan McPherson, Marques Stewart, Brad Austin, Nathan Cooper, Dan Laughton, Bedroth and The Autistic Gamer 89. Become a Patron, get cool rewards, and more at http://www.Patreon.com/XVGMRadio
Our Twitter and Instagram are great ways to interact with us! Find us on there under our handle @XVGMRadio
If you're an Apple Podcasts listener, please consider leaving a rating and a review to let us know how we're doing! It also helps with getting the show to show up when others are searching for VGM!
TRACK LISTING:
Intro – Yakuza 3 (PS3 – 2009) "Fly" Hideki Sakamoto, Hiroyoshi Kato, Keisuke Ito
1 – Yakuza (PS2 – 2005) "Funk Goes On" Hidenori Shoji
2 – Yakuza 5 (PS3 – 2012) "Be The Star!!" Mitsuharu Fukuyama
3 – Yakuza 4 (PS3 – 2010) "Funny" Kenichi Tokoi, Yasuhiro Takagi, Mitsuharu Fukuyama, Ryohei Kohno, Chihiro Aoki, Takahiro Kai, Yuichi Kanatani
4 – Yakuza 0 (PS3/PS4 – 2015) "Pledge of Demon" Yuri Fukuda, Chihiro Aoki, Saori Yoshida
5 – Yakuza 5 (PS3 – 2012) "Battle of Pride" Mitsuharu Fukuyama
6 – Yakuza Kiwami 2 (PS4 – 2017) "Ruthless Octagon" Yuri Fukuda, Chihiro Aoki, Saori Yoshida
7 – Yakuza: Like A Dragon (PS4 – 2020) "Sub Story Battle Theme" Hidenori Shoji
8 – Yakuza 3 (PS3 – 2009) "Clay Doll On The Cradle" Hideki Sakamoto, Hiroyoshi Kato, Keisuke Ito
9 – Yakuza: Like a Dragon (PS4 – 2020) "Overcoming the Dragon" Hidenori Shoji
Podcast: Play in new window | Download