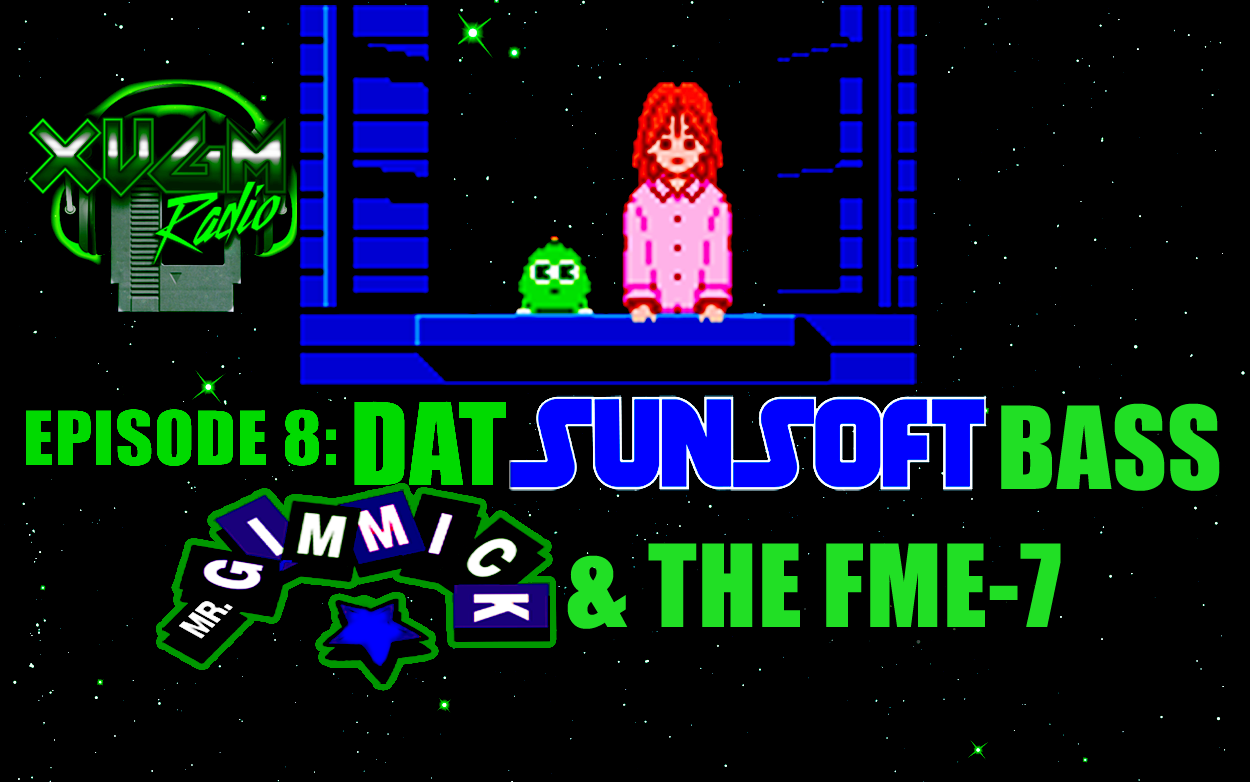 DAT SUNSOFT BASS! Sunsoft was arguably one of the best developers when it came to sound hardware on the Nintendo Entertainment System, and there's no better example than Mr. Gimmick. Better known as Gimmick in its native land, this game (which remained exclusive to Japan and Scandinavian territories) showcased what happened when composer Masashi Kageyama took inspiration from his fellow employees' taste in music, and injected it into this love letter to platform game fans. Despite never receiving this one in North America, the soundtrack and game have been praised as one of the most underrated on the console, with many people reproducing the game as best as they can with Sunsoft's 5B chip. But the FME-7, the heart and soul of this soundtrack, remains exclusive to the Japanese Famicom console due to the system's ability to read audio chips. Join Justin and Mike as they delve into the chip's history, and share their thoughts on Gimmick's incredible soundtrack, the game's levels, and the little green protagonist, Umetaro!
Retro Game Audio's Tumblr page is a great source of information as well:
Remember to check out our Facebook group, http://www.facebook.com/groups/XVGMRadio to stay in touch and discuss the episodes and their music!
Our Twitter and Instagram handles are: @XVGMRadio join us there for all sorts of wackiness!
Please consider giving us a rating and review on iTunes! It'll help get the word out about our show!
Do YOU want to pick tracks? We can keep the variety flowing with different Patrons each month! Check out Patreon.com/XVGMRadio for more details!
TRACK LISTING:
Soundtrack composed by: Masashi Kageyama with sound programming by Naohisa Morota.
Intro track – "Good Morning!/Introduction"
1 – "Happy Birthday/Stage 1"
2 – "Good Weather/Stage 2
3 – "Slow Illusion/Stage 3, Part 1"
4 – "Aporia/Boss Theme 1"
5 – "Paradigm/Stage 4"
6 – "Lion Heart/Stage 5"
7 – "Cadbury/Stage 6 Part 2"
8 – "Sophia Take 2/Stage 7"
9 – "Nothing to Lose/Final Boss, Part 1/ Long Tomorrow/Final Boss Part 2"
10 – "Identity Believer/Boss Battle 2"
Outro – "Strange Memories of Death/Unused"
Podcast: Play in new window | Download