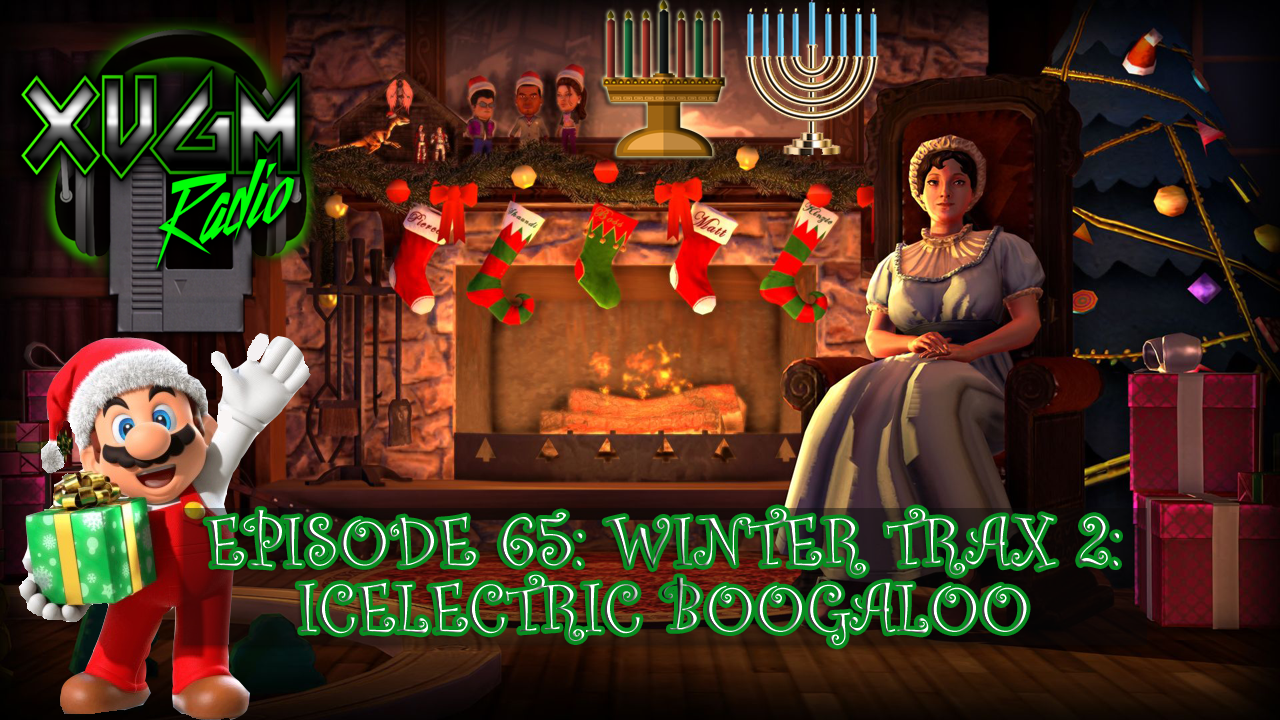 Happy Holidays to all! For the final episode of 2020, in what's been an absolutely bonkers world, Mike and Justin take a moment to sit down and enjoy the holidays together (socially distanced, of course.) What follows is a celebration of winter and holiday music of the video game variety, discussions about getting dat nut, Prehistoric Turtlesaurus', and of course…gift giving. The guys unwrap gifts they've given to each other, all while closing out the year with a smile and some fun tracks that really get you into the holiday season.
What was your favorite of the tracks played? Got a good suggestion for a winter track? Shoot us an email at XVGMRadio@gmail.com or join in on the discussion at: https://www.facebook.com/groups/XVGMradio
We have a Discord Channel! Join us and chat about the show, share a random or obscure VGM song you love, or just chit chat with Mike and Justin about tacos! Join for free here: https://discord.gg/zWxDYfn
Thanks to all of our wonderful Patrons: Alex Messenger, Cam Werme, Chris Murray, Chris Myers, Chris Hart, Scott McElhone, Jordan & Anson Davis, Llama Adam, Peter Panda, Kung Fu Carlito, Bedroth, Nick Davis, Ryan McPherson, Marques Stewart, MixxMaster, Jason SuperJES Dos, Brad Austin, Muddle MADness, Dan Laughton, Matthew Hannola, Jeremy Rutz and The Autistic Gamer 89. Become a Patron, get cool rewards, and more at http://www.Patreon.com/XVGMRadio
Our Twitter and Instagram are great ways to interact with us! Find us on there under our handle @XVGMRadio
If you're an Apple Podcasts listener, please consider leaving a rating and a review to let us know how we're doing! It also helps with getting the show to show up when others are searching for VGM!
TRACK LISTING:
Intro – Santa Claus No Takarabako (FDS, 1987) "Jingle Bells" Unknown Composer
1 – Popful Mail (PC-88 1991, PC-98 1992, Also Sega CD/PCE-CD/SFC/WIN) "Ice Berg (Exploring)" Meiko Ishikawa, Atsushi Shirakawa
2 – Ice Age (GBA, 2002) "Track 6" Manfred Linzner/Shin'en
3 – Rise of the Tomb Raider (XBONE, PS4, 2015) "Blood in the Snow" Bobby Tahouri
4 – Neon Genesis Evangelion (N64, 1999) "A Crystalline Night Sky" Jun Enoki
5 – Ys II: Special (MS-DOS, 1994) "Walkways In The Snow" Dong-II Kwak, Goo-Hee-Kwon, In-Ho Heo, Ki-Sung Park, Myung Jin-Ahn, Se-Yong Kim, Seo-Ho Son (Arrangers), Mieko Ishikawa, Yuzo Koshiro, Hideya Nagata(Original)
6 – Wonder Boy 3: Monster Lair (ARC/TGCD/GEN, 1988/89/90) "The Ice World" Shinichi Sakamoto (Arcade) – Composer Unknown (GEN)
7 – Saints Row IV (360/XBONE, PS3/PS4, PC, SWI, 2013, 2016, 2020) "Christmas Dubstep Gun (ChristmasTime)" Malcolm Kirby Jr.
8 – Super Mario Galaxy (Wii, 2007) "Ice Mountain" Mahito Yokota, Kōji Kondō
Patreon Request: Chris Hart – Golden Sun (GBA, 2001) "Wintery Imil" Motoi Sakuraba
9 – Silent Hill: Shattered Memories (Wii/PSP/PS2, 2009/2010) "Snow Driven" Akira Yamaoka
10 – Kirby's Return To Dream Land (Wii, 2011, WiiU, 2015) "Frozen Underground (Ice Cave Area)" Hirokazu Ando, Jun Ishikawa
Podcast: Play in new window | Download