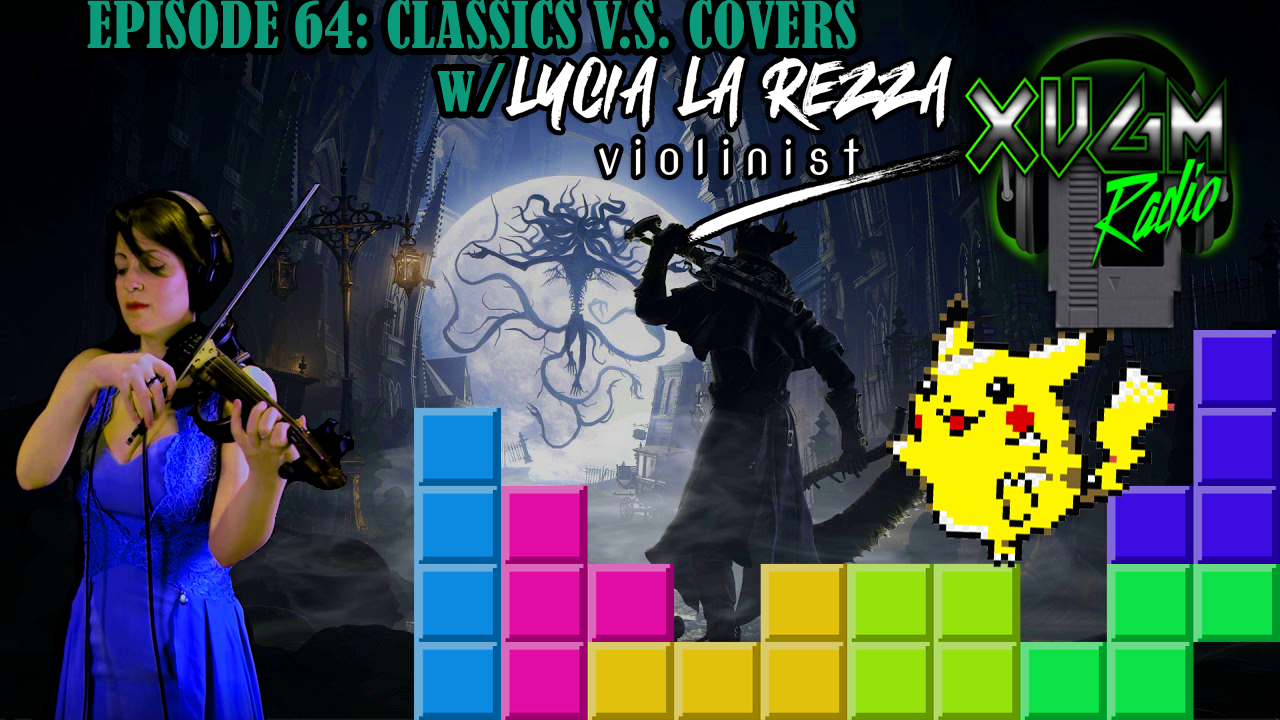 Classics versus Covers has been done by XVGM Radio before, but never with a solo artist! Today's episode is a treat, as Justin and Mike sit down with Lucia La Rezza, an Italian violinist and all around fan of video games. From her beginnings with the Game Boy to her self-admitted Playstation obsession, Lucia is as much of a fan of working on music as she is for video games; and the two aren't mutually exclusive. We showcased 6 of her covered arrangements and compare them with the original, all while chatting about her Sephiroth crush, being a bassist in a Power Metal band, her shared musicianship and love of Nobuo Uematsu with our co-host Justin, all while getting musically hugged by Ms. Lucia La Rezza!
Big thank you to Lucia La Rezza for joining us and sharing her wonderful arrangements of such classic game tunes. Please check her out on her website: https://www.lucialarezza.com/
Youtube and other links: https://linktr.ee/lucialarezza
Soundcloud: https://soundcloud.com/luviolinista
Twitter: https://twitter.com/lu_la_re
What did YOU think of the versions of the songs we played? What did you think of our guest, Lucia and her music? Shoot us an email at XVGMRadio@gmail.com or join in on the discussion at: https://www.facebook.com/groups/XVGMradio
We have a Discord Channel! Join us and chat about the show, share a random or obscure VGM song you love, or just chit chat with Mike and Justin about tacos! Join for free here: https://discord.gg/zWxDYfn
Thanks to all of our wonderful Patrons: Alex Messenger, Cam Werme, Chris Murray, Chris Myers, Chris Hart, Scott McElhone, Jordan & Anson Davis, Llama Adam, Peter Panda, Kung Fu Carlito, Bedroth, Nick Davis, Ryan McPherson, Marques Stewart, MixxMaster, Jason SuperJES Dos, Brad Austin, Muddle MADness, Dan Laughton, Matthew Hannola, Jeremy Rutz and The Autistic Gamer 89. Become a Patron, get cool rewards, and more at http://www.Patreon.com/XVGMRadio
Our Twitter and Instagram are great ways to interact with us! Find us on there under our handle @XVGMRadio
If you're an Apple Podcasts listener, please consider leaving a rating and a review to let us know how we're doing! It also helps with getting the show to show up when others are searching for VGM!
TRACK LISTING:
Intro – Lucia La Rezza – Save Room
Resident Evil 2 – (PS1, 1998) "Save Room" Masami Ueda
1 – Lucia La Rezza – Tetris Theme
Tetris (GB, 1989) "A-Type Music/Korobeiniki" Hirokazu Tanaka/Unknown Composer
2 – Lucia La Rezza – Aerith's Theme (Final Fantasy VII)
Orig – Final Fantasy VII (PS1, 1997) "Aerith's Theme" Nobuo Uematsu
3 – Lucia La Rezza – Bloodborne Medley (Main theme, Geherman)
Orig – Bloodborne (PS4, 2017) "Bloodborne" Ryan Amon, Tsukasa Saitoh, Yuka Kitamura, Nobuyoshi Suzuki, Cris Velasco, Michael Wandmacher
4 – Lucia La Rezza – Pokemon Medley (Intro – PokéCenter theme – Gym Battle Theme – Lavender Town theme)
Orig – Pokemon R/B/Y (GB, 1998) "(Intro1&2)" Junichi Masuda
5 – Lucia La Rezza – BB's Theme (Death Stranding)
Orig – Death Stranding (PS4, 2019) "BB's Theme" Ludvig Forssell & Jenny Plant (vocals)
Podcast: Play in new window | Download