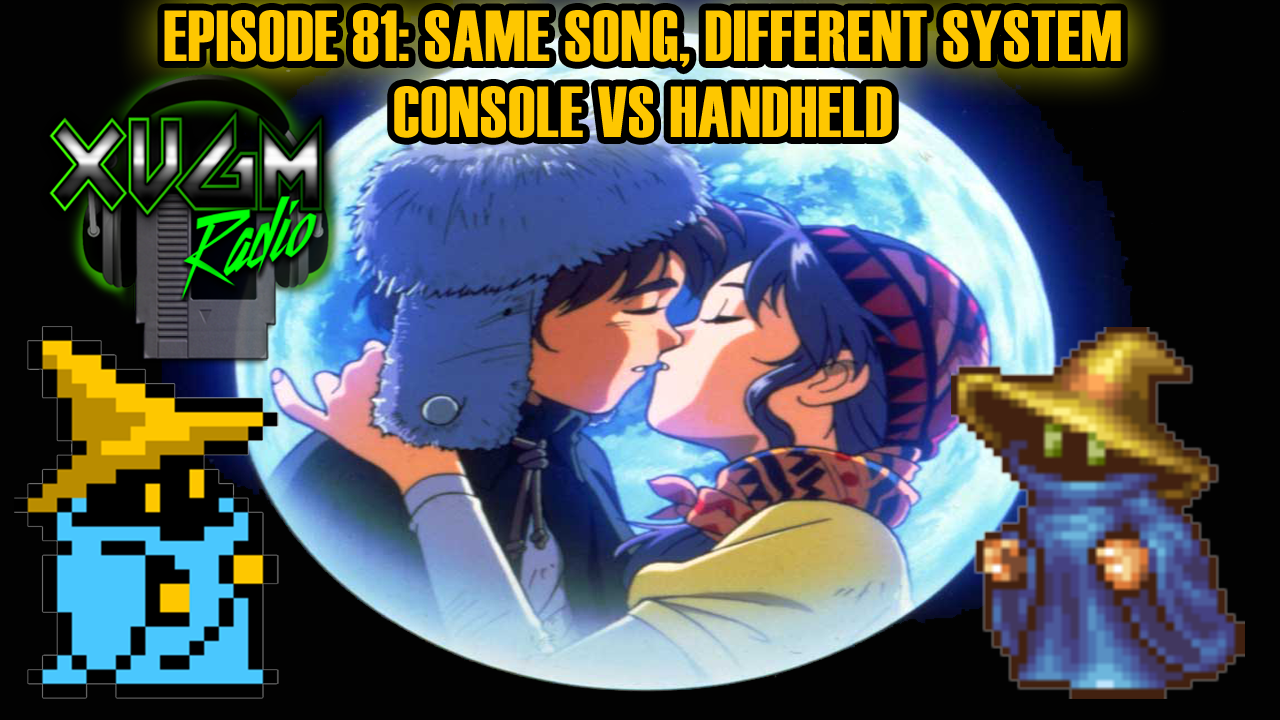 The difference between consoles and handhelds can be immense…..or….there's not much of a difference (if we're talking about redbook audio, at least.) But what happens when we DO compare these two regarding the same composition, but different arrangements? What sacrifices need to be made to make the underpowered consoles stand out? Today on XVGM Radio, Mike and Justin compare several handheld tracks with their console counterparts and determine which they like more…and the answers may shock you. Between Mike's nerdy ramblings about lyrical differences in Luna's Boat Song, Justin waxing nostalgic about his mind being blown regarding Lethal Weapon NES' switching characters method, controversial anti-war songs and plenty of balls jokes to go around, it's pretty clear these guys are Nutz for VGM!
What was your favorite track of the episode? Do you enjoy these track-comparison episodes? Shoot us an email at XVGMRadio@gmail.com or join in on the discussion at: https://www.facebook.com/groups/XVGMradio
Also, we have a Discord Channel! Join us and chat about the show, share a random or obscure VGM song you love, or just chit chat with Mike and Justin about tacos! Join for free here: https://discord.gg/zWxDYfn
Thanks to all of our wonderful Patrons: Alex Messenger, Cam Werme, Chris Murray, Chris Myers, Chris Hart, Scott McElhone, Jordan & Anson Davis, Llama Adam, Kung Fu Carlito, Nick Davis, Ryan McPherson, Marques Stewart, Brad Austin, Nathan Cooper, Bedroth and The Autistic Gamer 89.Become a Patron, get cool rewards, and more at http://www.Patreon.com/XVGMRadio
Our Twitter and Instagram are great ways to interact with us! Find us on there under our handle @XVGMRadio
If you're an Apple Podcasts listener, please consider leaving a rating and a review to let us know how we're doing! It also helps with getting the show to show up when others are searching for VGM!
TRACK LISTING:
Intro – Cannon Fodder (GBC – 2000, 3DO – 1994) "War Tune" Richard Joseph (original and GBC), Gavin Robertson (GBC arrangement)
1 – Lethal Weapon (NES/GB – 1993) Track 4/BGM02"" Neil Baldwin
2 – Lunar Silver Star Story Complete / Lunar Silver Star Harmony (PS1 – 1999, PSP – 2010) "Wind Nocturne (Luna's Boat Song) / Nocturne of the Wind 2009" Noriyuki Iwadare feat. Jennifer Stigile
3 – Mr. Nutz (GB/GBC/GBA/GEN/SNES – 1994) "Track 06/Volcano Underpass" (GB: Raphaël Gesqua (original), Jonathan Dunn (conversion))(GEN: Raphaël Gesqua / Matt Furniss (Arranger)
4 – Patreon Pick: Rage Cage – Mcdonald's Treasure Land Adventure (GEN – 1993) / Donald No Magical World (SGG – 1994) "Stage 2 – Magical Town" / "BGM 05" Katsuhiko Suzuki ([Music Composer]), Aki Hata (Stage 1: Cave Area and Stage 3: Sunken Ship (Music Composer [uncredited]))
5 – Final Fantasy (NES – 1987, PSP – 2009) "Battle Scene" Nobuo Uematsu
6- Robocop (C64 – 1988, GB – 1990) "Title Theme" Jonathan Dunn
Podcast: Play in new window | Download