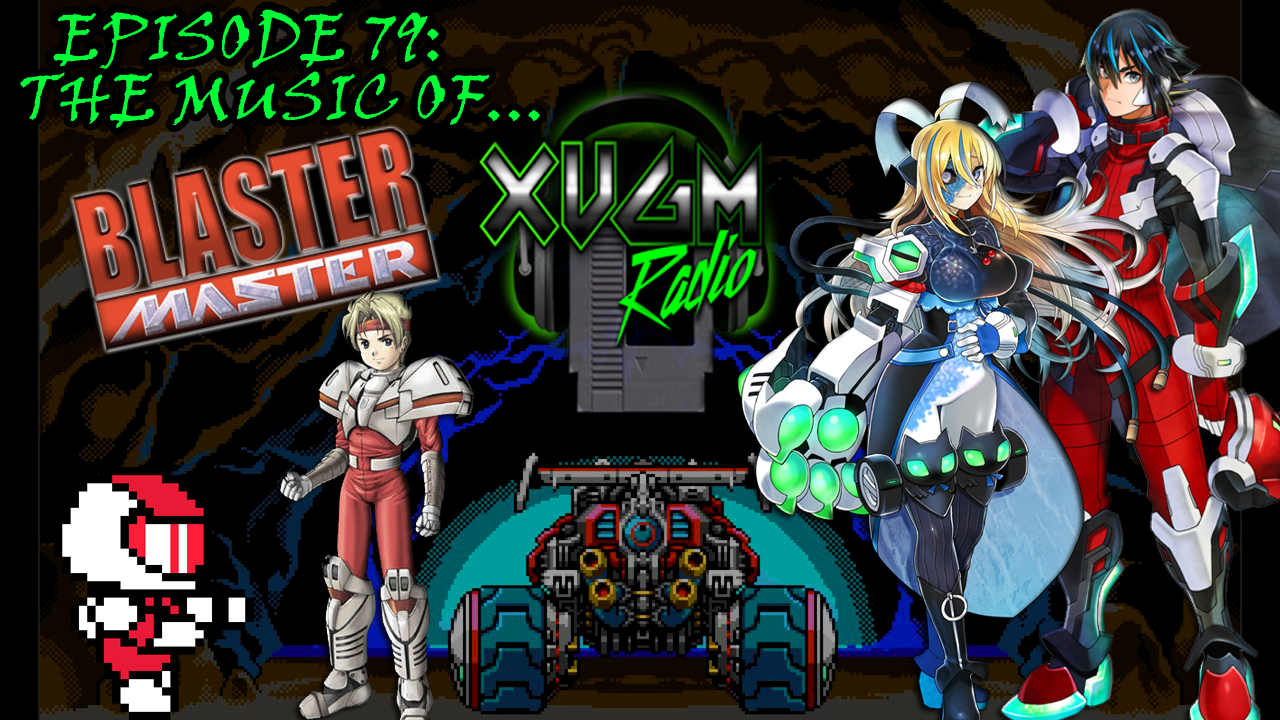 The original Blaster Master on the Nintendo Entertainment System was host to plenty of nostalgic memories for those of us who grew up during that era. But there's a surprising amount of games that have been released for the game-turned-franchise and on this episode, Justin and Mike dive deep into the legacy of the series and how Naoki Kodaka helped shape the roots of what would become an explosive success in the hands of developer Inticreates. Taking you on a trip from the surprising origins of the first official game of the series (which has its history with an entirely different company!) all the way up to chatting about the upcoming Blaster Master Zero 3: the finale of a riveting revisit to the Blaster Master games. Join Mike as he tries to stump Justin with a soundalike from another Sunsoft game. Plus, how the Worlds of Power book fits into all this…wait, what?! Hop in your Sophia tank and let's get rolling into Episode 79, on XVGM Radio!
What was your favorite track of the episode? Surprised about the origins of Blaster Master?  Shoot us an email at XVGMRadio@gmail.com or join in on the discussion at: https://www.facebook.com/groups/XVGMradio
Also, we have a Discord Channel! Join us and chat about the show, share a random or obscure VGM song you love, or just chit chat with Mike and Justin about tacos! Join for free here: https://discord.gg/zWxDYfn
Thanks to all of our wonderful Patrons: Alex Messenger, Cam Werme, Chris Murray, Chris Myers, Chris Hart, Scott McElhone, Jordan & Anson Davis, Llama Adam, Kung Fu Carlito, Nick Davis, Ryan McPherson, Marques Stewart, Brad Austin, Jeremy Rutz and The Autistic Gamer 89. Become a Patron, get cool rewards, and more at http://www.Patreon.com/XVGMRadio
Our Twitter and Instagram are great ways to interact with us! Find us on there under our handle @XVGMRadio
If you're an Apple Podcasts listener, please consider leaving a rating and a review to let us know how we're doing! It also helps with getting the show to show up when others are searching for VGM!
TRACK LISTING:
Intro – Blaster Master (NES – 1988) "Intro/Area 1" Naoki Kodaka
1 – RoboWarrior (NES – 1987, MSX – 1988) "Overworld Theme 2" Daisuke Inoue, Takeaki Kunimoto
2 – Blaster Master (NES – 1988) "Boss 2 and 3" Naoki Kodaka
3 – Blaster Master Jr. (GB – 1993) "Bomber King Theme" Shinichi Seya (Arrangement), Daisuke Inoue, Takeaki Kunimoto (Original)
4 – Blaster Master 2 (GEN – 1993) "Stage 6" Sound Images (Tony Williams)
5 – Blaster Master: Enemy Below (GBC – 2000) "Area 3" Akira Suda, Naoki Kodaka (original composer)
6 – Blaster Master: Blasting Again (PS1 – 2000) "Castle of the Plants" Satoshi Asano
7 – Blaster Master: Overdrive (Wii – 2010) "Area 2" Naoki Kodaka (Original), unknown arranger
8 – Patreon Pick: Chris Murray – Blaster Master Zero (3DS/SWI – 2017) "The Underground Adventure Begins" Ippo Yamada, Hiroaki Sano, Aoi Takeda, Kotaro Yamada, Naoki Kodaka (original)
9 – Blaster Master Zero 2 (Win/SWI – 2019) "Connected Chicks" Ippo Yamada, Hiroaki Sano, Aoi Takeda, Kotaro Yamada, Naoki Kodaka
10 – Blaster Master Zero 2 (Win/SWI – 2019) "Battle Blasters" Ippo Yamada, Hiroaki Sano, Aoi Takeda, Kotaro Yamada, Naoki Kodaka
Podcast: Play in new window | Download