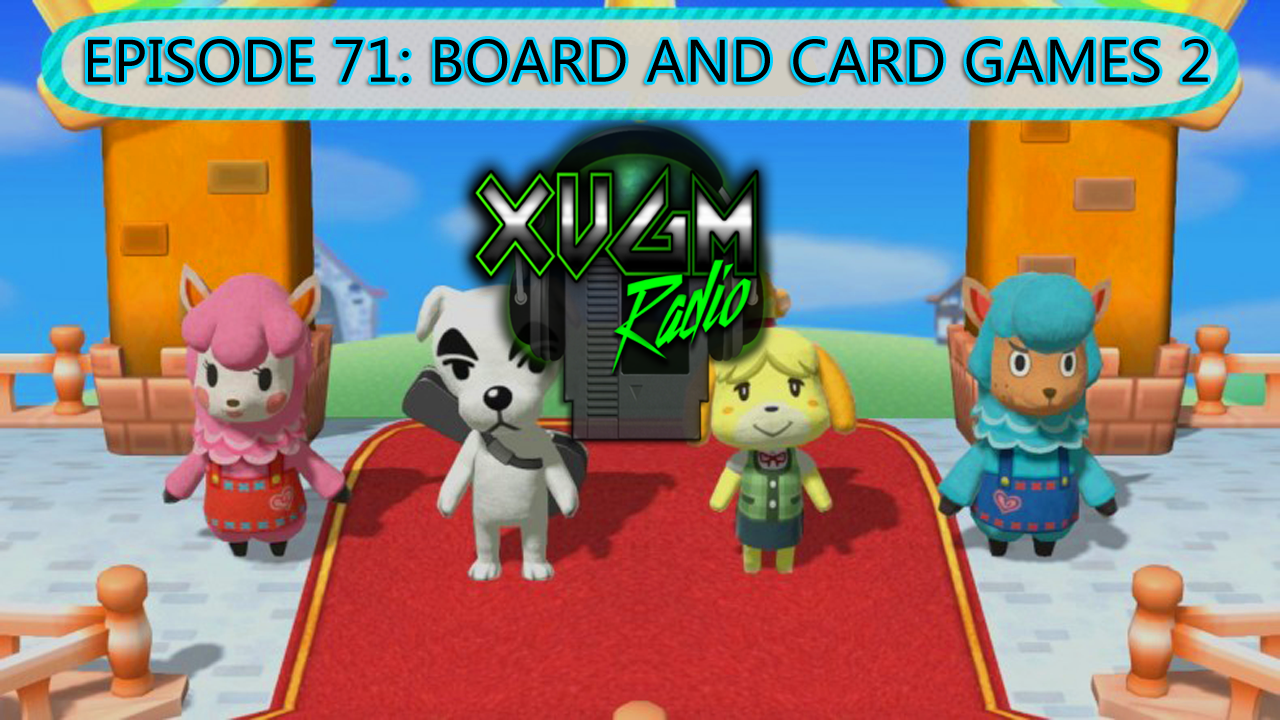 Going all the way back to Episode 3 where they covered Board and Card Game based titles, Mike and Justin are back at it, revisiting the theme but adding in some new twists and turns. This time around, they're focusing on featuring video games that are board/card games utilizing gaming's top franchises. From conversations about how Eddie from Mega Man dials a phone, to Speed: The Movie: The Card Game and of course, what the DS in every DS game REALLY stands for. Hint: It's not Dice Suckers…you'll certainly roll high with episode 71 of XVGM Radio!
What was your favorite track of the episode? Would you like to see a Board and Card Games 3, and if so, should we tackle it from another different angle or more of the same? Shoot us an email at XVGMRadio@gmail.com or join in on the discussion at: https://www.facebook.com/groups/XVGMradio
We have a Discord Channel! Join us and chat about the show, share a random or obscure VGM song you love, or just chit chat with Mike and Justin about tacos! Join for free here: https://discord.gg/zWxDYfn
Thanks to all of our wonderful Patrons: Alex Messenger, Cam Werme, Chris Murray, Chris Myers, Chris Hart, Scott McElhone, Jordan & Anson Davis, Llama Adam, Kung Fu Carlito, Bedroth, Nick Davis, Ryan McPherson, Marques Stewart, MixxMaster, Brad Austin, Dan Laughton, Jeremy Rutz and The Autistic Gamer 89. Become a Patron, get cool rewards, and more at http://www.Patreon.com/XVGMRadio
Our Twitter and Instagram are great ways to interact with us! Find us on there under our handle @XVGMRadio
If you're an Apple Podcasts listener, please consider leaving a rating and a review to let us know how we're doing! It also helps with getting the show to show up when others are searching for VGM!
TRACK LISTING:
Intro -Mario Party 2 (N64 – 1999) "Space Land" Hironao Yamamoto, Shōhei Bandō, Kazuhiko Sawaguchi, Yasunori Mitsuda
1 – Slay The Spire (SWI, PS4, XBONE, WIN, MAC,IOS 2017) "Exordium" Clark Aboud
2 – Clubhouse games: 51 Worldwide classics (Switch – 2020) "BGM Toy Sports Toy" Masayoshi Ishi, Toshiki Aida
3 – Wily & Right no Rockboard (That's Paradise!) (FC, 1993) "Cold Island" Yuki Iwai
4 – Gwent: The Witcher Card Game (PS4/XB1/WIN – 2017) "Northern Realms" P.T. Adamczyk, Mikołaj Stroiński, Marcin Przybyłowicz
5 – Super Battleship (SNES/GEN 1993) "Title Screen" Christopher Barker
6 – Dungeons & Dragons – Warriors of the Eternal Sun (GEN – 1992) "Jungle Combat" Paul S. Mudra, Frank Klepacki, Dwight Kenichi Okahara
7- Sonic Shuffle (DC, 2000) "Space Encounter" Hidenobu Otsuki, Ryo Fukuda, Takeo Suzuki, Yoshitaka Hirota, Kazumi Mitome
8 – Patreon Pick: Jordan and Anson Davis – Itadaki Street DS (DS, 2007) "Hello Happy Kingdom (Arranged) / Tutorial" Yoko Shimomura (original), Koichi Sugiyama (arranged)
9 – Battleship/Connect Four/Sorry!/Trouble (DS, 2007) "Sorry! In Game Music" Mark Cooksey
10 – Animal Crossing: Amiibo Festival (WiiU – 2015) "Board Game Event (Opposite Day)" Unknown Composer
Podcast: Play in new window | Download