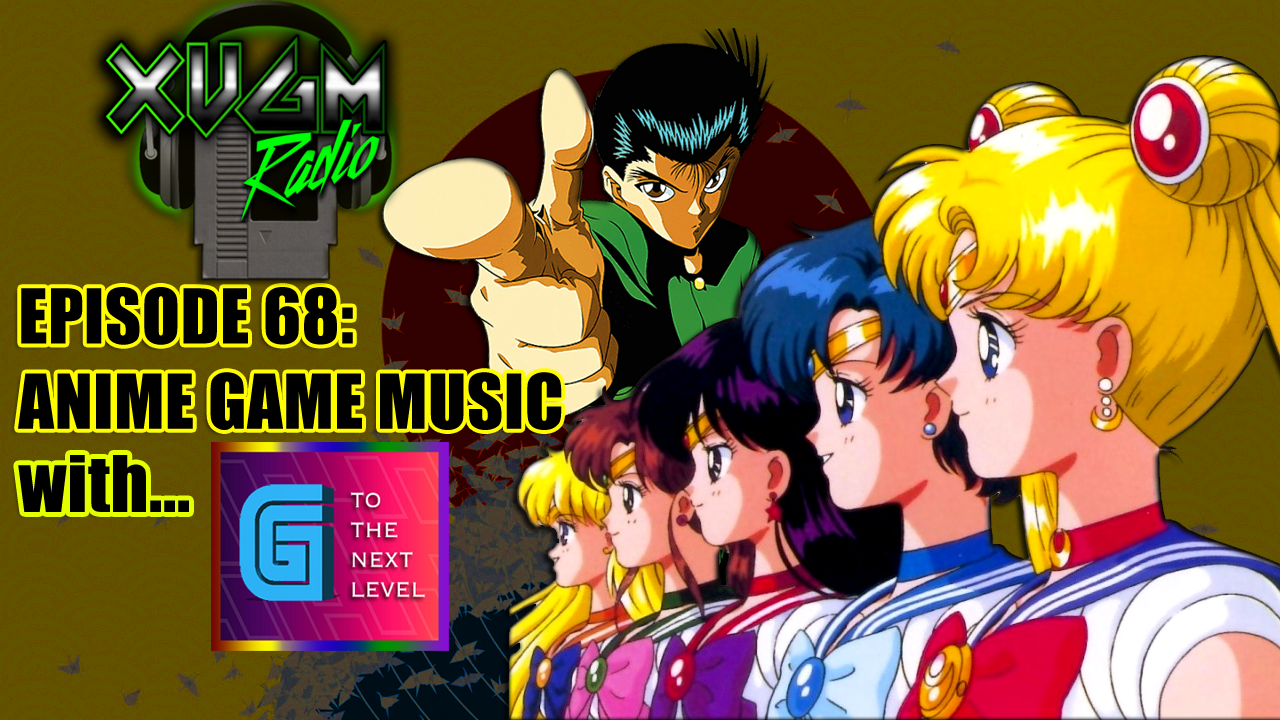 What happens when video games and anime collide? You get video games based on anime, of course! Mike and Justin are joined by fellow-anime lover and Sega mega fan, George aka G To The Next Level, where the guys really hit it off celebrating video games based on anime and their stellar music. Diving deep into their own nostalgic memories of how they got interested in anime, the guys bring full attention to the jungle beats of Astro Boy, the creepiness of Mystic Defender and the smooth jazzy Sailor Moon vibes. Plus, George and Justin get super nerdy over Evangelion, Mike questions his sexuality after fawning over Shin from U.N. Squadron as a youth, and the guys pick their favorite Sailor Scout, all on this english-dubbed episode of XVGM Radio!
What was your favorite track of the episode? Are you an anime fan? Would you like to see George come back for a future episode or sequel to this episode? There's plenty more anime-based games to cover! Shoot us an email at XVGMRadio@gmail.com or join in on the discussion at: https://www.facebook.com/groups/XVGMradio
We have a Discord Channel! Join us and chat about the show, share a random or obscure VGM song you love, or just chit chat with Mike and Justin about tacos! Join for free here: https://discord.gg/zWxDYfn
Thanks to all of our wonderful Patrons: Alex Messenger, Cam Werme, Chris Murray, Chris Myers, Chris Hart, Scott McElhone, Jordan & Anson Davis, Llama Adam, Kung Fu Carlito, Bedroth, Nick Davis, Ryan McPherson, Marques Stewart, MixxMaster, Brad Austin, Dan Laughton, Matthew Hannola, Jeremy Rutz and The Autistic Gamer 89. Become a Patron, get cool rewards, and more at http://www.Patreon.com/XVGMRadio
Our Twitter and Instagram are great ways to interact with us! Find us on there under our handle @XVGMRadio
If you're an Apple Podcasts listener, please consider leaving a rating and a review to let us know how we're doing! It also helps with getting the show to show up when others are searching for VGM!
TRACK LISTING:
Intro – Ghost in the Shell (PS1, 1997) "MISSION 03 – Boss – Firecracker" Takkyu Ishino, Derrick May, Mijk Van Dijk, Advent, Westbam, Joey Beltram, Brother From Another Planet, BCJ, Scan X, Dave Angel, Hardfloor
1 – Mystic Defender "Kuja-Ku-Oh/Spirit Warrior/Peacock King" (GEN, 1989) "Round 1" Chikako Kamatani
2 – Neon Genesis Evangelion (N64, 1999) "Cruel Angel's Thesis" Hidetoshi Satō (Orig. Composer), Jun Enoki (Arranger)
3 – Ghost Sweeper Mikami: Joreshi Wa Nice Body (SFC, 1993) "Crazy Woods" Kinuyo Yamashita
4 – Astro Boy: Omega Factor (GBA, 2003) – "Track 3" Norio Hanzawa, Tsuyoshi Kaneko
5 – Magic Knight Rayearth (SAT, 1995/8) "CLEF" Hisanori Ōshiro
6 – U.N Squadron (SNES, 1991) "Enemy AirForce" Toshio Kajino, Mari Yamaguchi, Yasushi Ikeda
7 – Yu Yu Hakusho Makyou Tōitsusen (MD, 1994) – "Sub-Space 2" Satoshi Murata, Katsuhiko Suzuki, Aki Hata, Norio Hanzawa
8 – Lupin III – Pandora no Isan (FC, 1987) "Track 4" Unknown
Zophar
9 – Bishoujo Senshi Sailor Moon (GEN/SNES, 1993) "Stage 1-1 (Street)" Aki Hata
Podcast: Play in new window | Download