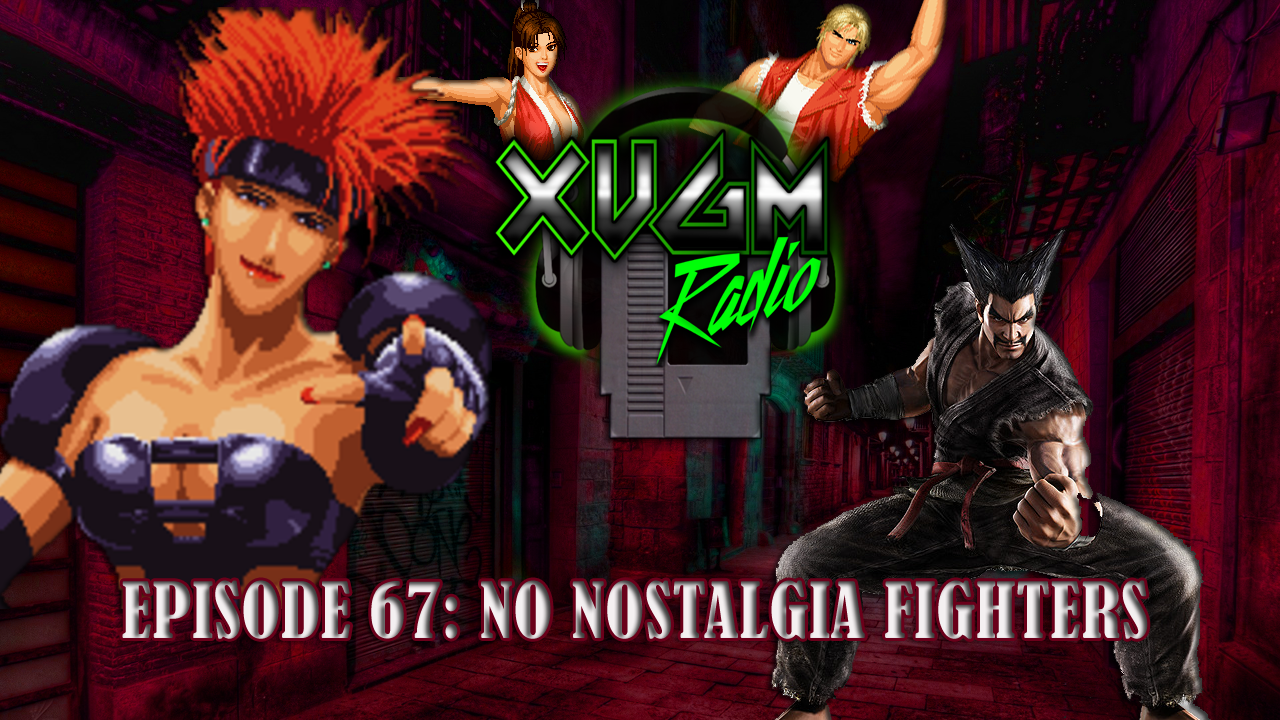 HADOKEN! GET OVER HERE! C-C-C-C-COMBO BREAKER! All of these are sounds of the arcade and fighting game scene in general. But what about the fighting games that we didn't play to death? On this episode of XVGM Radio, we dive into the music from fighting games to which we have zero nostalgia. From heavy discussions about balls..er…ballz, Alice Deejay comparisons, to the surprising lack of memories from giants like Sega, SNK and Konami, this is an episode full of monster tunes of an eclectic nature. New Jack Swing, 90s techno, jazz and funk are all represented. Get ready for a VGM tournament of which these two hosts haven't attended as our No Nostalgia series continues with No Nostalgia Fighting Games!
What was your favorite track of the episode? Do you wanna slap Mike and Justin for not being big into SNK and Tekken? Shoot us an email at XVGMRadio@gmail.com or join in on the discussion at: https://www.facebook.com/groups/XVGMradio
We have a Discord Channel! Join us and chat about the show, share a random or obscure VGM song you love, or just chit chat with Mike and Justin about tacos! Join for free here: https://discord.gg/zWxDYfn
Thanks to all of our wonderful Patrons: Alex Messenger, Cam Werme, Chris Murray, Chris Myers, Chris Hart, Scott McElhone, Jordan & Anson Davis, Llama Adam, Kung Fu Carlito, Bedroth, Nick Davis, Ryan McPherson, Marques Stewart, Brad Austin, Dan Laughton, Matthew Hannola, Jeremy Rutz and The Autistic Gamer 89. Become a Patron, get cool rewards, and more at http://www.Patreon.com/XVGMRadio
Our Twitter and Instagram are great ways to interact with us! Find us on there under our handle @XVGMRadio
If you're an Apple Podcasts listener, please consider leaving a rating and a review to let us know how we're doing! It also helps with getting the show to show up when others are searching for VGM!
TRACK LISTING:
Intro – Galaxy Fight: Universal Warriors (ARC/NG/NGCD/SAT 1995, PS1, 1996) "Here We Go! (Character Select)" Masato Araikawa, Takayuki Sasaki, Atsushi Mihiro
1 – Art of Fighting (Ryuuko No Ken) (SNES, 1993 GEN/NGCD 1994, NG/ARC, 1992) "Mr. Big" Seisuke Ito
2 – The King of Fighters '96 (ARC/NG/NGCD/SAT-1996, GB/PS1-1997) "Trash Head (Goenitz Theme)" Akihiro Uchida, Hideki Asanaka, Kazuhiro Nishida
3 – Tatsunoko VS Capcom: Ultimate All Stars (Wii, 2010) "Orbital Ring Systems Cargo Bay" Yasumasa Kitagawa, Kota Suzuki, Akihiko Narita, Reo Uratani
4 – Samurai Shodown (ARC/NG-1993, GB/SGG/GEN/NGCD/3DO/SNES-1994, FMT-1995) "Tokyo Kabuki Theater" Hiroo Ikeda
5 – Battle Arena Toshinden (GB, 1996) "Eiji's Theme" Yasuhiro Nakano (original), Dota Ando
6 – Ballz: The Director's Cut (3DO, 1995) "Boss" Kurt Harland Larson, Ted Hommel, Brendan McCarthy, Aaron Winett
7 – Virtua Fighter 2 (ARC 1994, SAT, 1995, GEN, 1996) "Akira's Theme/Ride the Tiger" Takayuki Nakamura, Takenobu Mitsuyoshi, Youichi Ueda, Akiko Hashimoto, Kazuhiko Kouchi
8 – Garou: Mark Of The Wolves (ARC-1999, NG,2000, DC, 2001) "Ninja or Monkey (Hokutomaru)" Akihiro Uchida, Masato Horiuchi, Yasuhiro Naka
9 – TMNT: Tournament Fighters (NES/SNES/GEN, 1993) "Track 4" Junichiro Kaneda, Ayako Nishigaki
10 – Tekken Tag Tournament 2 (ARC-2011, PS3/XB360-2012) "Tulip Festival (Netherlands)" Akitaka Tohyama, Nobuyoshi Sano, Keiichi Okabe, Rio Hamamoto, Taku Inoue, and Go Shiina
Podcast: Play in new window | Download