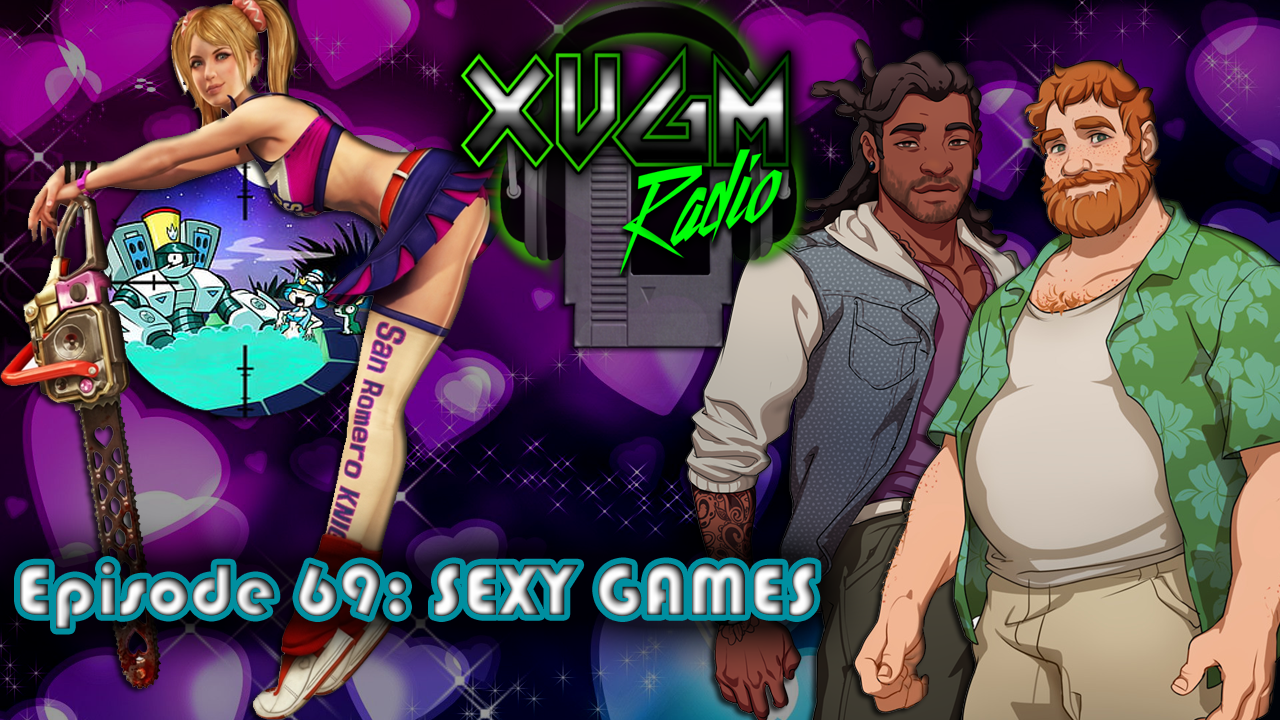 It's time to dim the lights, snuggle up with your favorite person and…put on some VGM?! In a post-Valentine's Day delight, Mike and Justin have set up a playlist of games involving sexy characters and their equally sexy songs. The music choices here range from smooth jazz, sultry salsa, hard rockin' and hip-hoppin'! Listen to discussions about hot dogs running from hungry girls, Mike getting his Beethoven tracks mixed up, plus a special call in from a certain grumpy gamer! All on this sensual, seductive episode of XVGM Radio!
Big thank you to Heather Pascale for the commercial voiceover!
What was your favorite track of the episode? Any sexy tracks you'd like to suggest to us to use? Shoot us an email at XVGMRadio@gmail.com or join in on the discussion at: https://www.facebook.com/groups/XVGMradio
We have a Discord Channel! Join us and chat about the show, share a random or obscure VGM song you love, or just chit chat with Mike and Justin about tacos! Join for free here: https://discord.gg/zWxDYfn
Thanks to all of our wonderful Patrons: Alex Messenger, Cam Werme, Chris Murray, Chris Myers, Chris Hart, Scott McElhone, Jordan & Anson Davis, Llama Adam, Kung Fu Carlito, Bedroth, Nick Davis, Ryan McPherson, Marques Stewart, MixxMaster, Brad Austin, Dan Laughton, Matthew Hannola, Jeremy Rutz and The Autistic Gamer 89. Become a Patron, get cool rewards, and more at http://www.Patreon.com/XVGMRadio
Our Twitter and Instagram are great ways to interact with us! Find us on there under our handle @XVGMRadio
If you're an Apple Podcasts listener, please consider leaving a rating and a review to let us know how we're doing! It also helps with getting the show to show up when others are searching for VGM!
TRACK LISTING:
Intro – Feel the Magic XY/XX (DS, 2004) "Love Scene" Mariko Nanba
1 – PaRappa the Rapper 2 (PS2, 2002) "Romantic Love" Masaya Matsuura, Yoshihisa Suzuki, Naoto Sugai, Ryo Watanabe, John Simpson III (as Parappa), Ryu Watabe (as Chop Chop Master Onion)
2 – Dream Daddy: A Dad Dating Simulator (Steam – 2017, NSwitch – 2019) "Synth Cult" Jesse Cale
3 – Sexy Parodius (ARC/PS1/SAT – 1996) "Am I Sexy? (Sexy Adult Boss BGM)" Kiyohiko Yamane, Hideyuki Akutsu (AKT), Takayuki Fujii (Takabou), Hiroe Noguchi
4 – Leisure Suit Larry: Love for Sail (PC – 1996, Mac – 1997) "Tasty Tenor" Frank Zottoli (Piano), Kim Hutchcroft (Woodwinds), Tom Warrington (Bass), Claudio Slon (Drums), Mark Seibert (Guitar & Synthesizers & Percussion), Al Lowe (Soprano Sax), Steve Conrad (Trombone)
5 – Hot Dogs/Hot Girls (Hot Dog King) (WIN, 2007) "El Paso Hotgal" Mick Gordon
6 – Rumble Roses (PS2, 2004) "I'm Too Virtuous!" Akira Yamaoka
7 – Mighty Switch Force (3DS, 2011) "Love You Love You Love" Jake Kaufman
8 – Steam Heart's (PC-98 – 1994, PCE-CD – 1996, SAT – 1998) "Final Boss" Takahiro Yonemura
9 – Possessioner (PC-98, 1994) "Alisa, Violated By Machine" Hiroaki Sano, Masahiro Kajihara
10 – Lollipop Chainsaw (XB360/PS3 – 2012) "Viking Zombies Sail on Lightning Seas" Jimmy Urine (from MSI), Akira Yamaoka
Podcast: Play in new window | Download